Shifting from one manufacturer's marine electronics to another is a big deal, as we examined in our Marine Electronics Upgrade article a few months back. You have to learn a whole new digital interface before you can even figure out if you like the performance, and it takes quite a while to figure out how everything works. So when I made the switch to a Humminbird Apex 16 last October, I wrote in these pages that I'd check back in once I felt like I had a handle on the system. That time has already arrived because the Apex is thoroughly intuitive and doesn't take too much time to get used to. Here are my biggest takeaways.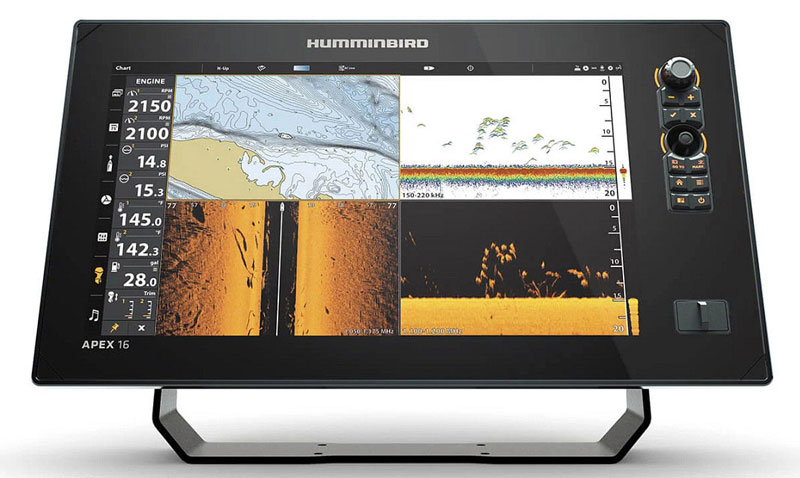 Thus far there have been zero physical hardware glitches; no moisture in the screen, failing pieces or parts, or ill-fitting bezels, all problems I've had with units from some other manufacturers in the past.
The ability to adjust side-scanning system detail is an utter killer. Focus on learning to manipulate range, contrast, and frequency adjustments to get the best performance in different depths and structural scenarios in a matter of seconds, by spinning the dial as you see the changes on-screen in real time.
The multiple-layer depth shading with Coastmaster chartography is a big time-saver. It's customizable, and I set mine for different shades at five feet and two feet so I know when to cruise and when to creep along while going around points, between islands, etc.
Having the Minn Kota and the MFD interfaced is tremendously helpful. Tap the screen and tell the motor to go there, then slowly fish through areas with scattered structure like artificial reef sites and stump fields.
Radar performance is excellent, and overlaying on the chartplotter is automatic.
Of course, you folks know Humminbird is a FishTalk supporter and I may appear biased by that fact. Noted, but we're always going to try to deliver the truth as we see it and nothing in this world is perfect. Thus, we also need to mention:
If you have a complex network (multiple stations, multiple transducers, autopilot, etc.) know that the initial setup will take some time. Be sure to have your phone with you so you can Google questions and look at the manual as you do it.
There's no compass-rose-style steering screen in the chartplotter, so on long trips you'll want to train yourself to use the digital display numbers for COG and heading to steer an exact course (which is much more accurate than trying to follow course line displays).
The bottom line? There's very little to complain about and a lot to love in the new Apex 16, and I'm willing to bet that anyone you talk to who has one will have a similar opinion.