It's the most common mistake I see people make aboard my boat: when told the fish are hugging bottom, they cast out and then retrieve without knowing exactly where in the water column their jig is. Most of the time when they aren't catching — but other more experienced anglers are — I ask "Are you getting down to bottom?" The answer is almost always "I don't know."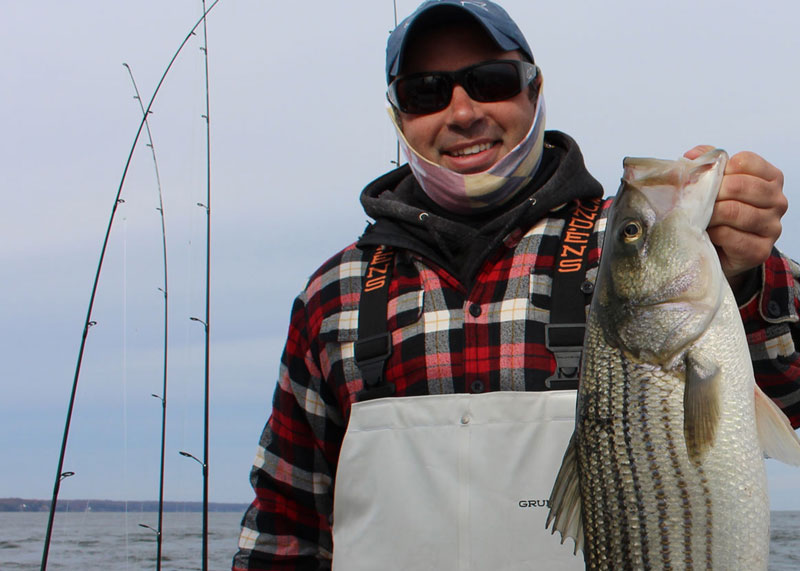 Well, how can you hope to catch a fish if you're relying upon luck to put your jig where that fish is swimming?
Finding Bottom
Step one in mastering how to bounce a jig along bottom is choosing the proper jighead weight. Tail size and/or buoyancy and line diameter have an effect, too, but it's minimal compared to head weight so put your focus there first and foremost. The deeper the water is the more weight you'll need. But every day is different depending on current, wind, and (when drifting) speed of drift. One day half an ounce might do the trick in one specific spot, but the very next day or during a different tidal cycle you might need an ounce in the exact same place. On the flip side of the coin, as a general rule of thumb you'll want to use the lightest head possible so you can get that jig sinking in a seductive manner while also avoiding snags — which are the common result when using an oversized jig.
Experimentation is generally the only way to nail down exactly what size head is right in any given place at any given time. If you can't feel bottom, swap out for a heavier head. If you feel the bottom but your lure is dragging more than bouncing, go to a lighter head. Yeah, you'll need to stop casting for a sec to rerig but there's a good chance you're about to snag and lose that head anyway, so you may as well clip the thing off before it's gone for good.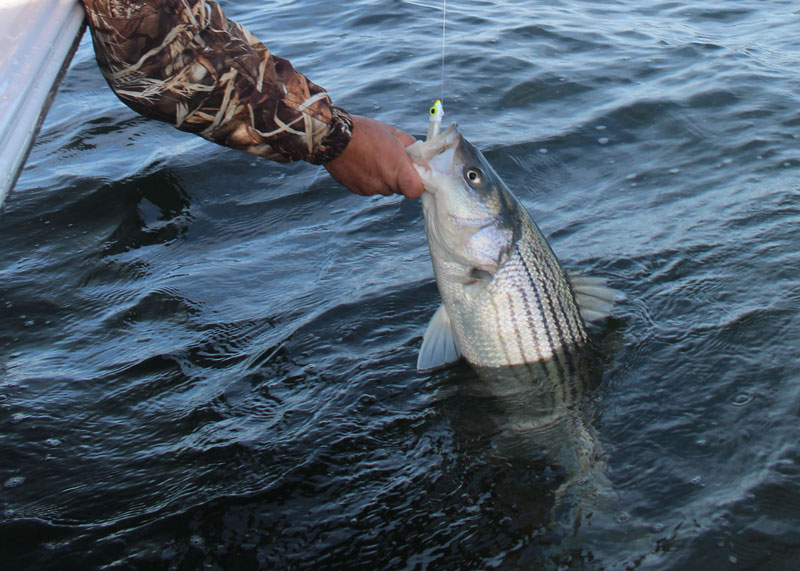 How will you know where to start? Here's a rule-of-thumb table, but remember, this is just a general, broad guide to be used as a starting point of sorts.
| | | |
| --- | --- | --- |
| Wind/current | Depth | Head Size |
| Any | 5 feet and under | Quarter ounce or smaller |
| Light | 5 to 10 feet | Half-ounce |
| Strong | 5 to 10 feet | Three-quarter ounce |
| Light | 10 to 20 feet | Three-quarter ounce |
| Strong | 10 to 20 feet | One ounce |
| Light | 20 to 30 feet | One to one and a half ounces |
| Strong | 20 to 30 feet | One and a half to two ounces |
| Light | 30 to 40 feet | One and a half to two ounces |
| Strong | 30+ feet | Two ounces or switch to other options like heavy jigging spoons |
* This is only applicable when using braid mainline. If you're trying to jig with mono, heavier weights will be necessary. PS: you'll catch a LOT more fish using braid with this tactic. Like… a LOT! *
When you're trying to bounce along the bottom you need to be able to detect the head's impact with bottom after each and every time you jig the rod. If that isn't happening, it's time to up-size or otherwise adjust.
Fishing Rods for Jigging
There's one more gear element to contend with: your fishing rod. Exact rod selection is a matter of personal preference, but if you're trying to bounce bottom with a clunky fiberglass pool cue you won't feel that jig land on bottom even if you're doing everything else properly. Sensitivity is key, so a high-quality graphite rod is in order. And when it comes to sensing bottom lighter rods are generally better than heavier ones; this tactic does require a level of finesse a broomstick simply can't deliver.
Again, specific rod preference is a personal choice, but people always ask me what I like best so I'll answer the question directly. My favorite rod for jigging a half to one ounce is the St. Croix Premier PS60MHF six-foot fast action, matched with a Shimano Stradic 2500 or 3000 spooled with 20-pound test Power Pro. Over an ounce, I like the Shimano Talavera TESIS66MHB six-six fast action matched with a 3000 or 3500 Stradic.
Jigging Styles: Motion of the Ocean
Okay: we've got the gear all set, so let's move on to the actual motions. Cast out, sweep your rod tip up high with the bail still open, then finger the line to keep more from spilling off the reel. Begin counting (one thousand one… one thousand two…) in your head and drop your rod tip to allow the jig to sink while maintaining minimal tension on the line. If your rod tip gets down near the water, release the line and swing your rod tip back up to let out additional line. Snag the line with your finger again and resume dropping the rod tip as the jig falls asap, because if the jig happens to land when you're letting out line you'll miss the telltale "tap" as it hits bottom. When you do feel that tap note, how high you've counted. You can then use the count as a reference point on future casts, so you know about when the jig should hit (assuming you continue fishing in similar depths/conditions).
If you count higher than the depth and still haven't felt the jig hit, one of two things is likely going on. Either your jighead is way too light, or it reached bottom and you didn't feel it hit. On your next cast try maintaining a bit more tension. If you still don't feel it hit, you'll probably want to up-size the head.
Of course, we all count at different paces and different variables (current, plastic type, etc.) are at play, so expect the count-window to vary. That said, I find a one-ounce head in 20 feet usually hits in 10 to 12 seconds, and a half-ounce in 10 feet usually hits in seven or eight seconds.
Now let's say everything worked as expected you felt that jig plink down. The very instant that happens — no waiting, no pause, no lazy reaction-time — pop the rod tip up with vigor to jerk the jig right back off bottom. When the tip gets to the top of its arc begin to slowly crank the reel and then drop the tip again, allowing the jig to sink as naturally as possible while maintaining minimal tension so you can feel it when it hits bottom aga… WHAM!
Hopefully you maintained enough tension to feel that fish, you were paying complete attention, and were on a hair-trigger, so you set the hook immediately and now you're on.
If the wham doesn't come, wait to feel the jig hit bottom again. The moment it does initiate the next upward snap, and repeat the process until you've worked the jig back near the boat and it's getting close to vertical. At that point, reel in and start all over again.
What if you get partially through the retrieve and realize you're no longer feeling bottom when  dropping your rod tip? Stop and wait for a few seconds, until you're sure the jig's on bottom. Then pop the rod tip up and drop it back without reeling. If you can't relocate bottom, and this happens several casts in a row, you may need to up-size the head. If you do quickly relocate the bottom, you may be reeling to quickly on the drop and should try slowing your crank-speed. Or, maybe…
The Will of the Wind
A breeze, even a moderate one, can stymie the best efforts of even an experienced angler. It can grab your line, push it, and create a bow. The bigger the bow it makes, the more difficult it will be to sense bottom. So before upsizing, take the wind into account and let it dictate the direction of your cast. Throwing either directly downwind or directly upwind as opposed to across the breeze, you can prevent the bow in the line and may discover that you can feel bottom just fine. In some cases, such as Spot-Locking next to a specific piece of structure on a breezy day, repositioning the boat so everyone's casting directly downwind or upwind to hit that structure will be a good move.
Current can have the exact same effect. It's usually a lot less problematic than wind in the Chesapeake, where currents aren't too strong in most areas. But at a spot like the Bay Bridge where the water may be roaring through at times, casting cross-current can make it just as tough to feel bottom as casting crosswind on a breezy day.
Inexperienced anglers: if you use all of the above tactics and gear and still have difficulty, don't let that discourage you. It takes time and experience to master the bounce, and even the best anglers out there will have a tough time staying in touch with the bottom when conditions are difficult. Also remember that as a general rule of thumb the deeper the water is the tougher it will be. So spend some time bouncing a jig long the bottom in eight or 10 feet of water to get a feel for it, before you try to detect the subtle landing of a jig 30 feet down. In fact, there's nothing wrong with dedicating an afternoon to bouncing an ounce of lead in six or eight feet of water, even if there aren't any fish that shallow, just to get a feel for it. Because once you do master the bounce, you absolutely, positively, will catch more and bigger fish.
While we've covered most of the bases for bouncing along the bottom, there are a few additional details and tips to keep in mind.
When bouncing bottom around jaggy structure or shell, every fifth or sixth cast check your leader for chafe. Don't get lazy and let it go if you detect some. Cut and retie, or you can bet you'll hook a monster and then break it off.
Bring multiple rods, and start with each rigged with different sized heads. Then you can switch them out and try different sizes until you nail down which will work best for the conditions.
Stay on a hair-trigger not just for bites, but also for bottom. Often fish will follow a bouncing jig before striking and if they see it sit on bottom even for a second, they'll turn tail and abandon the chase.