Combining the best of the classics with the height of modernity is no easy chore, but it's exactly what Judge Yachts does with the Chesapeake 36. Looking at this boat is akin to jamming a rock and roll version of Beethoven's Fifth—you can tell with a glance at the picture that the 36 has classic lines, as well as a classic layout. You can also tell that the twin 300 hp Suzuki outboards on the transom bring modernity into the mix. But these two traits only begin to tell the story of how Judge includes the best of tradition with the best of modern boat construction and performance.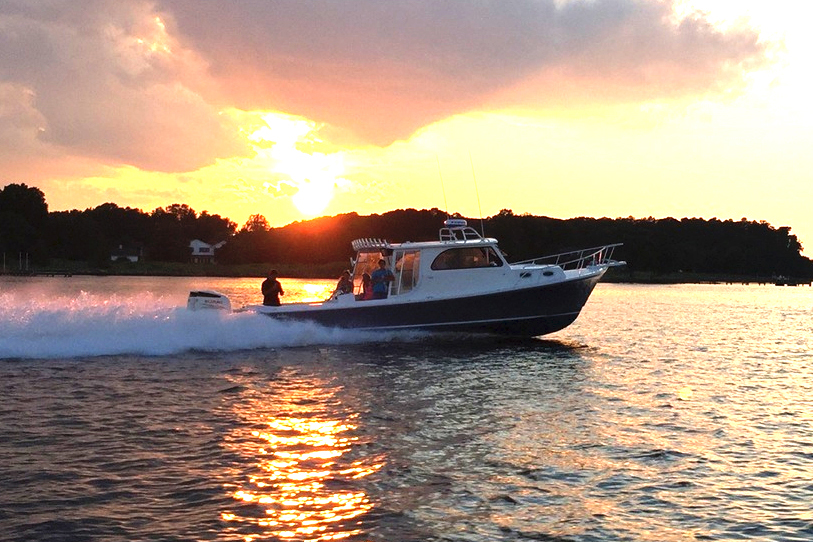 Full disclosure: it's a bit of a stretch to call this model "new". It was introduced in 2015, and that's when I was able to step aboard hull number one. But of course, FishTalk didn't exist quite yet back then, and in our estimation this boat still deserves a thorough examination today. And, there's been at least one significant change since its introduction: now you can get the Chesapeake 36 with triple outboards slung across the transom. While that might make running this boat more fun, we're pretty sure it isn't what you'd call "necessary," however. With the twin 300's this boat's performance is thoroughly up to date, with a cruise at over 30 mph while burning just 22 gph—and a top-end darn close to 50 mph.
Examining the boat's interior design, you'll find more of that traditional touch. It has a wide-open cockpit capped off with an aft steering station placed just behind the hard top support on the starboard side. That support and the back of the hard top boasts 16 rocket launchers—the 36 can put out a spring trophy spread that'll give every other troller on the bay a serious case of boat-envy. Farther forward there's the main helm station to starboard with a tackle station and stowage just behind it, and an L-shaped settee to port. The lower cabin is, again sticking with traditional bay boat layout, quite simple and straightforward. There's a large V-berth, a stand-up head, and four opening ports.
Some of the modern aspects of this boat that aren't evident to the eye include a bow thruster, an option for joystick steering controls, and a 16,000 BTU climate-control system. We should note at this point that the Chesapeake 36 is, like all Judge Yachts, more or less a custom-built boat. When you commission a new build you get to talk with Bill Judge himself, and determine what details and features you want, personally, in your new boat. That's pretty dang cool—and an opportunity you'll never get when buying a boat from one of the big manufacturers. Then again, such personal treatment probably costs an arm and a leg, right? Not! We were quite surprised when we compared the cost of competitive production-built boats. Look for the bottom-line figure on a quality 36-foot express with twin 300's and you'll realize that a half a million dollars or so is a common range. But the Chesapeake 36 bases out at a $289,000.
How's this possible? When asked this question Bill Judge planted his tongue firmly in his cheek and responded "Maybe I'm an idiot for not selling it for $500,000, or maybe I'm just fair, or maybe my kids are smart enough to get college scholarships!"
That's certainly a refreshing attitude, one you'd never encounter from a big production builder. Then again, if you went to one of those builders and asked to see the head of the company so you could ask him or her about pricing, you'd probably get laughed out of the building.
Oh yes, and in case we forgot to mention it, one more modern touch you can get in the Chesapeake is a kick-butt stereo system. That means you can blast Beethoven's Fifth—classical or rock version, as you so desire—as you cruise down the bay in a Chesapeake 36.
Quick Facts:
LOA – 36'0"
Beam – 12'0"
Displacement – 12,500 lbs.
Draft (hull) – 1'5"
Fuel Capacity – 250 gal
Max HP – 900
Area Dealers – Judge Yachts, Denton, MD, (410) 479-9770 or visit Judge Yachts.