I'm at Mattingly Avenue Park on Mattawoman Creek off the Potomac River in the early morning, slipping my kayak into the water as fog rises off it all around me. Today I'll be hunting blue catfish — but with lures, not bait. I'm heading towards thinner water that's bordered by tall grass and lily pads. As I peddle my kayak toward my destination, I drop a chatterbait off the side and start a slow troll. It isn't long before I get bit and the rod tip starts to bounce erratically.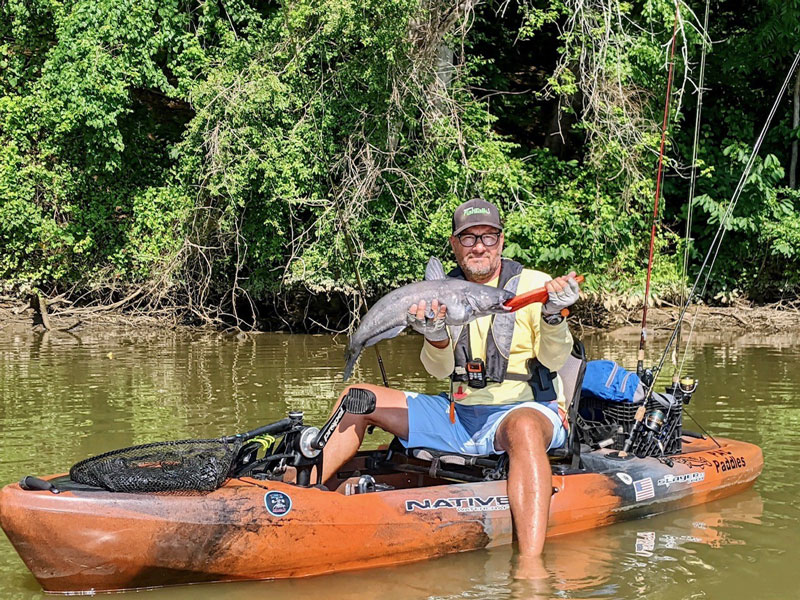 In this part of the Potomac watershed the blue catfish population has exploded over the past few years, and catching blue catfish on lures has become the norm. While fishing for snakehead, largemouth bass, or white perch for that matter, I catch a number of blue catfish by accident. But now, there are days that I'll get my gear together just to target them.
Blue catfish provide a great challenge and fight once hooked. Unlike some catfish species they are a very aggressive predator that will eat about anything that swims, and in areas where they're thick it's perfectly reasonable to target them specifically with artificials, as opposed to using bait. Although I primarily use chatterbaits and jigs and recommend them, try your hand at other baits like small crankbaits, spinnerbaits, and other artificials — you'll catch them on those lures as well.
I find that most of the lure-caught fish are between 20 to 24 inches, as most of the time the very large blues like to sit in deep holes, but you may run into a few giants while casting in shallow water. These fish grow to 80 pounds or more and can live up to 20 years. They are invasive and have become the primary species in many fisheries, with their populations up to and over 70 percent of the fish in some waterways. They are great table fair so harvesting them is encouraged.
Most of the lures I use are single-hook jigs, chatterbaits, and spoons. I use a relatively heavy rod, a medium-heavy or heavy action, and either conventional or spinning gear spooled with 20- or 30-pound braid topped by 15- or 20-pound leader.
I commonly start out trolling a chatterbait, sometimes trolling a second rod with a light jig, about a quarter-ounce, dressed with a three-inch paddle tail. Green or gray-blue are good colors of choice. I start by trolling up the center of the creek and once I get bit I'll stop and start fan casting the area as I drift with the current, repeating the process as I move up the creek. I will also cast alongside any snags or laydowns in the water, usually with a chatterbait with a four-inch white paddle-tail. If I fail to get bit on the chatterbait I'll switch to the quarter-ounce jig. Keep your bait just a few inches off the bottom for a better bite.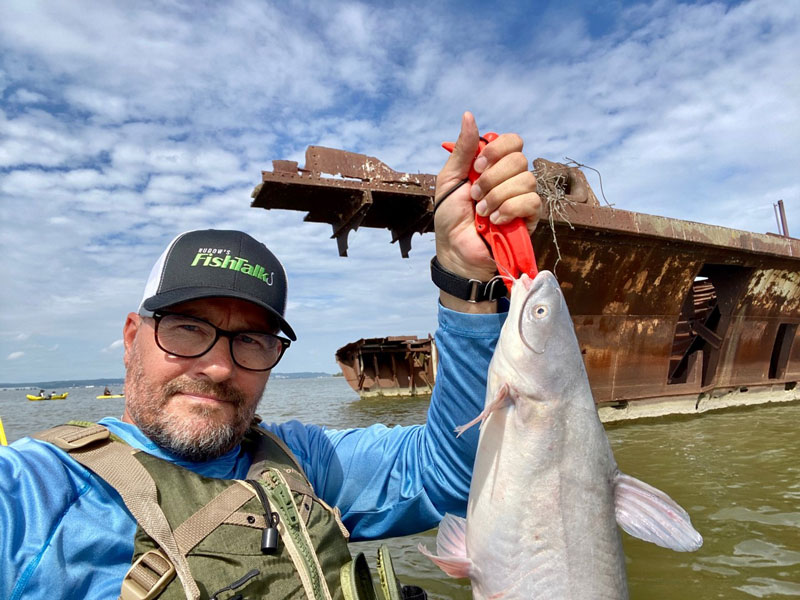 Look for smaller creeks that feed into the area you're fishing, too. They provide cooler water and oxygen as they flow in. Here, cast up into the stream and work the bait back with the flow of the water. This is also a perfect place to cast small spoons and jig them back to the kayak.
When fishing larger waters such as the Potomac out of Mallows Bay, look for water six- to eight-feet deep. If you can find flats or humps with small depressions, you'll discover they hold fish.
Remember a cast not taken is a fish not caught. Take the cast!
-By Eric Packard