Anyone who enjoys Chesapeake Bay fishing from a kayak dreams of landing the striper of a lifetime while paddling or peddling his or her personal angling machine. During the winter months you can often find big rock feeding throughout the Bay, but come spring when the water begins to warm and huge mature migratory breeding fish return to their spawning grounds is your best shot to land a trophy rock from a kayak. Give it a go during the catch and release season when boat traffic is minimal. Once opening day hits, there won't be a stretch of horizon that isn't riddled with fiberglass hulls and dozens streaks of monofilament trailing tandems and umbrellas.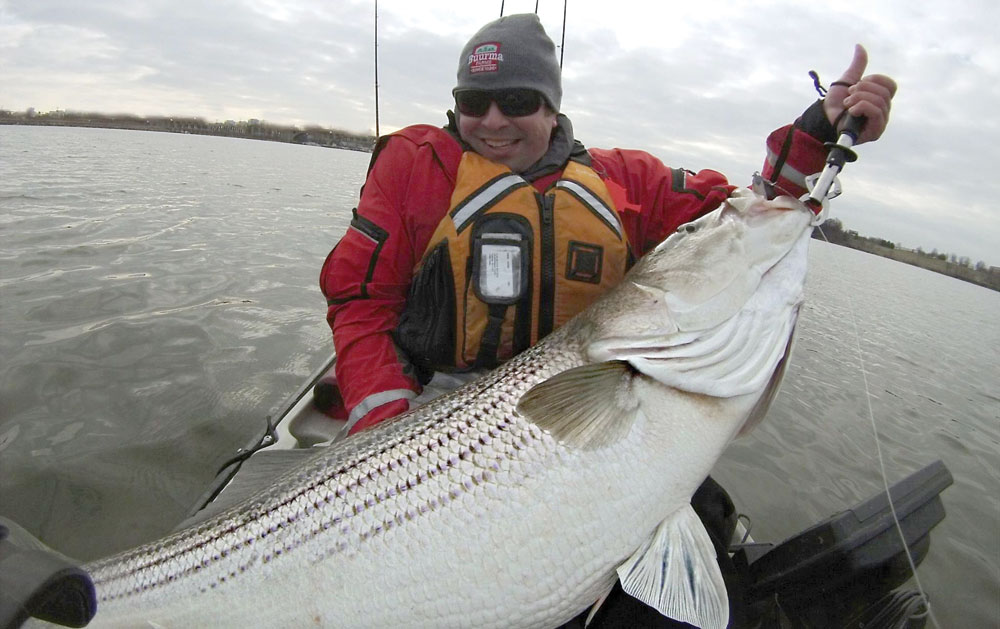 While these large rockfish are known to use the deep channels of the Bay as their highway, they do enter the shallows to feed. The best time of day is at dawn and dusk, when the stealth of your kayak can put you right on top of these giants in skinny water. When searching for fish don't be afraid to go big; try trolling six to nine-inch shad bodies on one-ounce or lighter jig heads, or large diving hard-baits such as the Rapala X-Rap and Yo-Zuri Crystal Minnow. Jigging 10-inch Boss BKDs is another option.
---
Key Kayak Launch Points
Maryland
Point Lookout - This St. Mary's County launch is popular location for winter fishing boats. This is the first of many points on Western side of the Bay that offers drop offs and underwater humps worth targeting.
Taylors Island - This spot is just a short way from Cambridge and enables you to launch your kayak at a pinch-point in the Bay, right at the mouth of the Little Choptank. Here you find large flats surrounding James Island where you'll ideally find feeding stripers.
Beverly Triton Beach Park - This Bay-front access point puts you right on another Western point between the mouth of the South River and the West/Rhode River. You'll find a multitude of depth changes throughout this area. The overzealous will find that Thomas Point Light is within a paddler's reach and is always a hotspot throughout the year, regardless of trophy season. While the lighthouse itself is alluring, try the rockpiles in the shallows off of the point.
Sandy Point State Park - The boat ramp gives direct access to the Bay Bridge as well as Hackett Point to the South, while launching from north-side beach at the puts you within a short paddle of Sandy Point Lighthouse. Heading out and to the left, you'll make your way to Podickory Point near the mouth of the Magothy. This has been a go-to spot for many the past few years.
Fort Smallwood - This point at the mouth of the Patapsco River gradually slopes downward toward the deep shipping channel in the river. Paddling southeast towards Bodkin point, you'll find a steady drop-off all the way to the point. Heading northeast up the Patapsco, there are several warm-water discharges including Brandon Shores and Med Star hospital, though there are closer access points, such as Ft Armistead, if you want to target those spots up-river.
Susquehanna Flats - While the success of trophy fishing on the flats has diminished over the past few years and is heavily weather-dependent, not a season goes by without at least a few monster rock caught here. There are many launches in this area, but most convenient to reach the flats are Tydings Park in Havre de Grace and Perryville Community Park. Try targeting where the shallows meet the river channel. Check reports for the Conowingo Dam release, as this area can be riddled with debris from the Susquehanna after an opening.
Virginia
Cape Charles - According to Virginia Saltwater Master Angler, Kayak Kevin Whitley (kayakkevin.com), the fall/winter is typically the best time to fish for trophy stripers in the Southern Bay. A good spot is near the old plantation light off of Cape Charles, which is about a three-mile paddle from the Cape Charles Boat Ramp.
Kiptopeke, VA - Just North of the CBBT and the mouth of the Bay, you'll find Kiptopeke State Park. The convenient launch off the park puts you right at the site of an artificial reef composed of nine decaying concrete ships. While the presence of trophy stripers has not been as bountiful here the last few years as it was in the past, this spot holds plenty of potential.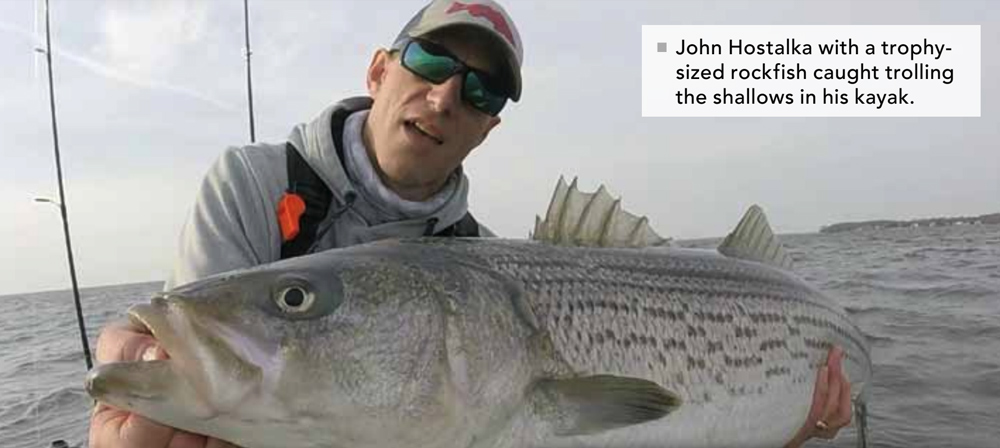 ---
Proceed with Caution
The water temperature this time of year typically is still very cold. Anglers should be dressed properly and be outfitted with the proper safety equipment. For more safety tips see our "Cold Water Kayak Fishing" article in February FishTalk or online at our web site.
Bear in mind that while you are focusing on achieving your personal fishing goals, it is of the upmost importance to ensure the safe release of these breeding fish – especially if you catch one pre-spawn. Read the article Do's and Don'ts of Catch and Release Fishing, if a refresher on proper techniques is in order.
---
Check the Regs
Check the rules and regulations for catch and release season. They differ from the regular season, are subject to change, and vary by the specific area. A pre-trip visit to the Maryland DNR or the Virginia VMRC web site is always a must.
---
Trophy Tips from Top Kayak Anglers
"Many anglers don't realize how shallow striped bass go in the winter. I've seen and caught them in five-feet even in February. You do not need a warm water discharge to catch these winter fish. I like targeting them in very low-light conditions such as at daybreak, sunset, in fog, rain, snow, and even at night. They disappear during the bright times of the day, but they return nightly to follow the bait."
- Alan Battista, author of "Light Tackle Kayak Jigging the Chesapeake Bay"
---
"Shallow is the name of the game in the springtime. We're talking eight to 10 feet, often way less. Shallow water warms first and both trophy fish and the bait they're after will be up shallow. I troll shallow-running plugs and start by following depth contours in likely areas, but just as in other times of year, ambush points are key. Just a small pile of rocks, a hump, or a slight depression can hold really big fish."
- John Hostalka, Hobie Fishing Team
---
"The bottom line is that you need to be out there before everyone knows that the bigs have arrived. If you chase reports of big fish, you are always one step behind. I did well last year in mid-March on the shallows of river-mouth points. But I had four skunk trips before I started catching a bunch of big fish in six to 10 feet depths, where the southerly breeze piled up warmed water."
- Jeff Little, Sales Manager, Torqeedo, Inc.
---
"Don't be afraid to fish shallow, find clean water, and match the size of the bait with your lures. I prefer weedless lures to avoid snagging structure and grass beds in the shallows."
- Matt Baden, Jigthebay.com
---
By Zach Ditmars