I enjoy kayak fishing at home in the Chesapeake region, and from January through September of 2019 I fished 59 times here at home from my kayaks – but I also fished another 31 times in kayaks with guides in Florida. I enjoy traveling to Florida for its clear water, beautiful grass flats, and mangrove islands, and for the opportunity to catch prime gamefish that are not available here at all (or at least not often). And, of course, for warmer weather in the cooler months.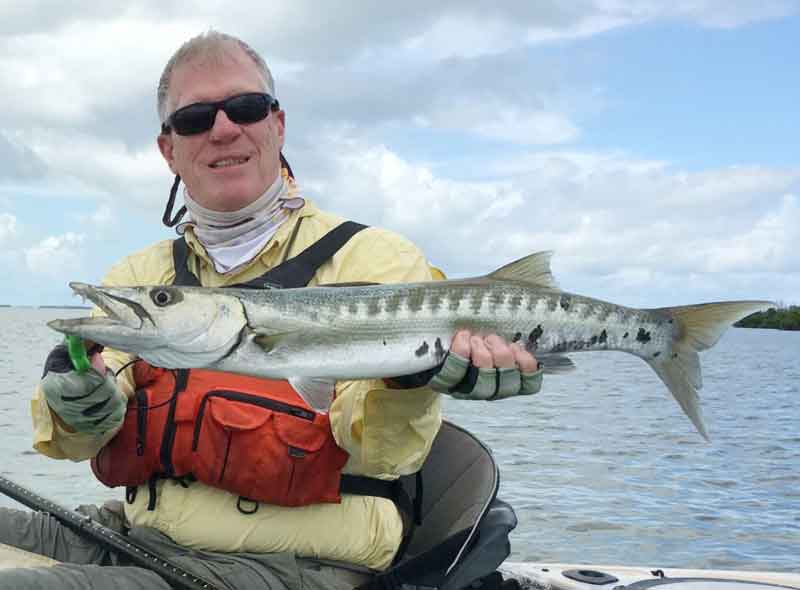 Traveling for Kayak Anglers
There are at least two ways to arrange out-of-town kayak fishing trips. First, you can drive to your destination. This allows you to bring your own kayak, paddle, PFD, and fishing gear if you choose. The other way to go kayak fishing far from home is to fly in, rent a car, bring a few basics with you, and fish with a guide. I do this often, and have developed a checklist to aid my packing for each trip. On most trips, I fly into Tampa and fish with a guide who takes me to a variety of shallow water spots around Tampa Bay. Because I fish so often with him, I bought a kayak from a dealer in the area and keep it at the guide's house. That way I know that I can use a comfortable and safe kayak whenever I'm with him.
What to Bring For the Kayak Adventure
This first group of items are necessities: a fishing license, sunscreen, hat, gloves, face shield, long fishing pants and shirts for sun protection; water shoes to wear in the kayak (I use old running shoes); reading glasses (if necessary) for tying knots; and a dry bag (used mainly for storing my wet water shoes on the trip home).
When traveling on Southwest out of BWI airport, you're allowed two free checked bags of up to 50-pounds each. I fill a large duffel bag with the items mentioned above plus these other optional but desirable items: a waterproof tackle tray; mesh bag; pliers; FishGrips; a gel pad seat cushion (which adds comfort for my old butt); my own PFD that I know fits well; a sturdy tow rope (used when dragging kayaks over sand or shallow areas); spare jigheads and other lures; a travel rod (a three-piece seven-foot medium-weight spinning rod) and reel; and a fishing rag. With these items, I'm self-sufficient except for the kayak, paddle, and anchor.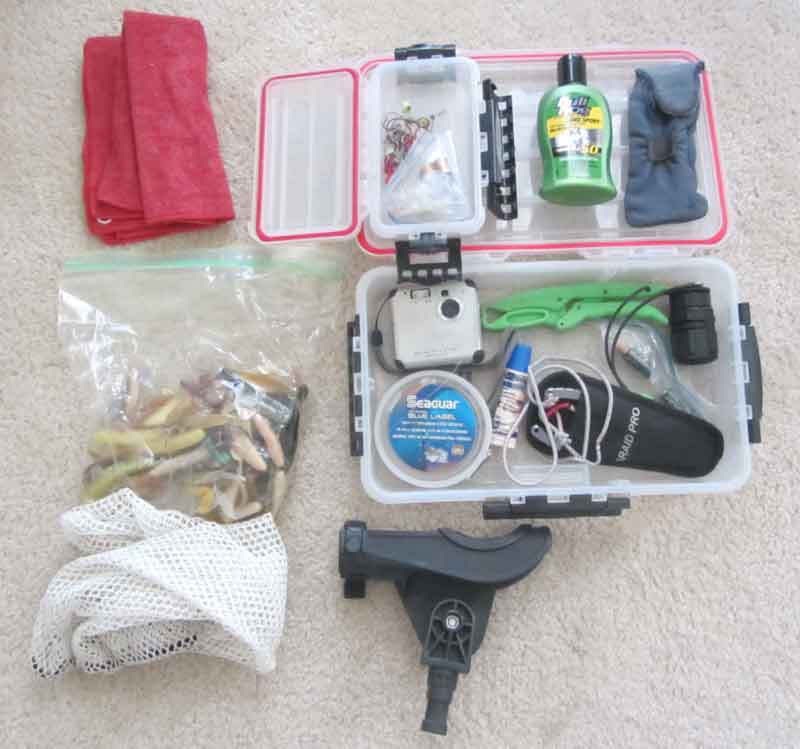 How to Find a Kayak Fishing Guide
Finding a guide who is a professional and who fishes in a way with which you're comfortable is not easy. I lucked out when I found my Tampa guide through the Internet. We hit it off and have fished together more than 140 days in the past seven years, but I've had guides whom I can strongly recommend and others who did not meet my expectations. Asking your friends for recommendations is a good way to find someone you'll be comfortable with.
The cost for a guide in Florida is variable and can range from $125 to over $300 (plus a tip) for a four- to six-hour trip. This is not inexpensive, but is considerably lower than the cost of hiring a guide who fishes from a boat. If you're fishing with a friend the incremental cost for an additional angler is modest, making the average cost for the two of you less than for a single charter. Some guides offer a discount if you fish multiple days in a row with them, so don't be afraid to ask. Also make sure to ask what they provide for you.
Final Thoughts on Kayak Fishing Travel
I'm fortunate to have time to make these trips, an understanding wife, and enough financial resources to go often. But no matter your situation, I highly recommend kayak fishing in some new areas and catching different species – much as we love fishing in the Chesapeake region, you won't regret it.
-By John Veil