After nearly a decade of cutting my teeth Chesapeake Bay fishing from a kayak, I felt quite confident in my ability to find and land many different species from a variety of waters. I've always loved the information-gathering aspect of fishing and like many anglers, I'm inquisitive by nature. In the Bay I knew about the spring and fall striper runs, ways to crack the summer doldrums, and how to find sluggish fish in deep winter. But… what would happen to all that knowledge when I moved 304 miles north, to coastal Connecticut? I was about to find out.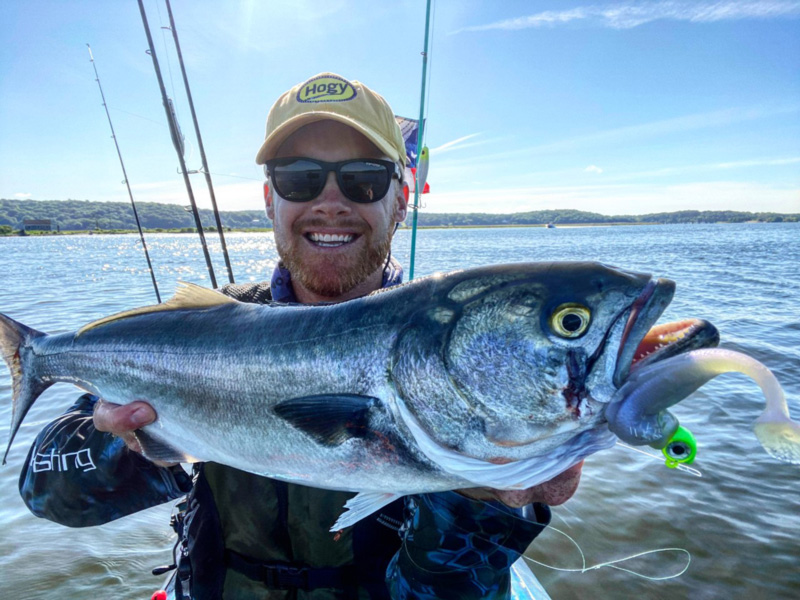 One tip the Old Salts often pass along is that there's no substitute for T.O.W. — Time on Water. With this in mind and 17 years of kayak fishing under my belt, I knew that it would be foolish to think that my understanding of the Bay Region would cleanly translate into catching big fish in my new home waters of Long Island Sound. While I knew the Sound would be different, I was not yet able to articulate what exactly those differences would be.
Being a teacher and in need of a summer job after completing my move, I had the supreme good luck to land at a local tackle shop, Black Hall Outfitters, whose staff and fishing team quickly became friends and generously introduced me to the incredible fishery that is the Long Island Sound. Boy, did I have a lot to learn.
Tidal strength, water clarity, and species diversity all caused a bit of culture shock and adjusting to the glaring differences between the fisheries. Despite these differences, you can correctly guess that there were also some helpful overlaps in technique and tactics which helped flatten my learning curve as I gleaned new tips from accomplished fishermen up this way. Here are those which I feel could benefit anglers in the Chesapeake Region.
Using Plastic Eels To Fish Deeper Bottom Features - Large soft-plastics such as BKDs are common in the Bay, but I'd encourage you to consider trying large imitation eels while drifting or slow-trolling, such as the GT Eel by Gravity Tackle. This is a go-to bait in the summer on the Sound, especially when drifting humps or drop-offs. And with a strong population of American eels living in the Chesapeake Bay, these translate quite well. Start with a 3/4-ounce jig-head and adjust upwards. If you've got a drift going, cast down-drift and let your eel sink slowly to the bottom. Then slow-crank back, adding a quick twitch of the rod tip every five to seven turns of your reel handle. When you feel a bump, swing for the fences and hang on. Consider these eels for depths up to 60 feet. For those worried about these eels being a "big-fish-only" bait: first of all, you're not wrong about the big fish part. These eels catch giants, including the author's PB 47-inch striper. However, I've also caught low-20-inch class stripers from shore and kayak using the same 13.5-inch eels.
Metal Jigs for Multi-Species Success - Before anyone curses my name and throws their copy of FishTalk across the room, let me say it: I know that anglers on the Bay use metal jigs already. However, at least in my experience, it seems like metal jigs are the exception and not the rule. I'd suggest trying out the opposite approach. Look, I get it: when you need to find those giant spring bass there's arguably no more effective way to do it than by trolling. But when you have a decent idea of where the fish are, try tying on one of these metal flat-falls. My two favorites are the Daiwa Saltiga SK Jig, and the SeaRide Blueblue Jig. They can be particularly effective when large stripers hang below blitzing schoolies, waiting for injured baitfish to sink down to their depth. Two reasons I advocate for metal jigs, aside from the fact that they catch: They are simple to use, and they are downright fun. The tactic here is easy to hone when you know what you're trying to mimic: An injured or dying baitfish fighting up off the bottom, but fluttering back to the sea floor. I recommend using a 20-pound fluorocarbon leader and a medium-heavy to heavy action rod, as you'll want to rip this up off the bottom with some power and have some backbone when you get bit. Drop your jig down to the bottom, and as soon as it hits reel up a crank and then use your rod tip to rip the jig up. Then, lower your rod tip at a pace which allows you to maintain the feel of the jig while not impeding its fluttering movements. When it hits bottom again, rip it back up immediately and continue. Most of the time fish will hit on the fall, which means when you lift the tip to rip up, you'll get to carry that into a full hookset.
3. Minor Tactical Changes To Catch More Flounder - This is one for the new and novice flounder (called fluke, by northerners living in my new neck of the woods) fishermen like me. If you're a fluke veteran, you've likely had this one under your belt for a while: jig a Hi-Lo rig. These rigs are fished by quick-jigging your rod tip to bounce the bucktail along the bottom, and the teaser hanging above it will do the same. To match the typical forage in an area, you should either choose a minnow teaser for shallower water or a squid-style teaser for deeper water. Your bucktail should be chosen based on color. Typically, I like to use white when the water is clearer, and chartreuse if rain muddies the water.
4. Go Big with Topwater: Familiarize Yourself with "The Doc" - About 10 years ago someone way more intuitive than I am discovered that this lure, made by Musky Mania, produced epic topwater hits from stripers. At nine inches and 3.25 ounces, it's a bit bigger than most topwater lures. If you have not yet heard of or tossed a Doc, I speak confidently when I say that you are likely missing out on some of the most explosive topwater blowups of your life. These lures are legendary in New England, and at certain times of year it is not hyperbole to say that nearly every boat or kayak you pass on the water will have a rod with one tied on. I know some Bay anglers use them too. Note that you'll need some heavy gear to launch this sucker. A typical rod choice would be an eight foot long, medium-heavy rod and a 5000-series reel. Use a heavier line and leader so you don't cast it off into oblivion.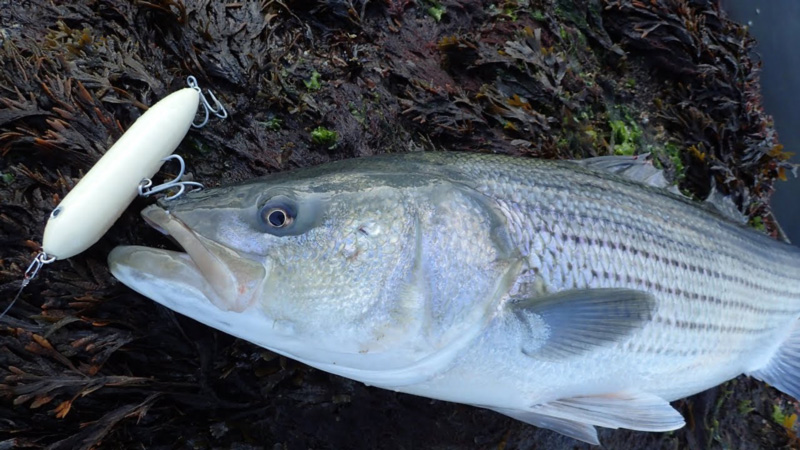 5. Aim Small, Miss Small: A Kayak Angler's Creed - From the Mel Gibson film The Patriot: Aim small, miss small. The idea here is that if you focus on small details when trying to accomplish a task, you will either hit your target or miss by only a small margin. Mel Gibson wanted to hit a Red Coat when firing a musket, I want you to catch big fish from your kayak by not overlooking details just because they're familiar.
There are countless vignettes I could reference from my own experiences and the tales of other fishermen which prove this pointer valuable. But if you've been kayak fishing long enough, you know this already because we have no choice. Whether you're in a $200 sit-in kayak or sitting pretty on the Old Town Sportsman AutoPilot 136, you simply can't cover as much water as a powerboat. So… don't try to! We become conditioned as anglers to devalue a spot if it's close by, or if we see it often. Take those thoughts and wipe them out of your mind. Etch-A-Sketch those doubts, focus in, and find those not-so-distinct features that everyone overlooks. Aim small, miss small. It's what we do.
-By Matthew Stone