Looking back at my 2019 fishing log has me thinking about some summertime crappie fishing from my kayak. Fishing for those summertime slabs in the warmer months of the year can pose several particular challenges. I'll run through a few of my do's and don'ts, and hopefully set you up for a successful outing chasing one of the most popular panfish around, the crappie, while fishing from your kayak.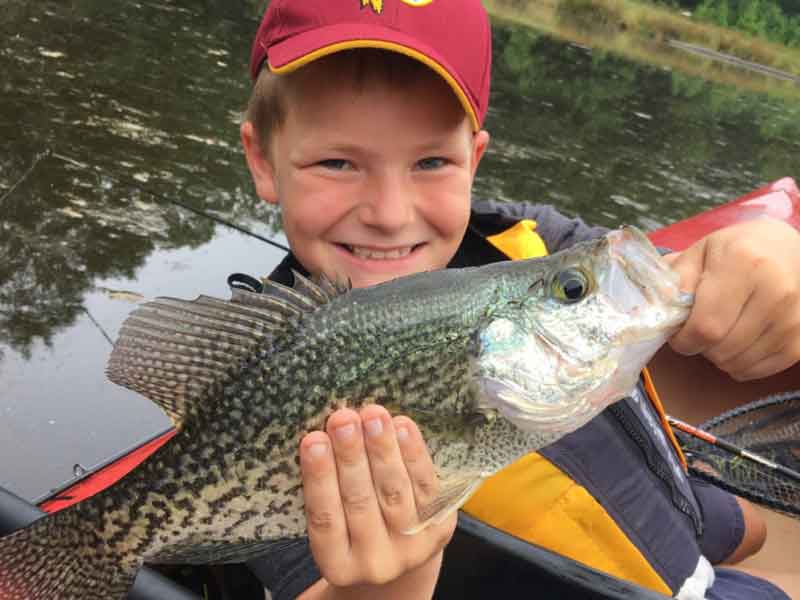 First and foremost, in our neck of the woods when spring turns into summer it'll not only get hot, but humid, too. Care has to be taken when out on the water. I take plenty of water to drink, and wear a long sleeve fishing shirt with UV protection and fishing gloves. I use sunscreen and I wear a hat and sunglasses. I will often find shade of overhanging trees during the day to steal a few moments out of the sun.
Second, what bait should you use? Minnows and crappie always go together. But the summer heat can wreak havoc on your live baits. Even my best attempts to keep them alive, by keeping my minnow bucket in the water trailing next to my kayak, result in some dead minnows. Surface water temperatures almost as hot as the air temperature can prove fatal to those little fellas. So, as the weather heats up I often switch to jigs, a Beetle Spin, or small plugs.
Third, where will you find those slab-sided fish? This all depends on what waters you are fishing. If the fishery is a pond, lake, or river, my method of trying to hook up will vary.
Kayak Fishing in Ponds
I find ponds are the most fun, and frankly, for me the easiest to fish. I'll cast a Johnson's Beetle Spin dressed with a white or chartreuse twister tail. Casting under overhanging trees, the shady side of a lay-down, or in deeper water can all be effective. By deeper water I mean any topography change ranging from a few feet to the deepest parts of the pond.
Kayak Fishing in Lakes
Fishing my home water of St. Mary's Lake in southern Maryland, I'll pick off fish by vertically jigging with small crappie jigs dressed with white and chartreuse grubs—barely moving the tip of my rod up and down. Before I can do that, though, I need to locate the fish. Here I'll use my depth finder and locate fish in deeper water, where normally they will stack up near cover. But don't discount shallow water in the morning or late evening. During these cooler hours of the day you may find them feeding in the same locations that you found them during the spring, near shoreline structures such as beaver dens, spillways, and heavy brush.
Kayak Fishing in Rivers
For river or stream crappie fishing you will need to go far enough upstream in the tidal tributaries to avoid the brackish water of the Bay. Look for the same type of cover you'll find in a pond or lake, but look for it near a feeder creek. Better yet, find one being fed by spring water. The cooler water temperature coming out of a spring will attract all species of fish, in the heat of summer.
Okay, let me throw a wrench into the mix here. My favorite method of targeting crappie, whether on a pond, lake, river, or stream is fishing a jig below a bobber. You can use a traditional bobber by placing your jig a few inches to a few feet below. Or you can use a slip bobber and play with the adjustment of the depth of your jig until you locate where the crappie are within the water column. I'll cast out around structure, or in a pond I may cast into open water. Let the jig settle below the bobber, then retrieve the bait a few feet and let the jig settle again. The majority of the bites will come as the jig is dropping back below the bobber. The bobber will take a few bounces if there is a bite, but wait until it's pulled below the surface or takes a quick run in one direction. Then gently set the hook; don't be too aggressive, crappie are known as 'paper mouths' for good reason. They have very thin skin around their jaws, so be careful when setting the hook or you may lose a few fish.
I'll fish two types of spinning rods while targeting crappie, too. I fish an ultralight rod and a seven- and one-half-foot rod. Both are rigged with very light line, four- or six-pound test. I'll cast the ultralight setup and vertical jig with it, too. I find that with a longer rod I can reach back into heavy cover where my kayak can't go, then slowly jig the bait without having to cast it.
Slow down your bait, fish minnows when possible, and look for shaded cover. And remember that these fish almost invariably school, so when you hook up a crappie there should be plenty more in the same location. Often, once you locate those fish you can sit in that same spot and catch one after the next—for just as long as you can take the heat.
-By Eric Packard