As the water chills out this fall, LTT (light tackle trolling) in and around the tributaries, and trolling open Bay water with heavy gear, are tactics many anglers who want to go striper fishing should consider. Especially when you aren't 100-percent sure where the fish are or you're in an unfamiliar area and you need to cover some water, give these methods a shot. First, let's take a look at trolling in open water with heavy gear by checking out this video we shot with Angler's Sport Center in Annapolis, MD.
Although we had a fairly slow day and didn't hook and monsters when we shot this video, we managed to catch fish even though a front was pushing through and it was blowing 15 to 20 knots. Follow this advice from the guys at Angler's, and you can bet that you'll enjoy some fresh rockfish dinners this fall.
Light Tackle Trolling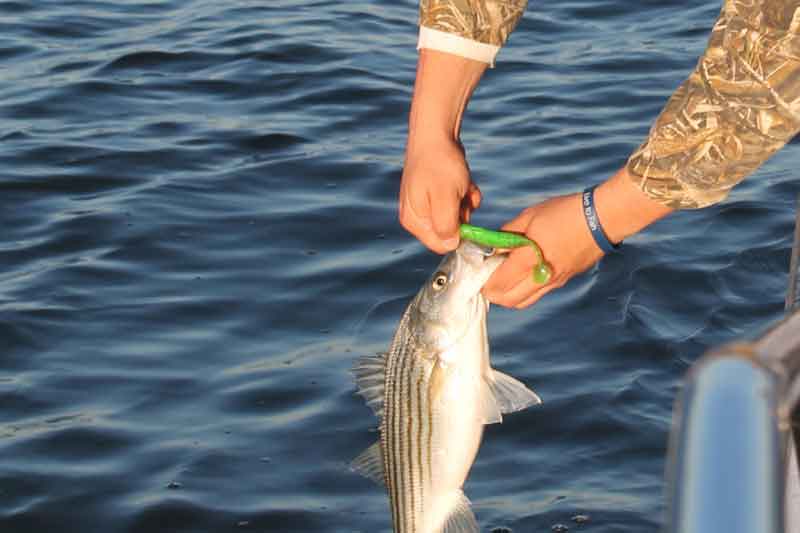 Light tackle trolling is a good bet when the fish are stacked up along channel edges in the tributaries, or when they can be found in the shallower areas near the river mouths. Ready to down-size that gear and catch schoolies one after the next? Here's how it works:
1. With jigging or relatively light tackle gear, tie on a half- or three-quarter-ounce jighead and dress it with a paddle-tail style soft plastic of four or five inches in length. White, pearl, chartreuse, and yellow are all good colors to try.
2. Set up three or four lines like this (more lines means more possibility of strikes but more possibility of tangles), and pick a course. Deploy the lines by casting them out as far as possible, then letting out another 20 or 30 yards of line; the biggest mistake many people make is trolling these light lures (which remain very close to the surface) too close to the boat.
3. Set boat speed around three mph (when it gets really cold out, back it off to 2.5 mph or so). Target areas of less than 10 feet of water, with structure or variations in depth. As a general rule, less is more in this case – often the best fall LTT catches will come from very shallow water, where the drop-off may be from just three or four feet of water to five or six feet of water.
BONUS TIP: Often there will be small schools of rockfish in the 17- to 22-inch class meandering around the tributary mouths up and down the Chesapeake, slightly deeper than noted above. They may come up to the surface to chase peanut bunker for a minute or two, then disappear. This makes casting for the fish quite difficult, since the schools have been going back down after very brief attack runs - when you spot working birds and run over, the action is usually over before you can get there. This is a prime situation for fall LTT. Stop running to the birds, and instead start trolling through the areas where you've seen them recently.