For many of us who regularly enjoy fishing the Chesapeake Bay, light tackle jigging is a favored method of chasing after striped bass. And it's no wonder—light tackle jigging is both fun and effective. Before we get into the nuts and bolts however, you may want to check out this video of a FishTalk Magazine seminar, given at Island Tackle Outfitters this spring. 
The Jigging How-To
Late spring and summertime fish are suckers for soft plastics like BKDs and Bust 'Ems. Use four to six inch tails, rigged to jig heads ranging from a quarter ounce to an ounce depending on the depth you're probing. Use enough weight that you can attain contact with the bottom, but not so much that you're dredging it. Chartreuse and white are go-to colors, pink is often surprisingly effective, and dark reds or purples rule in very low light conditions. Rod and reel choice is purely a matter of personal preference, but when it comes to line, stick with braid. The zero-stretch nature of braid means you'll feel the strike sooner, and set the hook stronger.
Spring jigging will be most effective in one of two situations: when fish have set up on structure, or they're schooled in open water (often near drop-offs and ledges). When they're oriented to structure, obviously, you'll cast and retrieve as close as possible to that structure. Quite commonly in spring, however, the schools of fish will be meandering in the open bay waters. In this situations jigging is the best way to get a lure presented to the fish the moment you locate them on the fishfinder or via working birds, without getting bogged down with baiting hooks, anchoring the boat, or any other tasks. Plus, as soon as the fish move on you can, too.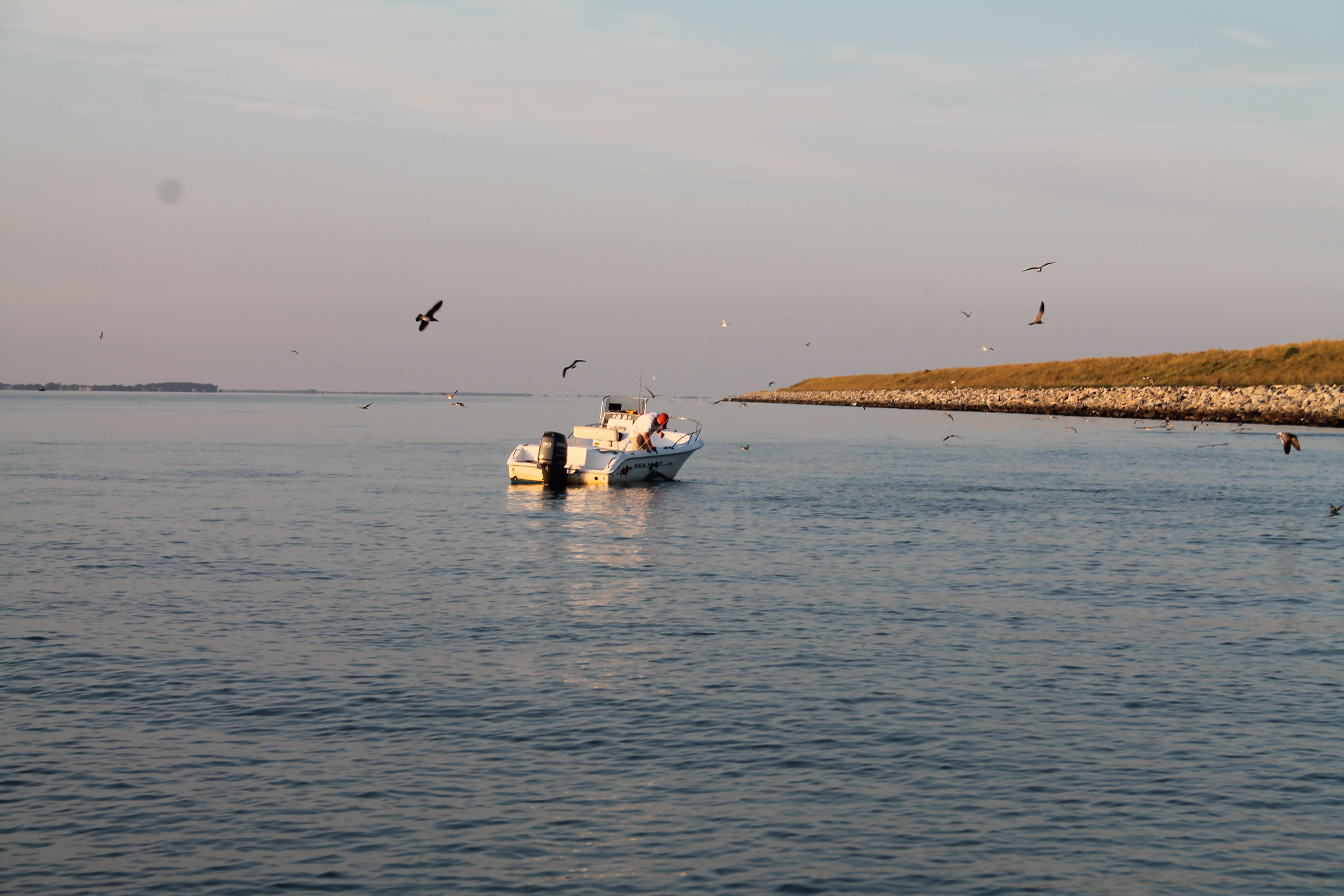 Quite often, however, anglers move on a little too quickly, particularly when working birds break up and disappear. In this situation don't just abandon the spot or sit around and wait for the birds to gather back up—you've got to hunt those fish. Establish an ever-widening search pattern from the fish's last-known location, and keep a close eye on the fishfinder at all times. When you see the fish be ready (and have all your anglers be ready) to start casting immediately.
Whether the fish are on structure or schooled up out in the open, remember that by now the bay's waters are warming and the days of moving lures and baits through the water slowly are behind us. Work the jig rapidly and erratically, give it plenty of motion, and keep your reeling pace rapid. Don't worry about zipping the jig through the water too quickly for the fish to catch it. That's virtually impossible, since cranking as fast as you can with an average spinning reel only moves a lure at around six or seven miles per hour. Yes, I know that sounds impossibly slow, but if you measure out 100' (about 0.02 of a mile), time how long it takes to crank back a lure with a stopwatch, and do that math, that's what you'll discover. Yes, I did try it—10 times with three different reels and averaged the results, for an article written a few years back.
Where to Jig in the Chesapeake Bay
Obviously, hotspots come and go and the ones that were great last season will not necessarily be the ones that are great this season. Remember: stay in tune with current events and be sure to check out the weekly fishing reports on our web site, which are updated by noon every Friday. All of that said, these are a few reliable spots that seem to hold structure-oriented fish most springs, and will provide a good starting point. Let's take another look at that seminar, with Angler in Chief Lenny Rudow. In this segment, he discusses a couple Middle Bay hotspots.
The Chesapeake Bay Bridge/Sewer Pipe – The best thing about the bridges and the sewer pipe is that it's relatively easy to locate the fish since they're orienting closely to structure. The worst thing is that everyone and their brother knows this, and with Sandy Point so close by, there's an awful lot of fishing pressure. That said, try working the pilings with priority given to the pilings on the eastern side of the bridges in 35' of water or less, the western-side four-post pilings, and the main-span rockpiles, in that order. Note that for some strange reason in recent years on the eastern side the north bridge seems best, and on the western side, the south bridge seems best. Remember that the current often roars here and the captain will probably need to minimize his or her own ability to cast, to keep the boat in position. The real trick to being successful at the Bay Bridges? Move, move, move and keep moving until you figure out which piling(s) are holding the fish, and then concentrate on them. There are an awful lot of "dead" pilings, and it's not uncommon for just two or three of them to hold 90-percent of the stripers.
As for the sewer pipe, you'll have no trouble finding it since it's marked by two orange/white floats on the eastern side, just north of the bridge. The mistake most people make here is that they limit themselves to fishing between those markers. They may mark the exit of the pipe, and you'll see some great structure on the meter, but there's a ridge running from there towards Kent Island which has even better structure. Lore says it's rocks piled atop the pipeline to protect it, and while I can't swear that's true, I can attest to the fact that the rising, dropping, jagged bottom often attracts large numbers of fish. WARNING: Although our focus today is on jigging, many anglers are tempted to drop anchor here and live-line or chum. While that's effective, it's also a sure-fire way to lose your anchor and ground tackle unless you're properly prepared. Only try it here using a grappling anchor with tines that can be bent out, or with an anchor that has a release line on the back end.
Poplar Island – Poplar has proved reliable for many years now, seeming only to get better and better as time goes on. The ice breakers (A on the graphic), points (B), and outflow pipes on the southern end (C) are commonly the best spots, although there are plenty of fish to be encountered all along the island's northern, western, and southern rock walls. Refer to the chart, to get a glimpse of some of the best areas. But keep one more thing in mind: always start on the end of the island being hit by the current. On an outgoing, the northern end of the island is often the best place to be. And on an incoming, the south side is usually best. The current and waves are what dislodges small crabs, minnow, and other critters the rockfish are feeding on from their hiding places. So actively feeding fish will usually be found where that current is smacking the rocks.
Generally speaking, casting right up to the rocks is the most effective tactic. As you work your way along the island, however, be sure to occasionally pitch your lure parallel to the rocks, 30 to 50 yards off. In some areas fish regularly will congregate slightly off the rip-rap, so it's well worth probing now and again. ANOTHER WARNING: On a high tide, these ice breakers (piles of rocks set outside of the island's main rip-rap walls) may be completely submerged, and can cause serious damage to your boat and/or engine.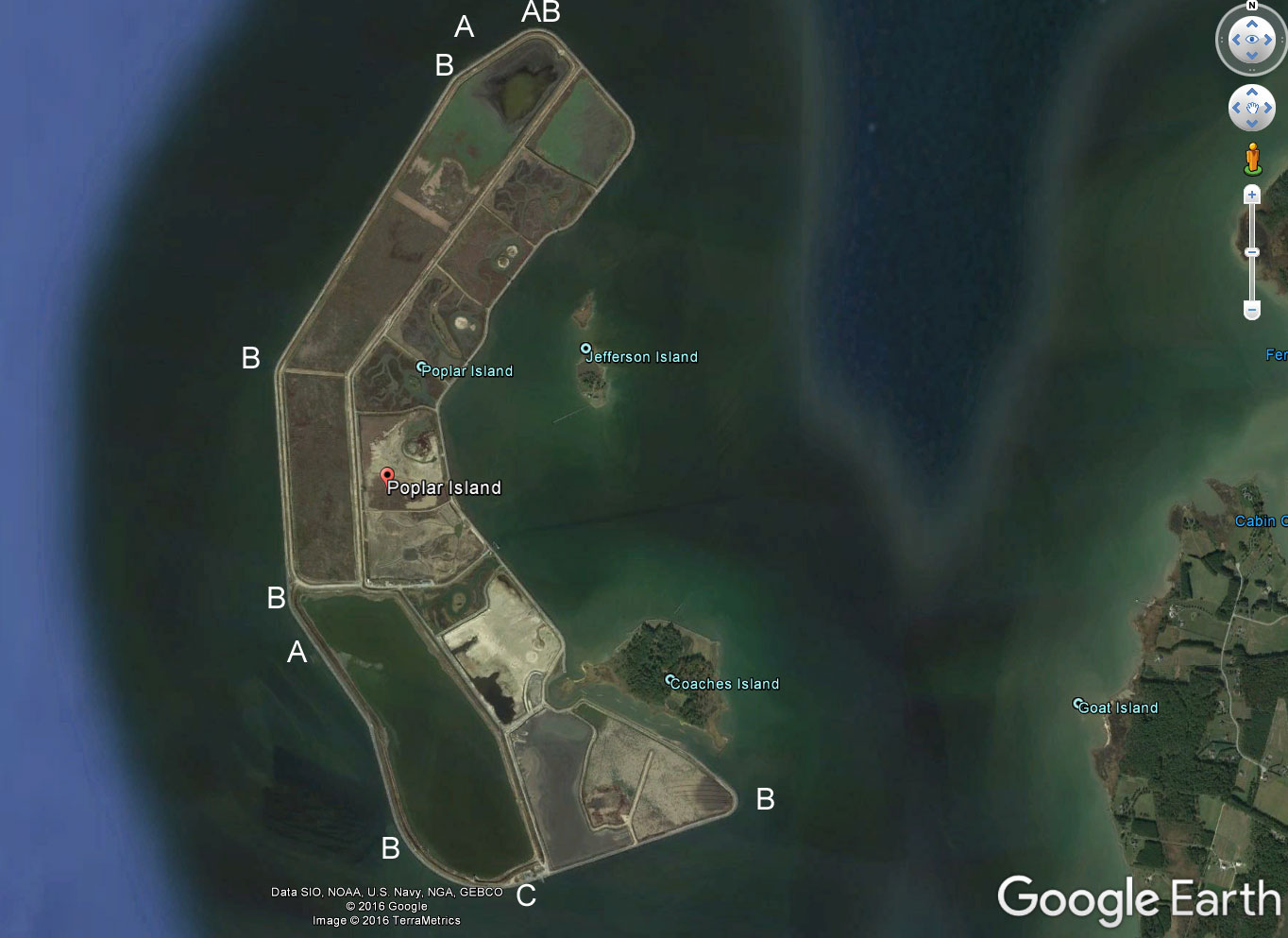 Calvert Cliffs – Once the waters warm up, the biggest mistake most folks make at the power plant is that they stop going to the power plant. No, the fish won't be quite as interested in the warm water (though sometime they seem to like the outflow right through the season) but inside of the outflow there's some excellent structure. There's also rip-rap along the shore slightly to the north, and on the south side of the exclusion area, more rip-rap. All of these areas will, at times, hold fish. BONUS TIP: try bouncing a four-inch GULP! Jerk Shad jig along the bottom where it drops off from 12' to 18' between the boiling water of the outflow and the north-east marker of the exclusion zone. When founder make their way up the bay, they often gather along that drop.
Point Lookout and Virginian Waters – Long ago heading south always seemed to mean catching more fish, but truth be told during much of the season the past few years, the lion's share of the striper catches have been to the north. Fortunately, species like blues, speckled trout, croaker, and even cobia have still provided plenty of action down south. That said, you never know what any given season will bring. Some good areas to try historically were the sheer drop-offs on the north side of Smith Point Light, and Windmill Point. The marsh islands of the Tangier have also held good numbers of stripers the past few seasons, though mostly relatively small ones.
What about the roaming schools of fish in open water we talked about earlier? Where they will turn up is basically a crap shoot. Again, keep your eyes on the reports. Whenever you're cruising along keep a sharp eye out for birds, and have a good pair of binoculars handy. Be prepared to jig, jig, and jig some more, and your late spring season should be a productive one.