I'm in the Virginia Beach convention center manning the FishTalk booth during the boat show, and no matter how hard I try to avoid doing it my head keeps swiveling to the right. There's a sweet little number with an ice-blue hull and a buggy-seat half-tower over the helm, that keeps drawing my eye. I can't stop turning to look, and by the end of the day there's a serious crick in my neck. Is it worth a moment of pain to steal yet another glance at the Lookout Bay 19? Youbetcha.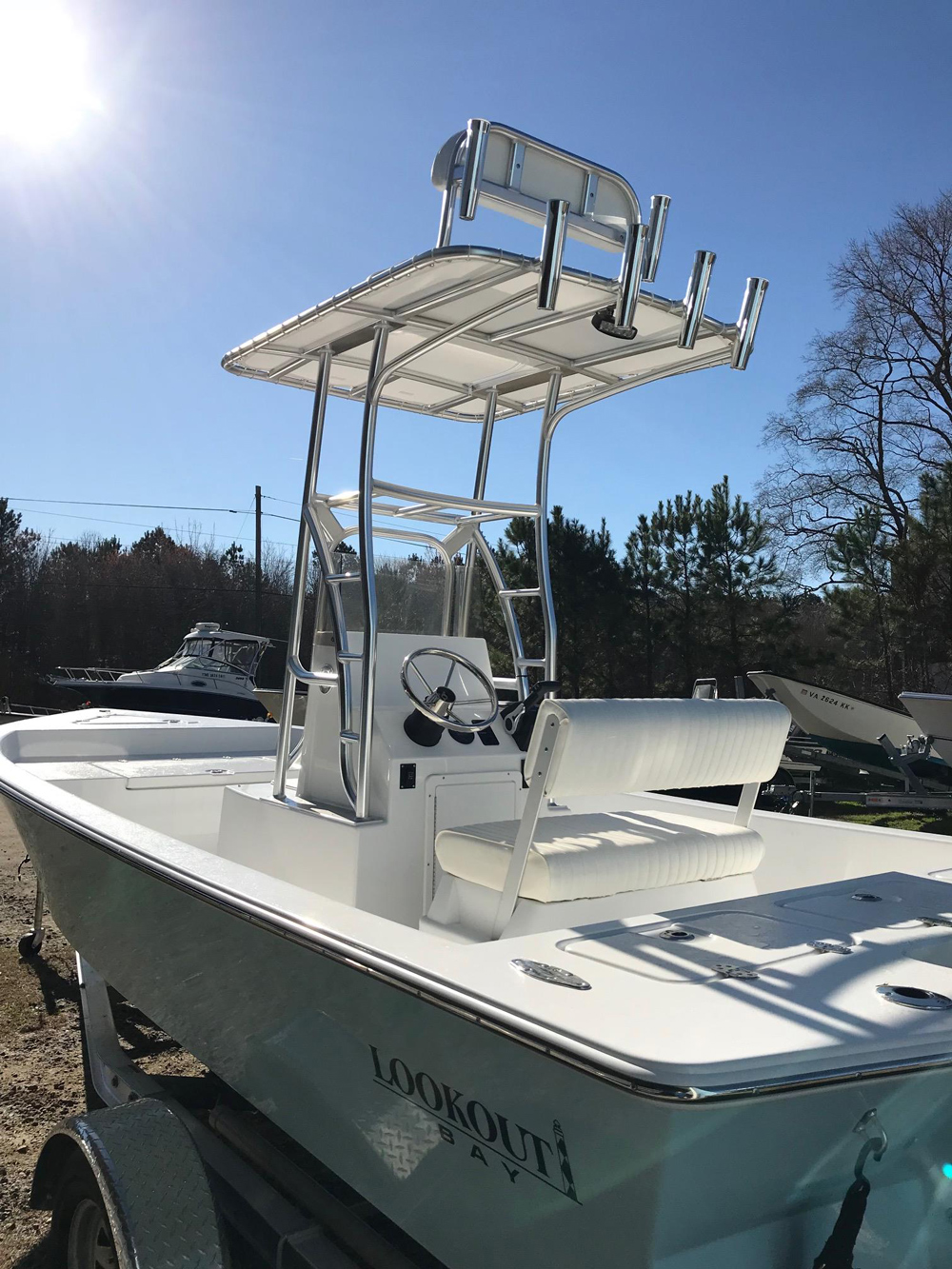 Eventually, temptation forces me to abandon my post at the booth and go take a closer look. Despite its diminutive size the boat has an aft deck with a stowage compartment and dual livewells, a flip-back cooler seat, a forward console seat with stowage underneath, and an elevated forward casting deck with a stowage/fishbox compartment. Cleats are pop-ups and there's a pair of flush-mount rodholders in the transom, bracketing the Yamaha VMAX SHO 115 outboard. That transom is another eye-grabber, with a V-shaped reverse angle at the waterline, giving the boat's profile and aft views a completely unique – and sharp – look.
But over-powering all that is the half-tower. Few if any 19'8" boats are capable of effectively sight-fishing for cobia, and that elevated position also comes in handy for spotting weedbeds, bars, and structure when prowling the shallows. So naturally I stepped aboard, unzipped the access door in the canvass, and climbed up top. You can see it in a video we posted to FishTalk's FaceBook page, and I went up and down the top several times while making the video. Not once did I feel any motion or shaking, the buggy seat was quite comfortable, and the builder was smart enough to mount a pair of rodholders up there (in addition to the four rocket launchers lining the back of the T-top) so your armaments are close at hand even when you're sitting up top.
Then when I climb back down, I spot the price sheet: $32,499.
When's the last time you saw a sticker price like that on a brand-new cobia-capable 19'8" boat, fully rigged and ready to fish, with a half-tower and a 115-horse engine? If there was a competitor that came close, I'd immediately start comparing visible cost-cutting measures. On the Lookout Bay, when you flip up a hatch you will notice that the finish is a bit rough on the underside. And some folks won't be thrilled by having the flip-back cooler seat, as opposed to a true leaning post. Beyond that I didn't see anything to quibble about, and for a relatively inexpensive boat, the fit and finish were above par.
So, why haven't you heard of Lookout Bay in the past? This is a limited production boat, just a handful get built every year, and there aren't many dealers that carry them. The one which brought the 19 to the show, Seaworthy Marine Service, is located in Exmore, VA. Exmore is not exactly a massive metropolis (2016 population: 1,442) and is located on the lower Eastern Shore between Wachapreague and Cape Charles. In other words, it's officially in the boondocks. And as the folks from Seaworthy explained to me, that means they need to find and offer one-of-a-kind boats. Boats that will grab someone's eye and tempt them to drive for a few hours, to go for a sea trial. Hence, the sweet little number with an ice-blue hull and a buggy seat up top.
---
Quick Facts:
LOA – 19'8"
Beam – 7'6"
Displacement – 1340 lbs.
Draft (hull) – 8"
Transom Deadrise – NA
Fuel Capacity – 28
Area Dealers – Seaworthy Marine Service, Exmore, VA, (757) 442-3666.
---