With the April shut-down on catch-and-release striper fishing in Maryland's Bay waters, March is now the only spring month for anglers to tangle with catch-and-release pre-season trophies. And, the month is quickly getting away from us. You say you have no desire to box one of those beautiful beasts, but you'd like to get a quick pic with the striper of a lifetime? It's not too late - here's how to make it happen.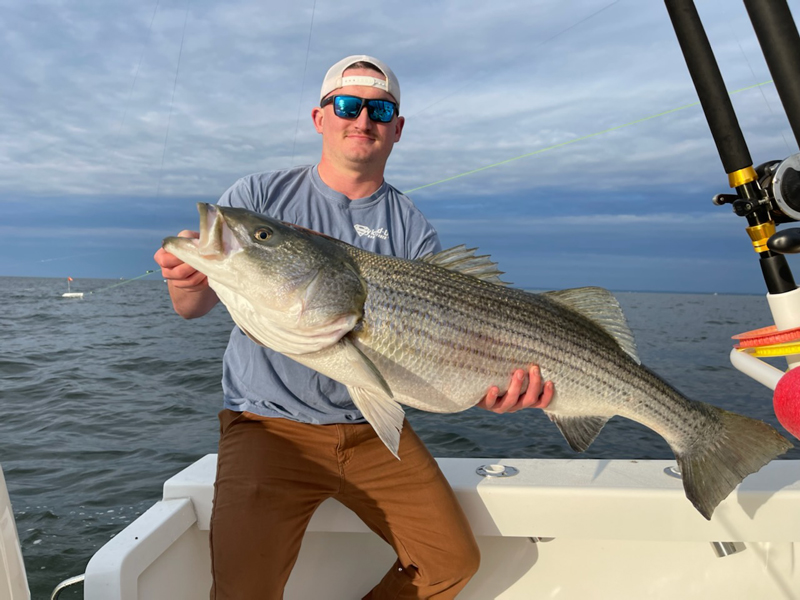 Get out that spring trophy trolling gear, including heavy rods and reels, planer boards, umbrellas, and tandems. Remember: chartreuse and white, chartreuse and white, chartreuse and white.
Don't forget, tribs and spawning areas are closed — this can take place on the main-stem Bay only, from the Brewerton Channel south.
Before you fish, do a double-check of the regs. Stinger hooks are prohibited, hooks must be barbless, and you're limited to a maximum of six lines. The use of bait with non-offset circle hooks isn't illegal, but we at FishTalk do not encourage it as we've seen way too many rockfish streaming blood after swallowing a circle hook in recent years.
Troll perpendicular to the current, somewhere between 2.8 and 3.0 knots of speed through the water (not GPS speed, or speed over ground, which can vary by a knot or two depending on the tides and currents).
Fight fish up to the boat quickly so you don't over-tire them, and when possible remove the hook and get the pic with the fish still in the water. If you need to land them to get the hook out, use a rubber-coated mesh net (never a knotted nylon net which can scrape off their important slime), get a quick pic, and gently release the fish asap. When taking a picture hold them horizontally by grabbing the jaw (keep those hands away from their gills) and supporting the fish just aft of its belly.
See the results of a Trophy Striper search to see our series of articles with more in-depth info and advice for trolling for monster rockfish.