For many fishermen, cobia are the holy grail of Chesapeake Bay fishing. These fish grow larger and fight harder than virtually anything else around, and although their visitation to Bay waters only takes place for a couple of months in the summer, the past few seasons they've invaded Maryland's portions of the Chesapeake in huge numbers — while also providing stellar action along the coast. Already this year they've proven a reliable if challenging fishery, and it's this month that we enter prime time for cobia fishing in the Free State.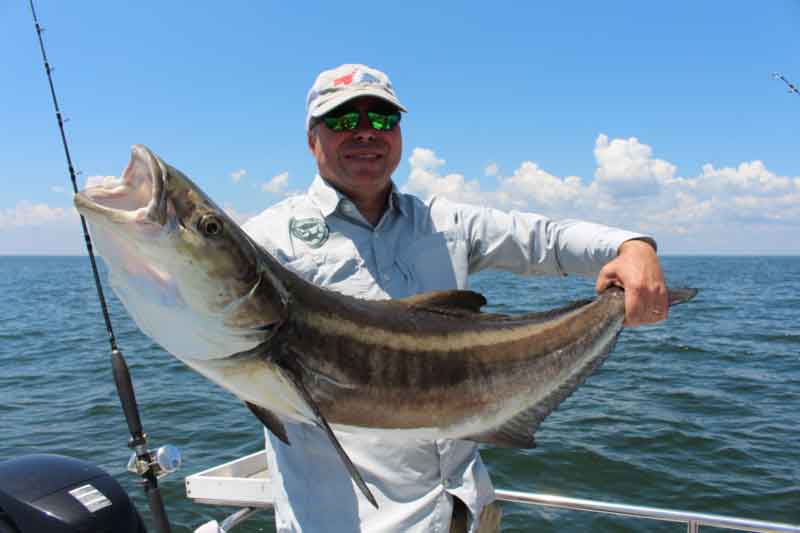 Sight Fishing for Cobia
Although it's the most challenging way to pursue cobia, there's no doubt that sight fishing is the most exciting way to catch them. Sight fishing does require a boat with an elevated spotting station, so you can see down into the water and through the sun's glare. This is far more important than one would guess, because the difference in your ability to spot fish with five to 10 feet of added elevation is huge. For this reason, most anglers who want to sight fish but don't have a boat with some sort of tower will opt to hire a guide.
Time of day and weather are also important factors. You need a strong sun overhead to effectively see these fish, so early morning and late evening hours, rough seas, or cloudy skies make for very difficult conditions.
Once you're out in the main-stem Bay searching for cobia, you'll want to have one of three offerings prepared for them: colorful jigs with active plastic tails, live eels, or live spot. You'll be able to cast far with a one- to 1.5-ounce skirted jighead paired with a six- to eight-inch twister tail (think: chartreuse, pink, and white color combinations), however, live eels and spot will draw more strikes from fish you place your offerings in front of. And when you spot cobia meandering up at the surface they aren't always interested in feeding, so teasing them into biting can be tough.
Sight Fishing Hotspots – There is no one "hotspot" when it comes to sight fishing. You may see them on the Open Bay anywhere from Solomons south and through the Tangier Sound, usually over deep water but also in fairly shallow 15- to 20-foot water in the vicinity of the Target Ship. Sight fishing can also be very productive along coastal shoals near Ocean City, such as Little Gull and Great Gull Banks and Isle of Weight Shoal.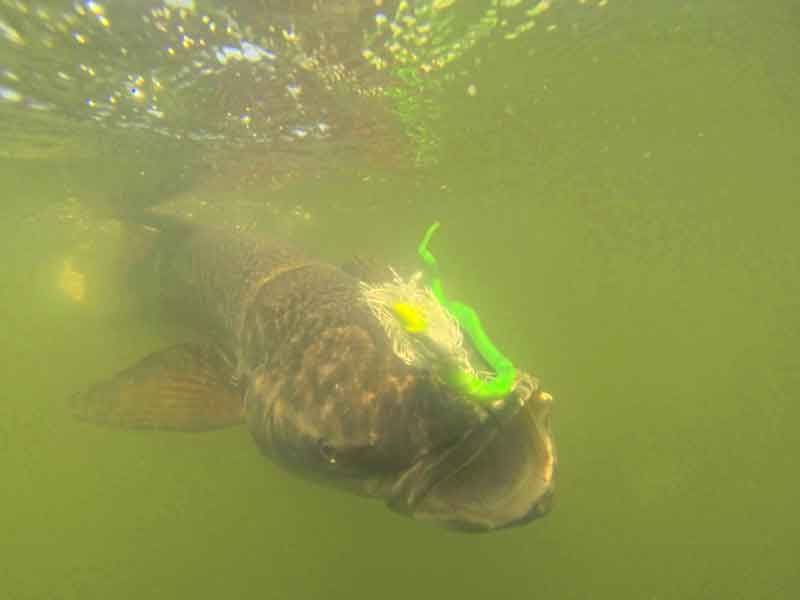 Chumming for Cobia
A highly effective method of bringing cobia to the boat is chumming with ground menhaden. True, this method is messy and many won't find it quite the same thrill as spotting and casting to a fish, but for the average angler chumming is much more likely to result in filling the fishbox. The chum gets placed in a weighted pot or basket that's lowered to the bottom, and baits consisting of large menhaden chunks and/or live eels get dropped down (usually on conventional or heavy spinning gear in the 30-pound or heavier class, rigged with 40 to 50 pound test leader and an 8/0 to 10/0 hook) to the bottom. Then reels are left in freespool with the clickers on, until there's a strike.
Chummers are usually most successful when they set up on an edge or lump in about 18 to 25 feet of water, with deeper waters close by. Tides and currents also play a significant role, with most of the bites usually coming when the tide is beginning to slack, becomes very slow, or is just beginning to pick up again.
Chumming Hotspots – The sheer drop-off running for about four miles from just south of channel marker #72 down to the North-West Middle Grounds (just north-west of the Target Ship) is probably the best-known spot for cobia chumming in Maryland's portion of the Bay. At times, however, chumming on the many humps and ridges around the Target Ship, the South-West Middle Grounds, and the Mud Leads (essentially, the larger area surrounding the Target Ship) will prove the best bet. Note: chumming on the coastal shoals can be very difficult due to large numbers of rays, snapper blues, and sharks, so it's rarely employed in the ocean.
Trolling for Cobia
In recent years trolling has become a very popular way of targeting cobia in Maryland waters. Although it isn't quite as adrenaline-pumping as sight casting can be, it's very effective and also quite simple.
Here's the drill: Rig 30- to 40-pound class rods and reels with number two and number three diving planers, trailing 20 feet of 50-pound leader with a surgical hose lure on the end (usually reds, pinks, and greens are top picks, in 18- to 24-inch lengths). Make sure to add ball-bearing swivels in the middle of the leader and also where it connects to the hose, or disastrous tangles will occur. Set out the lines with the larger (deeper-diving) planers closer to the boat and the smaller planers farther out, and troll at speeds between four and six mph.
Trolling Hotspots – The exact same areas popular with the chummers are good choices for "trolling tubes," as it's called. In fact, if you're set up chumming in any of the above-mentioned spots you'll likely see several boats troll by you as you sit at anchor. This tactic also proves successful in the open waters of the Tangier Sound at times.
Gateways to Maryland Cobia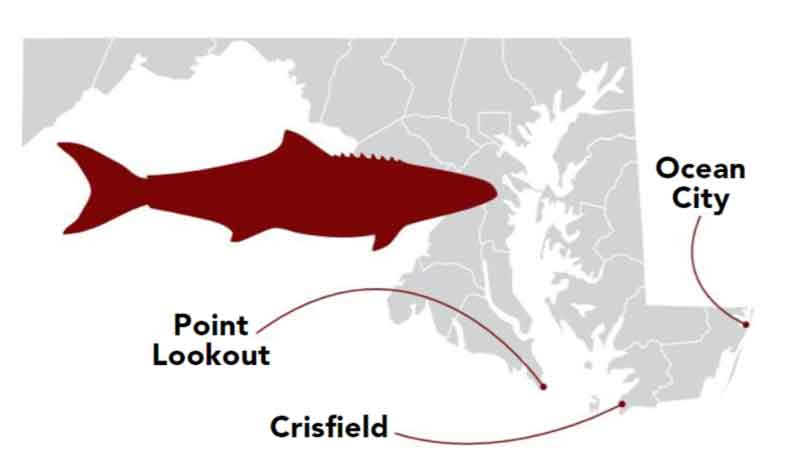 While it's true that the epicenter of cobia fishing takes place in Virginia's portion of the Bay early in the season, for several years in a row now during the dog days of summer the bite in Maryland waters has grabbed the pole position. Better yet, if you're travelling from Pennsylvania, Delaware, DC, and other areas to the north or the west of Chesapeake country, fishing in the Maryland portion of the Bay or along its coast will save you hours of travel time. As you map out your plans, consider these top three cobia ports.
Point Lookout – Thanks to the close proximity to the Middle Grounds and the Target Ships, Point Lookout is one of the most popular jumping-off points for anglers hunting cobia in Maryland. Plus, Point Lookout State Park offers excellent facilities (including a huge fishing pier that juts out into the Bay, campgrounds, crabbing piers, and more), and numerous recreational opportunities for non-fishers in the family or a spare day spent ashore.
Travelling Tips – When you're heading for Point Lookout note that there aren't many shopping opportunities to stock up on supplies once you pass beyond the Lexington Park area. Also note that nearby Historic St. Mary's City, which has replica 17th century buildings and an archaeological museum, is well worth a visit.
Launching Points – Point Lookout State Park has a fantastic multi-ramp facility with lots of parking. If you want a quieter experience, consider launching from one of the area's private marinas. There are only a few (a quick Google search will bring them up), but you'll experience southern Maryland hospitality and a more laid-back atmosphere.
Charter Options – There are several charters and guides operating out of Smith Creek and Saint Jerome Creek, near Ridge, MD. Many boats in the Solomons Island fleet also target cobia as the season and the fishery allows. When booking just be sure to ask the captain if you can target cobia in specific, and if you want to try a particular technique be sure to mention that, too, as some are not rigged for specific tactics.
Crisfield – Crisfield is an Eastern Shore gem, founded in 1666 just off the Tangier Sound. It's the southernmost town in Maryland and for a time was known as the "seafood capital of the world." Though it may be surprising for a small town, Crisfield has fantastic and modern port facilities at Somers Cove Marina. The 515-slip marina has a full set of amenities (including fuel and pump-out, a pool, playground, WiFi hotspots, bait and tackle shop, a sandwich shop/bar, and more), and there are hotel accommodations within walking distance.
Travelling Tips – The seafood you'll find here can't be beat. There are plenty of local restaurants and also several bed and breakfast establishments, as well as locally owned and operated motels, that will help turn your fishing adventure into a real vacation. RED ALERT: Smith Island Baking Co. has a storefront in Crisfield, and if you fail to get a Smith Island Cake while in town you will be missing out on what many people feel are the hands-down, bar-none best cakes on the face of the planet!
Launching Points – Somers Cove Marina includes a large boat ramp facility with a marina store, as well as transient slips for those cruising into town on their boat. Moor up for the evening here and you can even rent a golf cart, go into town, and do some land-based exploration.
Charter Options – There are a number of guides running from Crisfield and the surrounding area (visit Crisfield online to learn more), including several mobile guides who launch at Somers Cove when the bite is hot. Again, not all specialize in all of the different techniques so be sure to specify if you have a preference when booking.
Ocean City - We know most folks think of OCMD as a vacationing hotspot for beach-goers, but we think of it as an awesome fishing port — and that includes for mid-summer cobia fishing.
Travelling Tips – You certainly have a wide range of choices when it comes to hotels, restaurants, and other facilities in Ocean City. If you're towing a boat, however, be aware that there are restrictions on parking boat trailers in Ocean City (there's a lot that can be used on 100th Street, and limited access at the West Ocean City Park and Ride; see oceancitymd.gov for details).
Launching Points – The ramp in West Ocean City (Sunset Avenue at the Commercial Harbor) is an excellent facility with multiple ramps capable of launching large boats, and is very close to the inlet. There's also a public ramp at 64th Street in Ocean City proper.
Charter Options – Ocean City has multiple charter fleets, and although most of the boats focus on offshore fishing, there are plenty of options for inshore charters including cobia fishing when the timing is right. Visit ococean.com to learn more.
Sign up here to get the weekly FishTalk Chesapeake Bay and Mid-Atlantic fishing reports in your email inbox, every Friday by noon.