Presented by Fish & Hunt Maryland
Goodbye snow, hello sunshine, spring is in the air – and in the state of Maryland, the month of March means that means that winter yellow perch fishing is wrapping up and the spring yellow perch run is on. Perch are the harbingers of spring, the first big event of each new fishing season, and many of Maryland's waterways leading to the Chesapeake are famous for their spring perch runs. Before we dig into the details, check out the action first-hand.
While this species may not be the biggest nor the most lauded in the world, no one's going to argue that a green, yellow, and orange yellow perch isn't among the prettiest – and tastiest – catches on the face of the planet. If you're ready to break that cabin fever and get pumped up for perch, remember: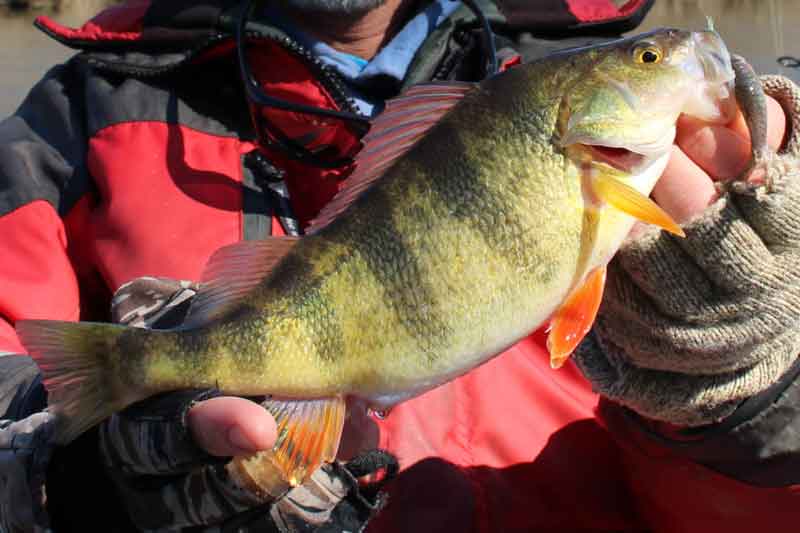 Perch Gear need not be the heaviest, and down-sizing to ultralight gear in the four- to six-pound range both enhances the fight and allows you to present small offerings effectively. It also increases casting range with light lures, and makes for maximum sensitivity when trying to detect subtle bites. Most anglers opt for spinning gear spooled up with light braid line and tipped with six-pound mono leader, when slinging lures. Bait anglers tossing bottom or bobber rigs usually go with light spinning or casting gear and eight- or 10-pound test, which can better handle the extra weight.
Perch Lures are generally limited to small shad darts, hair jigs, tube jigs, spinners, and spinnerbaits in the one- to three-inch size range. Those with little inherent action are often tipped with bait to enhance their enticement. Lure choice often has a lot to do with depth and current, since these factors have a huge bearing on how heavy a lure you may need. If the fish are balled up on bottom in a 10-foot-deep channel with a current, for example, a 1/16th ounce Beetle Spin isn't going to allow you to work the lure down low where the fish are and a 1/4-ounce tube jig is probably a better bet. On the other hand, when they're in two feet of water up near a riverbank lined with tree limbs, that 1/4-ounce tube jig will prove just as useless because you'll constantly snag, while the lighter Beetle Spin can be worked just under the surface and around the limbs.
Perch Baits are mostly limited to minnow and grass shrimp (though at times, the lowly worm works just fine, too). Early in the perch run when the fish are found in deeper holes and channels minnow are often the better bet, while later in the run and in shallow areas, grass shrimp commonly prove to be the ticket. But it's hard to predict which will be the best on any given day, and many perch sharpies carry both. Note that grass shrimp are much tougher to keep on the hook so when it's a toss-up, minnow get top billing. Also note that when it comes to yellow perch (unlike the whites) there's no such thing as a minnow that's "too big." These fish will attempt to eat a bull minnow half their size, so don't shy away from using those big, fat mummichog.
Perch Rigs can vary radically, but the two most popular choices are simple top-and-bottom rigs, and bobber rigs. Top-and-bottoms can be loaded up with number-six hooks and weighted down with the minimum amount of lead required for the current and conditions. Bobber rigs often terminate with a shad dart or hair jig, suspended two to four feet under the float. An option many lure anglers enjoy applying is the tandem rig. Tie the heavier lure on the terminal end, and add a 10-inch dropper two-feet or so in front of it with a lighter lure (often a fly or streamer that's more or less essentially weightless).
Perch Tactics range from tossing a bottom rig out and letting it sit while you watch the rod tip for jiggles, to actively casting and retrieving your lures or baits. Which works best? That's a question that can only be answered out on the water, because the most effective technique changes from day to day and place to place. Savvy perch anglers commonly fish several rods, rigged for different sorts of action. You might have one ready with a bottom rig for sitting minnow on bottom, another with a small shad dart to tip with shrimp and slowly bounce along, and a third with a light lure that can be cast and retrieved rapidly over a shallow flat. These should be constantly rotated so a most effective technique can be identified and applied, until the bite slacks off. When that happens, a different method is likely to prove best.
Okay, anglers – are you ready to move away from the space heater, throw off the blankets, and tell Old Man Winter his time is up? That's what we thought! It's time to welcome spring with some serious Maryland yellow perch action, and head for…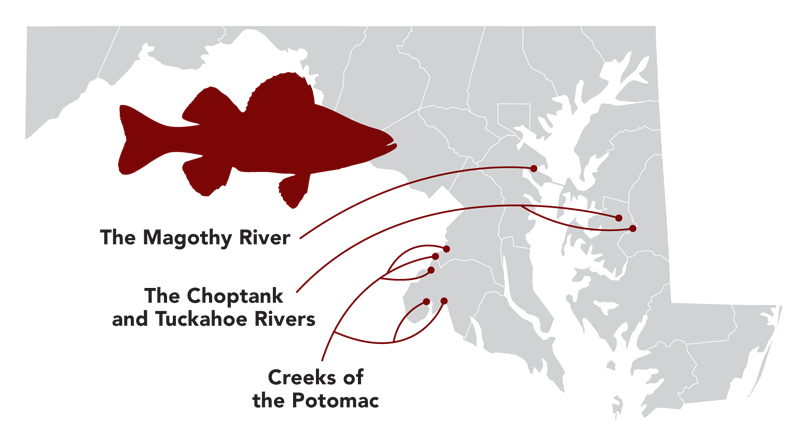 Three Top Maryland Perch Fishing Hotspots
The Choptank and Tuckahoe Rivers
The Choptank and the Tuckahoe (a tributary to the Choptank), are famous for their spring perch runs –and this spring both will be swarming with yellow perch (followed shortly by the whites). The Choptank's most famous access point for those on foot is probably Red Bridges, where Red Bridges Road hits the river at Christian Park, a Caroline County public facility which is undeveloped and consists of little more than some parking spaces and trails going through the woods along the river. Try casting a shad dart sweetened with grass shrimp or bull minnow, to tempt the ring perch.
You can also get in on the action at the Greensboro boat ramp on East Sunset Avenue, which has a floating dock open to anglers plus plenty of shoreline to cast from. If you have a kayak, canoe, or small boat this will be your access point, but note that tow vehicles hauling trailers need to pick up a Caroline County boat ramp permit.
The Tuckahoe is another well-known perch hotspot, and those who are limited to shoreline angling will pull over just up-river from where Main Street crosses Tuckahoe Creek in Hillsboro, because there's access and parking along the banks. There's additional parking just down-river of the bridge, at the boat ramp. From the shorelines casting out bull minnow or grass shrimp on bottom rigs is probably the most common method, but these same baits can also be fished under bobbers or on shad darts.
If you have a kayak, canoe, or small boat (anything 16 feet and over is a bit sketchy, for this little boat ramp) you can head up-river and fish under the old railroad bridge or in any of the holes and bends. Or go down-river instead, and fish the deadfall lining the bank to your left.
Traveling Anglers – You can find several places to stay and plenty of restaurants to eat at in nearby Denton, with more options available in Easton about 15 miles down the road.
The Magothy River
Located in close proximity to metropolitan areas, the Magothy gets plenty of perch action each and every spring. Top billing goes to Beechwood Park, where shoreline anglers often don waders to get in that extra-long cast as they line the banks. Minnow and grass shrimp suspended under bobbers is the normal tactic you'll see applied here, though some anglers swear by the effectiveness of a Mepps spinner worked slowly along the bottom. Casting one of these, don't be surprised if a pickerel ambushes your offering.
Kayak anglers feeling ambitious often launch at Beechwood and leave the crowd behind, though anyone considering this move should know that you'll have to cart or carry your yak 100 yards or so down the trail through the woods. If you're up to it, paddle up-river to the Magothy Bridge Road bridge and try fishing the deep water under and just up-river of the bridge for great perch action.
Traveling Anglers – There are countless restaurants in the surrounding areas of Pasadena and Severna Park. Overnight stays mean driving about 15 miles up towards BWI airport, or heading for the Baltimore area.
Creeks of the Potomac River
The river running up to the nation's capital has a wealth of options, when it comes to spring yellow perch fishing. The Port Tobacco River, Nanjemoy Creek, Mattawoman Creek, Pomonkey Creek, and Piscataway Creek all support runs well worth checking out. The trick to locating yellows in these waters is usually a matter of finding holes deeper than their surroundings, and dropping bull minnow on bottom rigs or working a shad dart tipped with minnow or grass shrimp along the bottom. There are multiple options for both shoreline and boat/kayak anglers; check the DNR's Public Angler Access map, to see the different launch points and shoreline spots.
Traveling Anglers – Waldorf and La Plata are just about centrally located to most of these creeks, and offer all the accommodations and services you might want within an easy drive.
For more info on where to go fishing in the great state of Maryland, visit Fish & Hunt Maryland.
Sign up here to get the weekly FishTalk Chesapeake Bay and Mid-Atlantic fishing reports in your email inbox, every Friday by noon.