Mercury Marine has replaced their V6 supercharged 350-hp and 400-hp Verado outboards with a pair of all-new naturally aspirated 5.7-liter V10s. These are the first V10 outboards to ever hit the water, displacing 349 cid and spinning up to a 6400 max rpm. The gear ratio is 2.08:1, and surprisingly, weight is just 27 pounds over that of the models they replace, at 695 pounds. Upon their introduction late this fall we ran both models on a number of boats at Lake X, in the hinterlands of Florida near Orlando, FL.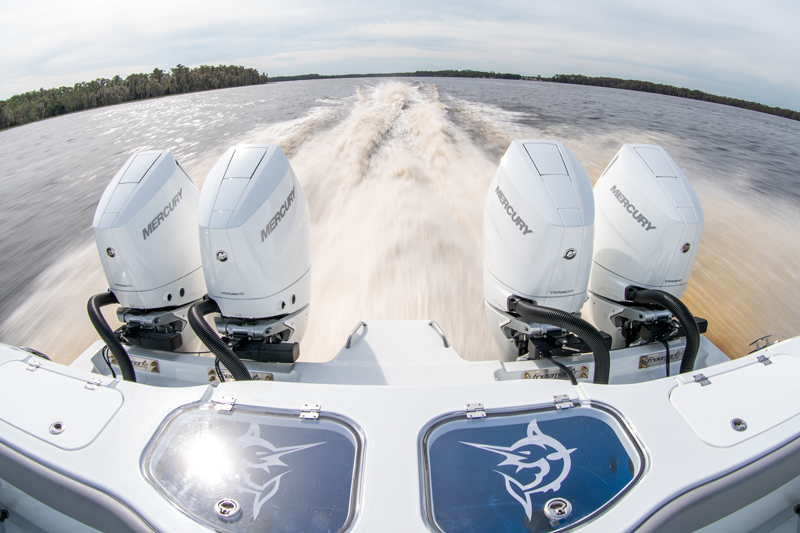 Testing the Mercury Verado 350 HP and Mercury Verado 400 HP 
Regardless of the test platform, one thing we noticed right off the bat is that these engines are noticeably quieter than their predecessors. Mercury claims they make 45 percent less noise than their nearest competitor, and we don't doubt it. While running a single 400 on a Caymas 28, however, a different attribute stood out: low-end grunt. The 28 is a big boat for a single engine, with a 9'4" beam and 4300 pound displacement. Yet when we nailed the throttle it blasted off fast enough to send coolers sliding and hats flying. This is in part because Mercury designed the new Verados specifically to handle hefty loads, with a new, larger, longer lower unit gearcase that swings a wide-bladed Revolution X propeller.
We also ran a 26 footer with a 350 and a 47-footer with quad 400s, and enjoyed the perks of features like electro-hydraulic steering, Joystick Piloting, and VesselView Mobile. It was too calm on the lake to feel the full effect of Adaptive Speed Control, but in the ocean you should enjoy the fact that these engines can maintain rpm through varying conditions, so they don't bog down when you're climbing a wave nor race up as you fly down one.
One aspect to the new V10s we weren't able to test out, but which will be of interest to people shopping for new boats on the larger end of the scale, is the Verado's optional 12/48-volt alternator which is designed to feed juice to Navico's new Fathom e-power system. The engine and alternator are integrated with a lithium-ion battery system which more or less turns the boat into a hybrid vehicle. But the power it generates and stores isn't used for propulsion. Rather, it supplies the boat's heavy-load systems like air conditioning, appliances, and gyros — eliminating the need for a generator entirely.
Since our time with these motors was limited to a couple of days we can't speak to long-term reliability, and as noted they boast a couple of features that didn't come into play where we were on the boats we were running. But we can tell you that after the experience, there's no doubt in our minds that all of us will be seeing plenty of these V10s cruising around in the coming months and seasons. Time will tell, but in this case the "V" in V10 may well stand for "victory."
Mercury 350 Verado and 400 Verado Price
This will vary depending on options, the dealer you're working with, and to a lesser degree general location. The Mercury V10 cost can also change depending on if you buy one with a new boat or are purchasing a motor and controls separately for a repower. That said, in general terms plan on spending between $40,000 and $50,000 to get a new Mercury V10 350 hp or 400 hp Verado.