You say you'd love to own a fishing boat, but you live in a tiny apartment or condominium with nowhere to store it? People, that is not a problem. Check out these three hot little fishing machines that you can stow under your couch.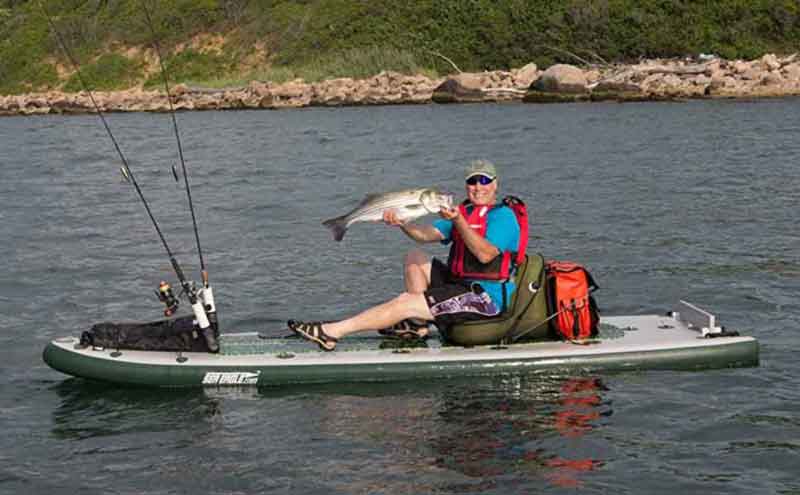 Sea Eagle FishSUP 126 – This inflatable fishing SUP fits into a backpack when deflated and weighs just 45 pounds, but once you pump it up has 12'6" of LOA and can carry up to two anglers. A removable transom can accommodate electric trolling motors up to 55 pounds of thrust, if you don't feel like paddling. Sitting or standing aboard is no problem, set-up time is 10 minutes, and the bow is up-turned to handle bigger waves. Our favorite thing about this fishing platform, however, might just be the price. $899 gets you a complete package including a paddle, bow storage box with rodholders, an air pump, a repair kit, and even the backpack to pack it in. Even if you go for the "ultimate" package and get a two-seat version with an electric motor you can't come close to spending $2K.

The Outcast Prowler may not be ideal for trolling in open waters, but it'll certainly do the trick for anglers taking short jaunts in protected waterways.

 
Outcast Prowler Float Tube – True, with this sort of craft your boat and your PFD are one in the same. And no, you won't be able to carry a friend aboard. But at 64 inches long and 50 inches wide, the 19-pound Prowler can hold a whopping 325 pounds. Highlights include two stowage pouches and a ruler printed on the aft cargo net. Added bonus: who needs a couch for storage? You can stow this one under a chair. Price is $589, and a carry bag goes for $99. 

Your (ahem) car has a tow capacity of zero? That's not a problem, with a Corcl.

 

The Corcl – A Corcl is so darn small that not only will it fit under the couch, you can even haul one with a Smart Car (it's the orange thing tied to the roof). These floating saucers have a 47-inch diameter and are a mere 11-inches tall, yet can keep an angler up to 160 pounds afloat. Don't try taking one through Rudee Inlet — they're specifically intended for use in calm waters only — and you probably want to leave the G. Loomis at home and stick with the K-Mart rod when fishing from such an easily inverted craft. But hey, it could be an awful lot of fun, especially for kids probing a pond or small creek. Price: $369.