On the last day of the year, the Modernizing Recreational Fisheries Management Act of 2018, known as the Modern Fish Act, was signed into law. Introduced to the Senate by Senator Roger Wicker (R-Miss.) and U.S. House of Representatives by Congressman Garret Graves (R-La.), the senate passed the act unanimously on December 17. The House approved it overwhelmingly two days later, and on the 31st, President Trump signed it into law.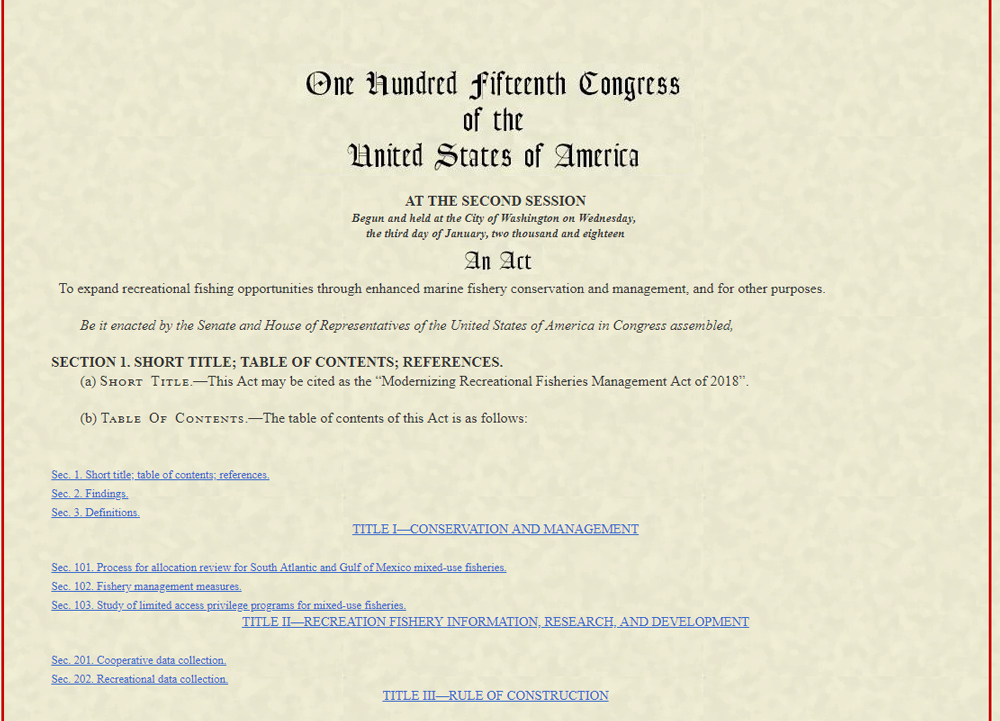 The Modern Fish Act was supported by a wide range of proponents, including the likes of the American Sportfishing Association, the Coastal Conservation Association, the National Marine Manufacturers Association, the Center for Sportfishing Policy, and many others.
"CCA is proud to be a part of this important coalition, and we are grateful to our champions in Congress who stood by us during the intense, sometimes contentious negotiations on this legislation," said Patrick Murray, the president of CCA, in a press release. "There is still work to be done, but this is a valuable first step. We are hopeful this opens the door to an ongoing discussion of tools and processes that can be developed to better manage recreational fisheries in federal waters in all regions of the United States."
The idea behind this legislation was to differentiate between commercial and recreational fishing regarding management tools, data collection, and mixed-use fisheries allocation (those including a combination of recreational, charter, and commercial fishing), to ultimately provide more stability and better access for recreational fisheries. Many of its components were recommended by the Morris-Deal Commission, put together by Johnny Morris (founder of Bass Pro Shops) and Scott Deal (president of the Maverick Boat Group) and presented to policy makers in 2014.
We could bullet-point the highlights of the Act here, but we've already had readers email us to ask about the specifics of the act. So rather than offer a summary, here's a link to the full text of the Modernizing Recreational Fisheries Management Act of 2018.