The Nautic Star 265 XTS is an all-new boat for the 2018 model year, and while this brand may not be incredibly familiar to us Mid-Atlantic dwellers, it's made quite a name for itself down south. A gander at this boat will quickly expose why—and will also leave no doubt that on the Chesapeake and DelMarVa's inshore waters, this boat is a natural-born fish-killer.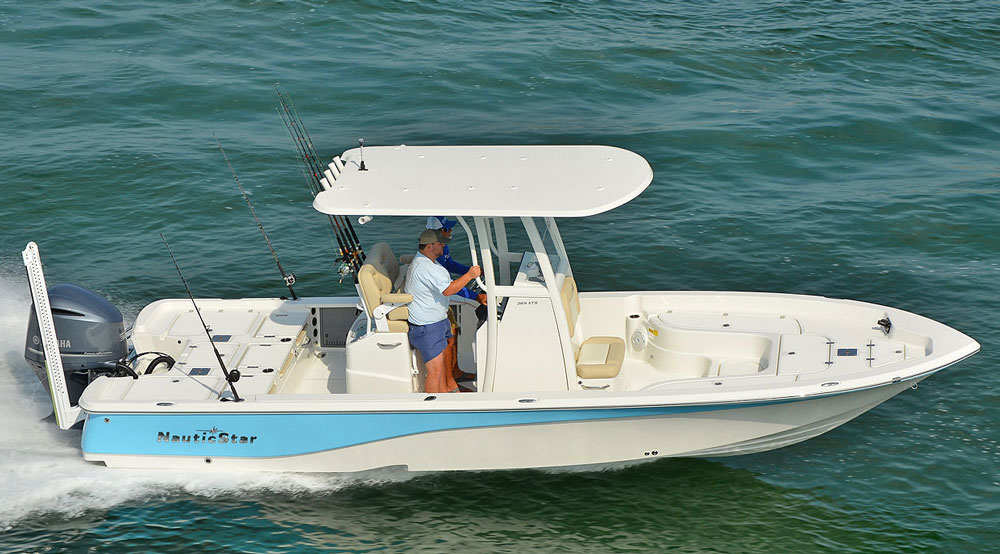 Start off by checking out the quality of the accessories, which gives you a lot of insight into Nautic Star's attitude. The cooler is a Yeti. Switches are lighted stainless-steel push-buttons with breakers mounted in an acrylic panel, and electrical connections are made with Deutsch waterproof connectors. The stereo system is an Infinity PRV350 with Bluetooth and four JBL speakers. Leaning post seats are Llebrocs. The standard jack plate is an Atlas. The bottom line? You just can't beat this stuff.
The boat's construction follows the same pattern. Hatches are RTM molded (resin transfer molding, a vacuum-assisted process which results in extremely light but strong parts which are fully finished on both sides). The entire boat gets a barrier coat of vinylester resin, the more expensive but less water-permeable type. All latches and fittings are stainless-steel, and ball valves and motorwell drains are brass. Add it all together and you can understand why Nautic Star offers a lifetime warranty on the hull. You can also understand why, in our experience, these boats provide an extremely good ride even when charging forth into a nasty chop.
Just what do we mean by "charging forth?" With the maximum horsepower on the transom in the form of a Yamaha F350C four stroke outboard, the 265 XTS will cruise on its stepped bottom at over 40 mph and hits a hat-stripping 57.5 mph. Whatever boats you're used to running, that's pretty dang perky. Just think about that for a second. On a dead-calm day, you could leave either Baltimore city or Newport News and be fishing in just about any part of the Tangier Sound in a little over an hour—heck, you could run the entire length of the Chesapeake in a hair over three hours.
Fishing-wise the boat shows its southern bay-boat breeding with multiple livewells (42 gallons aft and 13 gallons forward), raised casting decks both fore and aft, and options for electric trolling motors, Power Poles, and onboard battery chargers. As Chesapeake anglers have discovered in recent years, these features also serve us quite well in the Bay. The one down-side to the bay boat design is reduced cockpit depth, which could turn off some families with young children, and may make runs into the open Atlantic a bit less comfortable. But this is really more of a serious fishboat than a family runabout. In fact, there's not even an option for a ski tow-bar. Thank you for that, Nautic Star—we love that kind of dedication to hard-core fishing.
Quick Facts:
LOA – 26'2"
Beam – 9'0"
Displacement – 4200 lbs.
Draft (hull) – 1'2"
Transom deadrise – 16 degrees
Fuel Capacity – 74 gal
Max HP – 350
Area Dealers – Port Annapolis Marina, Annapolis, MD (443) 994-6460; Rudy Marine, Lewes, DE, (302) 945-2254; Southeastern Marine, Richmond, VA, (804) 226-1111.