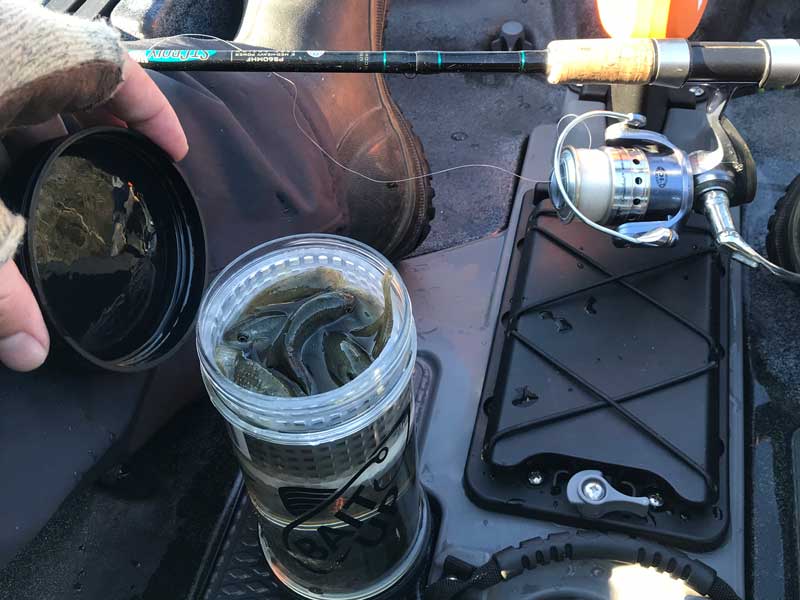 Minnow Bucket for Kayak Fishing
If you've ever fished with live bait, then you've surely fumbled around your bait bucket trying to snatch up a minnow or grass shrimp before having to drain the water out, but Bait Up has created a new type of bait container that brings ease to your bait selection process. Their containers, which are available in 20-ounce and 35-ounce sizes, feature a floating basket that drains the water from the bait. Simply turn the bottle up on its end, allow the basket to rise, unscrew the cap, and grab your bait. We found this especially useful fishing in cold weather conditions, since you don't have to immerse your hand into a bucket of cold water to grab a minnow.
While this is a well-made product overall, the adhesive on the foam cap seals wore off and we had to re-glue them. Also, unscrewing the cap every time you need to refresh your water or grab more bait does get a little tiresome. The 35-ounce model holds a few dozen minnow (less fit in the 20-ounce container) and in the high summertime temperatures you'll need to remove the bottom lid off and keep the jar in the water to circulate fresh water, which is made easier with the attached lanyard that will keep it attached to your kayak or boat. All in all, we really like this product and used it all winter long on a kayak (where stowing a regular bait bucket can be problematic) to contain our offerings for the perch, pickerel, and crappie we chased. Price: $19.99/$24.99.
Fishing For a Phone Charger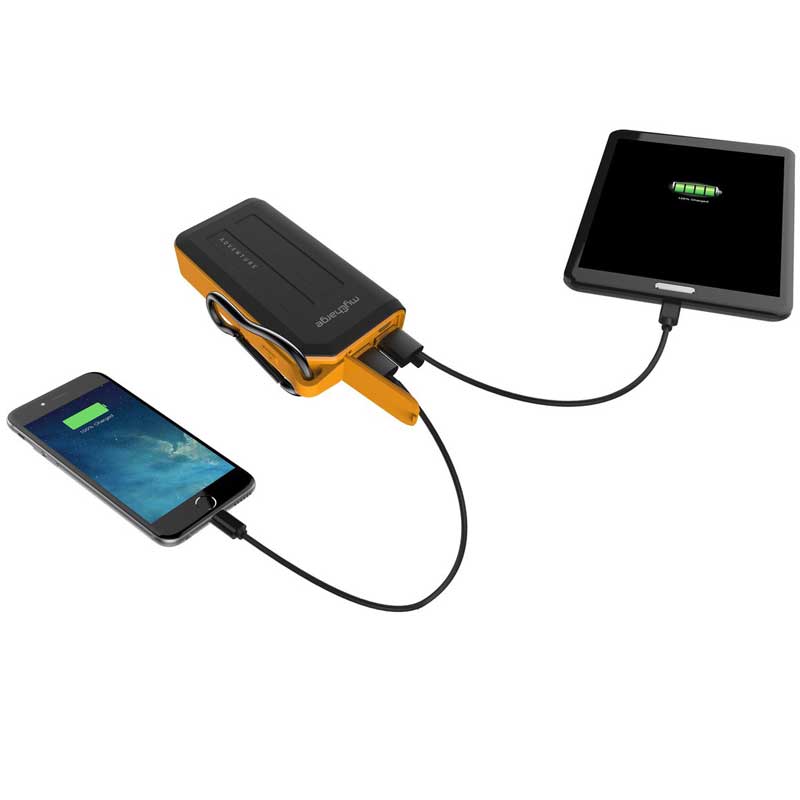 If you're an angler who relies on your smart phone for info such as tides, weather, navigation, and tournament apps, the MyCharge AdventurePlus is definitely something you should consider adding to your tackle box. Using any type of the aforementioned apps, especially ones that track your GPS signal, will quickly drain your phones battery. This 6700mAh portable charger is about the size of an average smartphone and has two USB ports enabling you to charge two devices simultaneously. It weighs in at 6.88 ounces and holds enough juice to fully charge two dead devices, and then some. A LED indicator lets you know how much power is remaining and the power-bank is recharged via a micro-USB cable. The AdventurePlus has a hard, rugged, rubberized shell that's splash resistant and come with a carabiner clip. Price: $39.99. .
Warm Winter Fishing Hat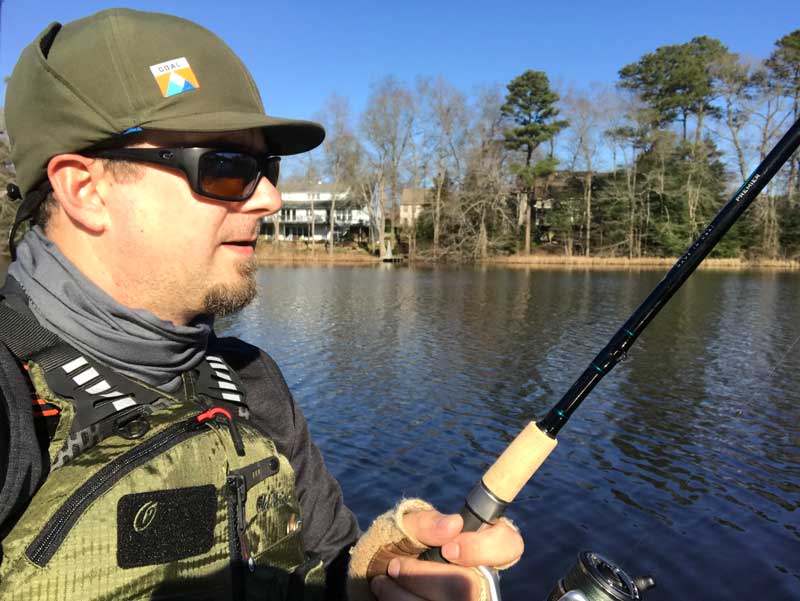 When you have to scratch that cold-weather fishing itch, you're going to need the right gear to keep you comfortable. While it may be a myth that most of your body heat is lost through your head, it's still important to keep that noggin' warm so that fish-brain keeps working. The Pinnacle Quilted Cap from Coal Headwear is an ideal headpiece for taming the brisk weather while chasing your favorite cold-weather prey. The polyester microfiber shell gives this cap adequate water-resistance, while the quilted insulation makes it extra toasty. This hat is one size fits most, and it has a nylon shock cord cinch on the back to tighten it up. The ear flaps Velcro together, up and out of the way, when you don't need that extra warmth. Overall this is a great warm winter hat, but it would be nice if the ear flaps were insulated the same as the top section. Also, when the flaps are down the Velcro tends to grab your jacket. But those are small prices to pay, for staying comfortable in the cold. Price: $40.
- By Zach Ditmars
HDTV Off the Dock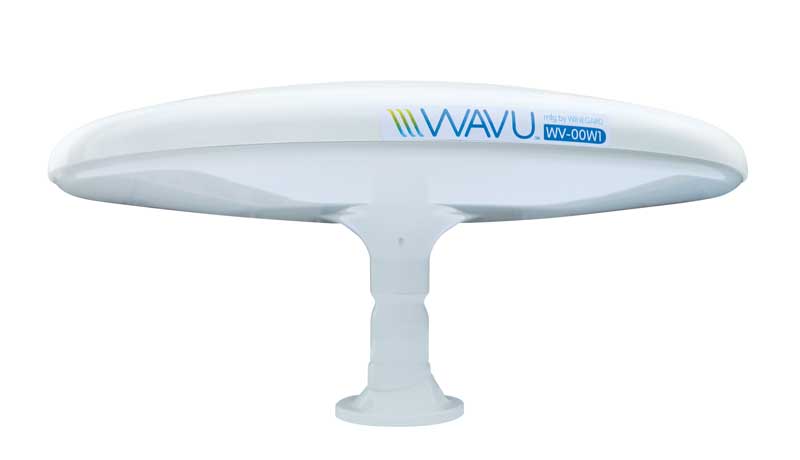 The American-made WAVU W1 Marine Amplified Omnidirectional HDTV antenna, from Winegard, is just what you need if missing the big game isn't an option while you're out fishing. Weight is a mere 2.11 pounds, head diameter is 14.9 inches, and height is 7.25 inches (including the pedestal base), so its streamlined design won't look out of place on the hard top. The WAVU W1 both captures and amplifies VHF/UHF/FM signals, from any direction at ranges up to 35 miles. And it comes complete, with the amplified TV antenna head, pedestal base assembly, wall plate/12V power supply, surface mount box, five-foot power coaxial cable, and 30-foot RG-59 coaxial cable Price: $129.00. 
Propane Powered Outboard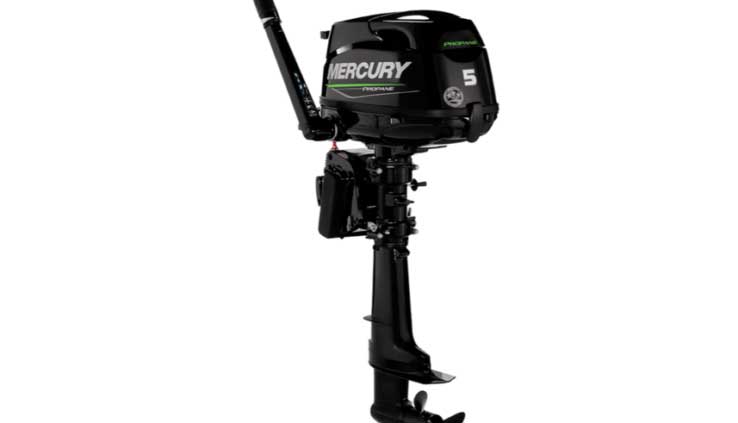 You say you need a new five horse outboard, and you find those propane-fueled powerplants interesting? Then Mercury has news for you: they've just rolled out the first-ever propane outboard in their line-up. The FourStroke Propane is a 123cc engine that weighs 59.5 pounds (about the same as their existing gasoline model), but produces 30-percent fewer exhaust emissions. It has auto shut-off on the engine and hose connector for additional safety, and a standard US POL connector attaches to a regular propane tank. A conventional five-gallon propane tank provides a whopping 10 hours of juice at wide-open throttle. Added bonus: with a propane fuel supply, ethanol problems are a thing of the past. Price: TBA as of press time.
Ultimate Teaser Reel
You want to have the coolest teaser reels on the planet? Then it's time to check out the 10-inch Reel Colors Pancake Teaser Reels. While we haven't used these on the water we did handle them during a recent visit to AllTackle (you can see the video on our FishTalk YouTube channel), and found that they're built for extended service in the brine. They have an adjustable drag and drag alarm, so you know when that marlin starts batting your teaser around and it's time to employ the bait-and-switch. These teaser reels are available in anodized or powder-coated finish, and are so sweet that several top boatbuilders – Yellowfin, Sea Vee, and Buddy Davis among them – mold customized pockets in their hard-top so they can integrate them. Components are CNC-machined from 6061-T6 aircraft-grade aluminum, and the Pancake Teaser Reels can be flush mounted, bracket mounted to pipework, or mounted inside an overhead hard-top teaser reel box. Our favorite feature, however, is how easily they come apart and can be removed from the mounting plate without any tools. Just spin off the thumb-screw, pull the pin, and the reel slides right off. Price: Approx. $900. Let's take a look, on video: