For anglers who don't own boats, the toughest part about fishing is often how and where you access the water. Sure, there are plenty of parks and public lands in Delaware, Maryland, and Virginia, but they don't all offer the ideal geography or structure needed for good fishing. That's why we set out to identify 10 top spots for walk-in angling in the region. Each one of these areas is a stand-out for one reason or another, and is worth every shoreline angler's attention.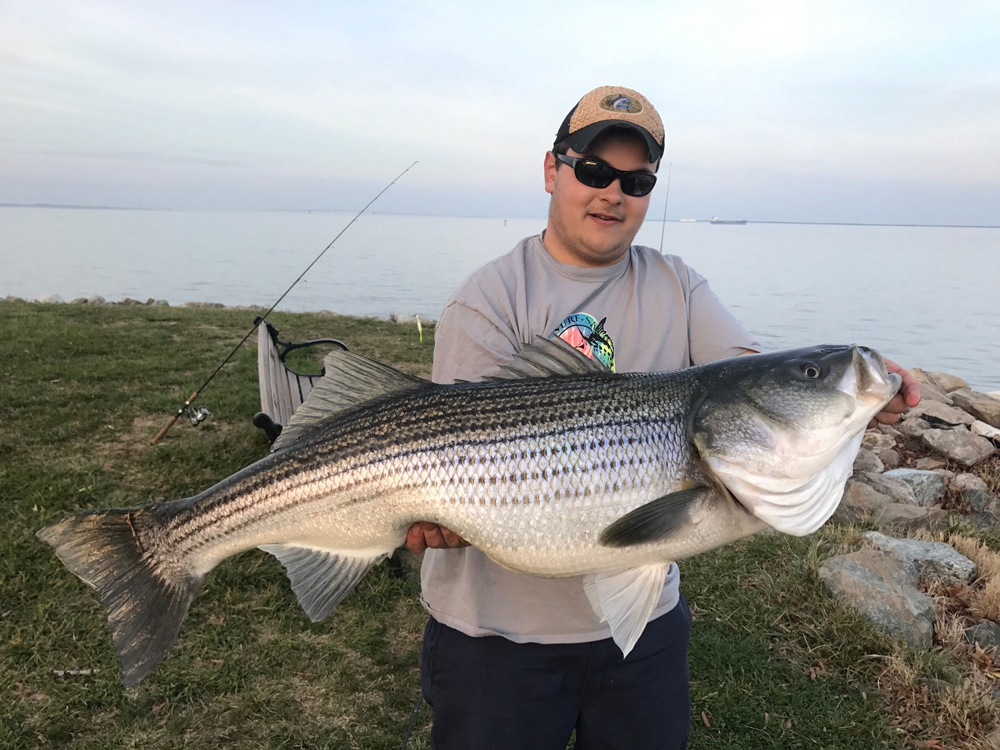 Freshwater on Foot
Lums

 Pond,

in Bear, Delaware

 - 

This spot gets the nod thanks to a seven-mile hiking loop around the lake, which allows you to access many multiple locations. That doesn't mean all of the shoreline is accessible to fishermen—over-hanging trees will make casting from the banks nearly impossible in many areas—but it does give you lots of options and the ability to relocate when the bite dies out. There are two fishing piers which can be productive, but anglers usually favor fishing around the shoreline dead-fall, especially for largemouth bass, which are plentiful

 Crappie may not be "glory" fish, but they provide a ton of action in Lums, too. And since striper hybrids have been stocked here, you never know when you'll get a seriously big fish on the line.
Tip: The water in Lums Pond is commonly tannic-stained and dark. As a result, dark colored lures (root-beer, purple, black) often out-perform lures with light colors.
 
Deep Creek Lake in McHenry, Maryland - 

Although most of the shoreline of Deep Creek Lake is private, there's an awful lot of shoreline—so you still have plenty of options when it comes to walk-in fishing, and Deep Creek makes our list because you could spend an entire week fishing here without ever running out of spots. Many people focus on the State Park, which does have plenty of access. But in truth, much of the shoreline here is rather barren. On the other side of Carmel Cove, however, along State Park Road, there are several areas you can park on pull-offs by the side of the road and walk down to the water. Submerged timber lies 30 to 40 yards from shore in many of these spots, and although snags around here are common, so are fish like bluegill, crappie, pickerel, and yellow perch. 

Another excellent area to fish is by the Rt. 219 bridge. There's a public access area on the south side of the bridge off Lake Shore Drive. You will need to be careful walking along the rocky shoreline here, but walleye, yellow perch, smallmouth bass, and an occasional pike all like hunting this same rocky terrain.
Tip: try casting out a large shiner hooked through the back, with just a split-shot for weight, especially early and late in the day for walleye.
 
Piney Run Reservoir, in Sykesville, Maryland - Piney Run really stands out thanks to a concerted effort to make it amicable to shoreline anglers. The piers at the boat ramps are commonly loaded with bluegill and crappie. Walk the trail to the left as you face the lake at the boat ramps, and you'll find multiple spots where the shoreline is clear and casting for bass is a good bet. The real highlight, however, comes when you walk to the right, and discover a long boardwalk oriented parallel to the shoreline. The park planted brush-piles directly in front of this boardwalk, and they maintain an excellent crappie fishery through much of the year.
Tip: When fishing near these brush-piles cast out a bobber and suspend a marabou jig or shad dart sweetened with a minnow two or three feet below the surface. Often you can catch just as many fish as the anglers who go out on boats.
 
Idylwild Ponds, near Federalsburg on the Maryland/Delaware boarder - 

A former gravel mining operation left numerous ponds in this park, and they make this list because you can fish multiple ponds—as well as the Marshyhope River—in a single day. It's also incredibly picturesque, as trails through the woods take you from one pond to the next. The ponds are chock-full of pickerel, plus lots of crappie and bass.

 Minnow are always a prime bait in these waters, though bass anglers will also find that spinnerbaits and buzzbaits do a number on the largemouth living here. One note of caution: ticks and mosquitoes can be rather numerous here during the summer months.
Tip: The deeper into the woods you walk, the better the fishing. Serious anglers willing to hike will usually skip the closest few ponds, since these see the most angling pressure.
 
The Shenandoah River, South Fork, Virginia - 

Supporting on the of the best smallmouth bass fisheries in the Mid-Atlantic region—possibly the very best—anglers casting in this river also enjoy incredible scenery. Catches of 40, 50, or even more smallmouth in a single day are not unheard-of here, as long as the river's conditions remain good for fishing (rainfall does have an impact).

 There are literally dozens of public access points (Google is your friend), as float trips down this river are quite popular. Whichever you choose, try lures like the Rebel Crawfish, the Savage Gear Spring Craw, or the PowerBait Crazy Legs Chigger Craw.
Tip: If you really want to rack up the numbers, turn over some rocks and dip-net live crayfish. Smallies love 'em, so putting them on the hook is highly effective.
Strutting to Saltwater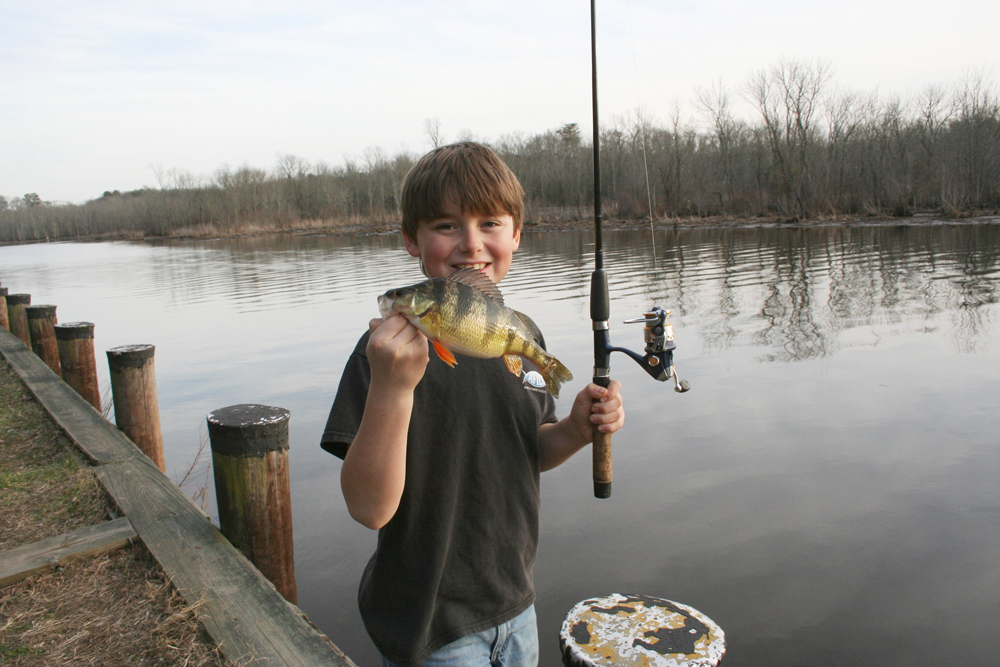 Cape Henlopen Fishing Pier, Cape Henlopen, Delaware - Stretching 1,300 feet out into Delaware Bay, the Cape Henlopen Fishing Pier impresses us because it gives area anglers a shot at a huge number of species: blues, flounder, stripers, croaker, weakfish, spot, dogfish, tog—just about anything that swims in the bay and near-shore ocean. Every now and again there's even a rare catch like a cobia or drum made from the pier, so you just never know what will bite the end of your line. There's a bait and tackle shop on-site along with restroom facilities, and the pier is lighted so you can try night-fishing. Originally built by the military during WWII, recently the pier underwent a major renovation. Thank you, state of Delaware, for keeping this place in good shape—we love it!
Tip: try "pier trolling" by walking along with your bait dragging close past the pier pilings, which the fish often use for cover.
 
Indian River Inlet, Delaware - A vast stretch of fishable water means you can always find a good spot here, and this is another place that can produce a huge range of catches. In the spring big stripers show up here, all summer long marauding schools of bluefish swim in and out through the inlet, and in the fall everything from weakfish to tog shows up in the catch. While walking on the inlet rocks can be dangerous—be very careful if you go beyond the rails, folks—at times you can also gather mussels from the rocks. And on top of that, surf fishing, party boats, and clam digging are all just a stone's throw away. With all these different possibilities close at hand Indian River can keep a landlocked angler busy for days at a time. A tackle shop, restroom facilities, a restaurant, and even lodging is also available on-site. One caveat: when fishing from the rocks bring plenty of tackle. Snags and break-offs are a common event.
Tip: When fishing with bait in the inlet, always keep a rod rigged with a heavy casting spoon, like a Hopkins, close at hand. When you see birds working chances are there are bluefish beneath and you'll be ready for them.
 
Thomas Point Park, Annapolis, Maryland - Thomas Point Park is a rather small location for shoreline anglers, daily permits are limited in number (first come first served, call 410-222-1777 for more info) and you may end up fishing elbow-to-elbow with other anglers, if you visit on a weekend. So, why does this spot get top billing? Because the chances of catching a huge striper every spring and fall. During most of the fishing season fish smash topwater lures fished close to sunrise and sunset, and jigs cast during the day. But particularly in the spring and in mid-November, 40-inch-plus fish show up here with some regularity.
Tip: You'll notice that anglers cluster right on the end of the point, even when there's plenty of open space off to the sides. That's because the big fish usually come to those casting straight out towards the lighthouse and slightly to its south. There's an underwater rockpile about 30 yards from shore, which often attracts the fish. 
Honorable Mention: Just north of Thomas Point, Sandy Point State Park also deserves a mention. While fishing is commonly so-so during much of the season, in the spring some very large trophy stripers are caught from the jetty and the beach here. It may not be worth a long trek from May on, but in March and April consider fishing from Sandy Point, too. Whole bloodworms and bunker chunks fished on bottom are usually the ticket.
 
Martinak State Park, Denton, Maryland - Martinak is bordered by the Choptank River and Watts Creek, and these brackish waters are home to perch, crappie, catfish, largemouth bass, and striped bass. Anglers have a long stretch of shoreline to fish beyond the boat ramp, plus another strip that's bulkheaded to the left of the boat ramp. What really makes this a stand-out fishing spot, however, is the large pavilion you can fish from. Walk through the woods along the trail to the left of the boat ramp (behind the bath-house) to get there, and you have a large roof over your head that makes it comfortable to fish—even with small kids—when it's pouring down rain. Added bonus: the pavilion is located on a bend in the creek that drops all the way down to 20 feet; you'll find tons of catfish in there, and in the winter and early spring, an awesome run of pre-spawn perch.
Tip: Small live minnow fished right next to the pilings supporting the pavilion often account for the bulk of the crappie caught from shore in this park.
 
The CBBT, Virginia - The Chesapeake Bay Bridge Tunnel is quite a well-known and popular destination for anglers who don't have boats, and it's no wonder. Walking out on the 625 foot long Seagull Pier essentially puts you in the middle of the mouth of the Chesapeake, three and a half miles from Virginia Beach, right where it opens up to the ocean. Virtually every species found in the Mid-Atlantic's inshore waters can be caught here, and the pier is lighted for night fishing. A full array of services are available too. However, if you haven't fished the CBBT before and you want to enjoy this experience you'll have to act sooner rather than later. Bridge construction is expected to close down the pier as of October 2017, and authorities say it's expected to remain shut down for the next five years. 2023 Update: As of now the pier remains closed; the latest from the CBBT website is that it will reopen some time in 2026.
Tip: Fish a rod with small hooks and bloodworm bits to catch panfish, and when you get a bait-sized spot, put it on a hook and toss it right back out into the water. Large oceanic predators ranging from bluefish to cobia are likely to snap it right up.
Sign up here to get the weekly FishTalk Chesapeake Bay and Mid-Atlantic fishing reports in your email inbox, every Friday by noon.