If you want to go fishing weather-be-danged and a fully enclosed helm station with a cabin makes sense for your needs, you have a fairly limited selection of new fishboats to choose from. Many manufacturers have shifted to producing center consoles only, leaving you to choose between some cabin boats that are rather rough in finish, some others that are rather rough in the way they ride, a few others that seem radically overpriced, and some that suffer from all of these issues. Not so, when it comes to the North Coast 215 and 235 HT cabin models — and that's why anyone shopping for this type of fishing machine should give these boats a serious look before they sign on any dotted lines.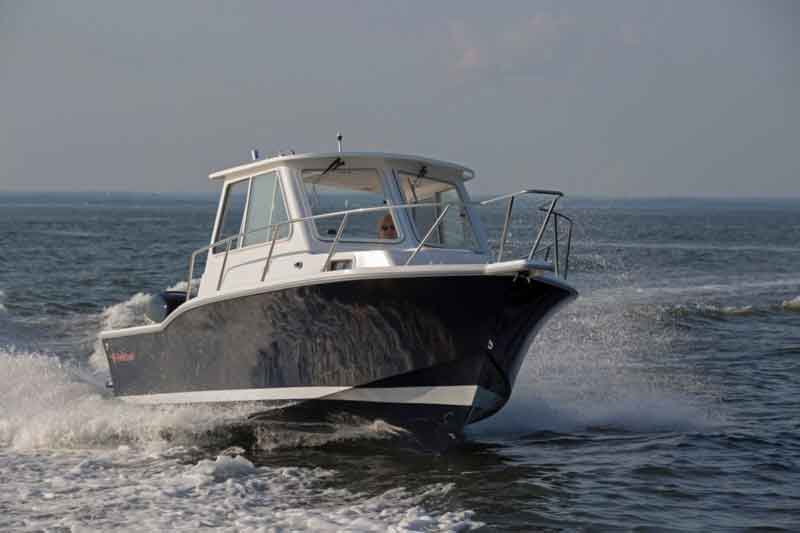 Why are we combining these two models into one? Because as you might expect they're similar boats with similar layouts and construction; one's a bit bigger and costs more, but both have a cuddy cabin forward, a pilothouse protecting the helm, a 35-gallon livewell in the transom, four flush-mount rodholders in the gunwales, four rocket launchers for the top, under-gunwale racks, and port/starboard helm seating with stowage underneath.
But there's a bigger commonality, which sets the North Coasts apart from much of the competition: rather than sitting on the transom, their outboards are on an Armstrong bracket. This improves the boat's running attitude, boosts economy and speed, and perhaps most important to an all-weather angler, makes for a smoother ride.
Performance-wise both models can be counted on to cruise in the neighborhood of 30 mph, while topping out in the 40-mph range. And while we haven't run both of these boats in sloppy seas and thus can't report directly on their seakeeping, we have run the North Coast center consoles in this size range through a very nasty bang-your-fillings-out Chesapeake Bay chop. Bottom line: were rather shocked at how well they handled the conditions. So if you're looking for a trailerable cabin boat don't do any signing, until you've checked these models out.
North Coast 215 and 235 HT Specifications
LOA – 25'6"/27'0"
Beam – 8'6"/8'6"
Displacement – 3,431/5100 lbs.
Draft (max) – 1'4"/1'4"
Fuel Capacity – 88/124 gal.
Max. Power – 200/250 hp
Area Dealers – JF Marine Service, Prince Frederick, MD (443) 432-3121; Hudson Marine, Grasonsville, MD, (410) 643-6768.