I love chumming for stripers. I love the smell of pureed bunker, I love its greasy feel between my fingers, and I consider it fun to ball up a chum-stained T-shirt and hide it deep in the laundry basket. I also love live-baiting. I love swishing my arm around in a livewell grasping for spot, I love feeling the jitter of a bait going nuts as the predator approaches, and I love feeling the rod bend as the little fish on my hook magically morphs into a lunker. And I've decided to give up both tactics when striper fishing in the Upper and Middle Bay next summer – and I hope others will consider doing the same.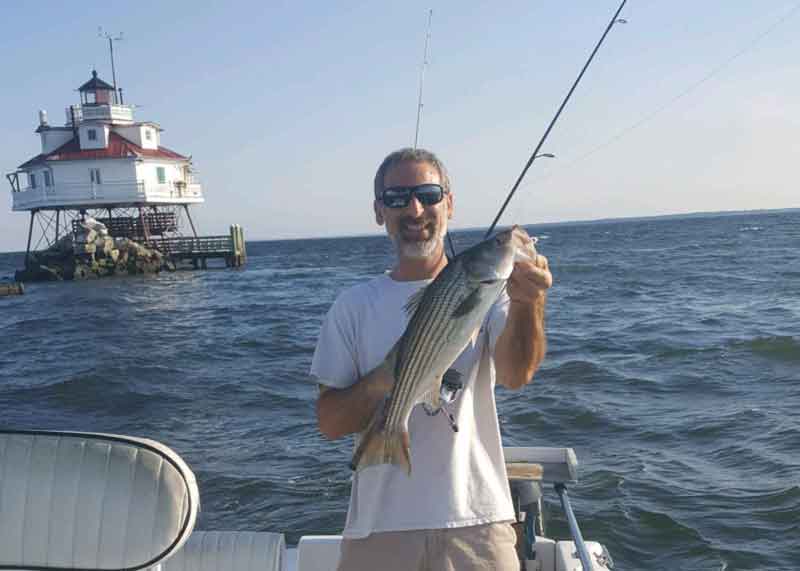 The recent mandated switch to circle hooks when using bait for striper fishing in Maryland may well reduce gut-hooking, but at this point no one's going to convince me (or you either, I'd bet, if you've been using them) that circle hooks eliminate the problem. Maybe it reduces bait gut-hooks significantly. But my gut tells me that deep-hooking a striper on a jig happens maybe once for every 50 to 100 fish, while with bait and a circle hook it happens every 10 to 20 fish. No, those aren't scientific number. And yes, different anglers with different fishing styles and reaction times are going to have different experiences. I'm just saying this is how it seems to me, personally, and I'd encourage anyone reading this right now to think hard on it and reach their own conclusions.
Was catching and releasing fish responsible for the steady stream of belly-up floaters we saw south of the Bridges yet again, this summer? I remain convinced that the answer is far more complex than a simple yes or no – especially because it was common to see keeper-sized fish floating dead. Neither chummers nor liveliners release 20-plus-inch fish very often. I also note that at times this summer, huge proportions of the fish I caught between the Bridge and Thomas Point displayed terrible infections and rash, and the vast majority of the stripers were skinny and blatantly underfed. Striper populations in the Chesapeake Bay are threatened by a whole lot more than release mortality.
However, I'm just as convinced that we have to fess up to the fact that bait fishing inherently increases mortality rates for the undersized fish we release. It's up to every angler to make his or her own decisions (within the confines of the law, of course), but after dropping a bleeding 17-incher over the side one day this August, I decided to hang up my bait fishing rigs for the remainder of the season.
I applaud the Maryland DNR's new Striped Bass Advisory System they started this past summer (rating days as red, yellow, or green according to temperature), but should we shut down bait fishing entirely in July and August? Should catch-and-release fishing after your limit has been filled be verboten? Is there some way to help increase the food available to these fish, so they're healthy enough to have a fighting chance after being caught and released? These are questions I can't answer, but they must be asked and these topics are sure to come up as the fishing community and the powers that be struggle with ways to reduce the mortality rate for 2020 and beyond. But they aren't the only questions we need to be asking.
My point: When striper population numbers are by all accounts down, yet three quarters of the fish you catch are diseased and/or underfed, the issues go well beyond fishing tactics. It's well past time to reinvigorate the menhaden harvest debate. (Note: SAI Global laughingly certified the menhaden fishery "sustainable" this summer; we're sure Omega had nothing to do with that). It's well past time to figure out why the striped bass carrying capacity of the Chesapeake is falling. And it's well past time to circle back on each and every water quality issue we struggle with.
The fish are indeed hurting – but it's not just from hooks.