It was several years ago that I first heard about chain pickerel in the Eastern Shore millponds. As I read about them I was intrigued that the millponds held so many fish, and that the last two state record chain pickerel (currently sitting at eight pounds) came out of Johnson's pond in Salisbury. I caught my first chain pickerel near my home, in St Mary's Lake in Southern Maryland. Most of the chain pickerel I catch from the lake are in the 19- to 20-inch range, not to say I haven't caught fish up to 26 inches there, but seeing the state record chain pickerel came from out east I set my sights on studying and fishing the millponds.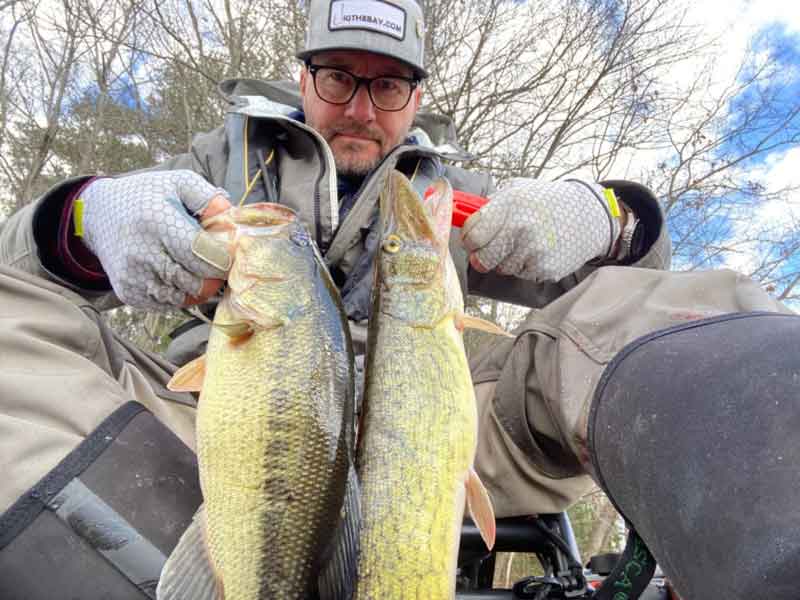 What I have learned about chain pickerel and how I actually catch them in the millponds are two very different things. Most of the normal fishing "rules" will apply to impounds such as St Mary's Lake, but when it come to the millponds, those rules go out the window.
Let's start with my first chain pickerel outing to a millpond. I grabbed my grandson Isaac and we headed off to the Eastern Shore to do some reconnaissance on the shores of Unicorn Lake. The 43-acre lake was formed over 100 years ago to power a mill near Millington, MD. We walked the shoreline looking for typical structure or grass to fish, but seeing none I simply took a few casts with a small jig dressed with a four-inch paddle tail grub — and hooked into a 24-inch fish.
It wasn't long before I was sitting on Unicorn in my kayak hunting chain pickerel. Here is where I learned that the chain pickerel rules don't apply in the millponds. Before I launched my kayak, I took a few casts from the boat ramp, catching a small pickerel on the same jig I caught the 24-inch fish. What I found was that the millponds are rather shallow, heavily weeded throughout, and are easily navigated by kayak. I worked the shoreline where I caught the fish on my outing with Isaac. There I caught a few yellow perch. Then I noticed movement on the water towards the center of the lake and took a few casts with a Mepps spinner, catching a 22-inch pickerel. I found that the deeper water in Unicorn, as it true in most of the millponds, is in the center of the lake. Now when I say deeper, I'm talking from a few inches to a few feet more depth.
What I have found in all of the millponds is that unlike many other bodies of water I often catch fish in the center of the lakes. They have grasses throughout, and pickerel will sit there waiting to ambush their prey, most likely finding cooler water in the summer and protected water in the winter. Sometimes I get frustrated with myself, thinking "Just take a cast already the fish are everywhere!"
With respect to gear, I use a seven-foot medium-fast action spinning rod. I spool the reel with 30-pound braid and six feet of 20-pound fluorocarbon leader. There's no need for steal leaders; although they are toothy critters, they don't bite right through 20-pound test. Baits I use are Rat-L-Traps, quarter-ounce jigs with a light blue/gray paddle tail, small five diamond daredevil spoons, and I'll fly fish for them, too, casting a Clouser minnow.
Okay, my last words here, and don't tell everyone because it's a secret. I could have simply started and ended this article with the following statement: Get into your kayak, putt out to the center of the millpond of your choice, take a cast with a large bull minnow dressed on an eighth-ounce jig under a bobber, then let the wind push you across the lake. There, you are basically good to go, fish on! Now, don't discount fishing the shoreline structure, points and/or edges of weed lines, or lily pads in the millponds if you get bored of catching. The fish will hang and ambush your bait in those locations, too, and you'll usually get into a lot of bass this way. Just please don't tell anyone, or they'll get in the way of my chain pickerel fishing.
- By Eric Packard