Can a serious fishing boat also be a work of art? That's a silly question, because most are — at least, they are to we hardcore anglers. But there are a few models out there which are so pleasing to the eye that one would be hard-pressed to argue against masterpiece status. One builder which regularly builds boats so visually fluid, so well fitted out, and so perfectly finished as to tread in these waters is Pursuit. And even when it comes to the company's smallest offering, the C238, one glance is all you'll need to realize that this boat is built with the same attention to detail and craftsmanship as their far more expensive boats.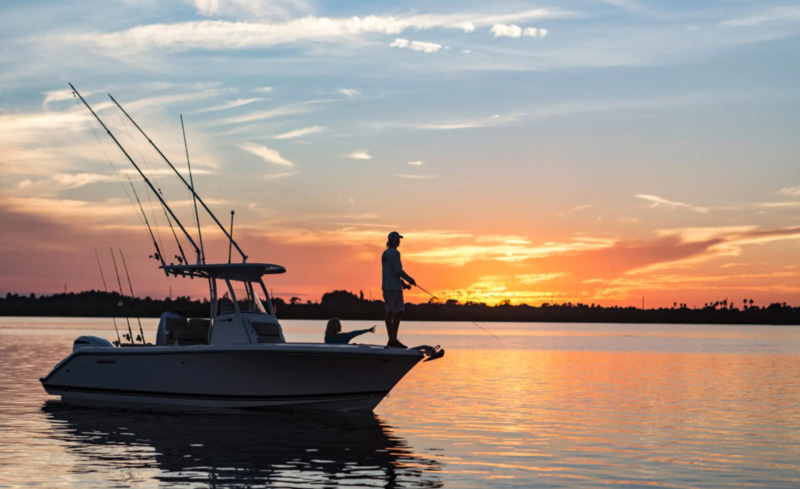 Beauty is, of course, in the eye of the beholder. But a close inspection of this model provides proof that beauty is also more than skin deep. Swing open the front-opening console head compartment, for an example. Not only is the door perfectly finished gel coat on both sides, it opens and closes smoothly and effortlessly on a gas-assist strut. Now look at the access to the back of the helm. On many boats it will be closed off by a snap-in canvas curtain, but here, two quick-release hand-screws secure a sturdy panel over the opening. And when you check out the opening port, note that it's framed in beefy stainless-steel, not the cheaper plastic seen on most small and mid-sized center consoles.
Next, check out the leaning post and T-top powder-coated pipework. In both cases the feet meet a fiberglass base elevated well above the deck, eliminating a common tripping-point. Check out the seats, which have Dri-Fast foam with mesh backings so you never get the wet-butt syndrome so common to open boats. Look in the bilge and you'll find that even down there, an area neglected by all but the most detail-conscious builders, it's clean and gel-coated.
Fit and finish is one thing, fishability is another. In this regard the C238 meets the bar, with standard features including a 23-gallon insulated livewell (baby blue inside, of course), four flush gunwale-mount rodholders, four hard top rocket launchers, under-gunwale rodracks, and a raw-water washdown with a quick-disconnect for the hose. If you're willing to pony up for the option you can get four more flush-mount rodholders in the transom, which we'd say you'd be nuts to go without.
This boat's just small enough to offer spiffy performance with a single engine, a characteristic that will make it attractive to a number of Bay and sometimes-oceanic anglers who like the simplified maintenance, lower expense, and higher efficiency of a single-screw rig. With a Yamaha V-6 F300 Offshore on the transom cruising speed is in the mid-30s, top-end pushes up close to the 50-mph mark, and the boat gets between two and three mpg through the cruising range. Pursuit also rigs the boat with an F250, which drops speeds by just a couple of mph.
To an angler, it's rare to come across an ugly fishing boat. Heck, we'd say that anything which gets you out on the water with rods and reels aboard is a thing of beauty in its own way. But works of art are a bit less common, and the Pursuit C238 is a fiberglass sculpture one could gaze at for hours on end. If, that is, the fish weren't biting.
Pursuit C238 Specifications
LOA – 24'4"
Beam – 8'6"
Displacement – 4580 lbs.
Draft (hull) – 1'8"
Transom Deadrise – 21 degrees
Fuel Capacity – 105 gal.
Max. Power – 300 hp
Area Dealers – North Point Yacht Sales, Gloucester Point, VA, (804) 885-4090; Bosun's Marine, Grasonsville, MD, (410) 286-1350.