Weakfish, also known as yellow fin sea trout and gray trout, have not been a big part of Chesapeake Bay fishing in recent decades. In the past few seasons, however, growing numbers have popped up in our coastal bays and in the lower Chesapeake. Will they once again become a major-league target species for Bay anglers from the Bay Bridge clear down to the CBBT? It's too early to say, but the signs are improving.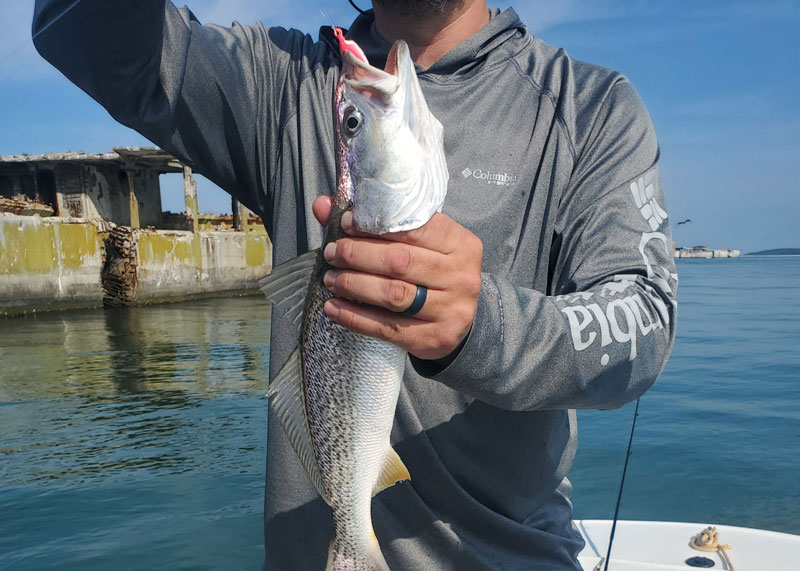 Where Oh Where did the Sea Trout Go?
Whether or not weakfish bounce back big-time this season, next season, or never, it's important to note that this is an incredibly cyclical fish. In many areas of the Bay we haven't seen a solid run for 15 or more years, but early in the century fish in the three to six pound range were thick as fleas as far north as the Chesapeake Bay Bridge rockpiles and catching an eight-fish limit was not uncommon. Prior to that through most of the 90s we didn't see them in any real numbers. But in the 80s there were substantial runs from Gum Thickets south including bruisers over the 15-pound mark. Check the historical record and you can find a cover of Sports Afield magazine from 1954 bemoaning the "disappearance of the sea trout." The bottom line? These fish come and they go, and historically here in the Bay we see their numbers explode for three to five years, followed by low or virtually no significant presence for a decade or more.
At this point, we're overdue for a return of these fish. And in 2020 and 2021 there was a slight increase in sublegal fish in the Bay and a rather dramatic increase in small fish in several coastal bays. Then in 2022 there were decent numbers of gray trout from sublegal size to around 20 inches in the lower Bay plus some halfway-decent catches popping up in the middle Bay. And this season we've already been hearing about more. So… are you ready to go catch 'em up?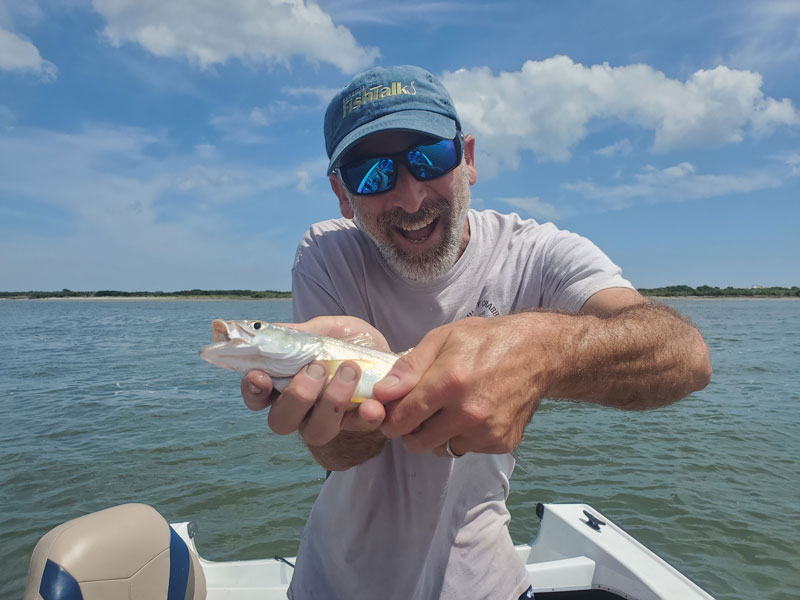 Jigging Deep
Weakfish are shaped exactly like (and are a close relative of) speckled sea trout. In fact, they look just like a speck without the specks. Unlike speckled trout, however, these fish occupy a very different niche and rather than thriving in the shallows, will usually be found in waters of 10 or more feet deep. Often they'll be significantly deeper and it's not uncommon to jig for weakfish in 30, 40, or even 50-plus foot depths.
As a result, the favored weakfish lures are often jigging spoons in the one- to three-ounce range. When the fish are chasing small baits, using tandem rigs with a spoon on the bottom and a streamer, small bucktail, or unweighted plastic on the top is quite common.
What isn't common is one tactic that's often surprisingly effective: dead-sticking. When trout are schooled up deep they may or may not hit lures that are jigged vertically, but dead-sticking will often get them biting when nothing else does. And the method is shockingly simple: lower your lure to the bottom, raise it up a foot or two, and hold the rod steady or even drop it into a rod holder and just let it sit there. No, this does not make any sense. But yes, it does really work.
Baits for Gray Trout
Grey trout are also suckers for bait, especially peeler or soft crab. Along the coast, you'll also get them on squid or shrimp with some regularity. Baits can be fished on rigs similar to Fluke Killers, with a bucktail skirt behind beads and a spinner, though with two lines branching off the leader like a top-and-bottom rig. Back in the days of plentiful weakfish these were called "Trout Scouts." Baited up with peeler crab and drifted along the edges and humps they were a favorite for targeting fish in the 10- to 25-foot zone.
Many anglers also use (used) bucktails sweetened with a chunk of bait and slowly bounced along bottom. Again, this will prove most effective when the fish are in water that isn't terrifically deep. And generally speaking, in both cases these rigs would be fished more or less vertically while on the drift or while at anchor in a heavy current, as opposed to casting and retrieving them.
So: will we get a shot at weakfish this fall? In the upper Bay it isn't likely, in the Middle Bay it's possible, and in the lower Bay probably so. But to what degree will remain a mystery until water temperatures begin dropping, which in the past would cause weakfish to school up tight in the Bay from late September through November. Look on your fishfinder for extended marks that appear more or less like a red and green caterpillar just above the bottom. And if you see them, have those spoons, tandem rigs, and Trout Scouts at the ready.