What's the ideal size for a center console used for Chesapeake Bay fishing? That's a loaded question, because we all have different financial constraints, physical needs, and fishing styles. But for a huge number of Bay anglers out there, the answer is going to be a boat between 21 and 25 feet. Sitting smack-dab in the middle of that range is a new option that's going to be of interest to an army of anglers and the friends they invite aboard: the Robalo R230. Check out this quick video we shot at the Chesapeake Bay Boat Show:
The R230 has a couple of design tweaks that are going to be of particular interest to those of us who enjoy varied styles of fishing. The transom and aft deck arrangement is particularly interesting, because this boat has a large center bench seat and flanking jump seats that fold down flush to create an elevated aft casting deck. This is relatively common on bay boats, but not so much on big-water oriented center consoles and it's a departure from the transom and seating arrangements found on the models bracketing this one, the R222 and R242. The set-up makes the cockpit equally appropriate for light-tackle casting in the shallows, trolling, or bottom fishing, and still provides gunwale-to-gunwale seating. After giving that arrangement a look, open those seats up and lift up the bottoms. On the port side you'll discover a 15-gallon livewell, the starboard side houses a dedicated five-gallon bucket stowage compartment, and the center provides easy access to the batteries and battery charger.
The bow cockpit takes on a similarly versatile attitude. It has wrap-around seating (with a pair of 23-gallon fishboxes underneath), but a removable table can drop down to seat height and fill in the center to create another elevated casting platform. Or, you can add the filler cushion and make it a sunpad.
The R230 is a fishing machine, but like other Robalos, family features also get a tip of the hat. There's an optional freshwater shower and ski tow pylon, but the bigger bonus comes in the form of a forward swing-open console head compartment entry. Wiggle into the head compartments of two equally-sized boats, one with a side entry and one with a forward entry, and you'll immediately notice that the front entry is a heck of a lot easier to get in and out of. The downside is that you lose the ability to utilize the space under the forward console seat as a cooler or livewell, but we're guessing that many family members will call this an excellent trade. Plus, Robalo nets back a lot of space by including dedicated pockets and racks inside the console to stow things like the table base and cushions.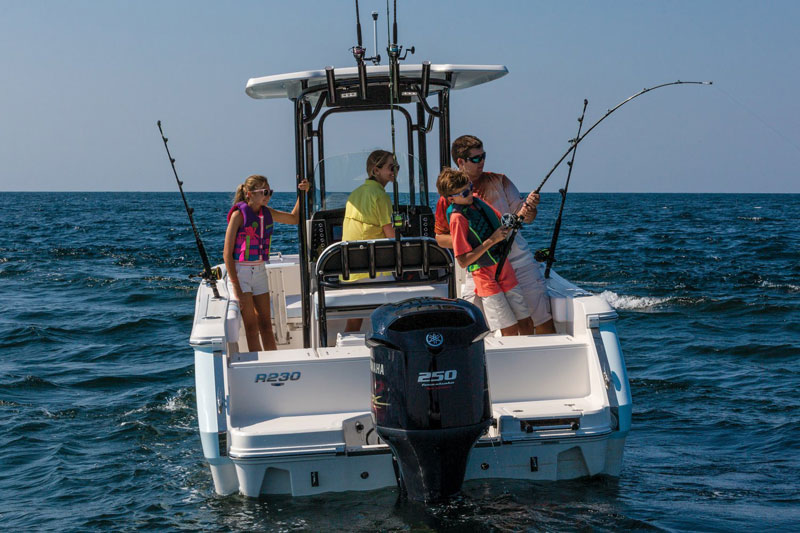 Will you load the R230 onto a trailer and haul it to the beach for oceanic action? Heck yes. It rides on a 20-degree deadrise deep-V, and can handle up to 250 horsepower. We didn't run this boat (it was inside the building at the Chesapeake Bay Boat Show when we saw it) but planning on a cruise in the 30-mph-plus range is certainly reasonable. And thanks to Robalo's use of Kevlar reinforcement in the hulls, a poured composite transom, and foam-filled stringer grid, we've always found their boats to feel solid underfoot. Side note: don't forget that Robalo boasts a lifetime limited hull warranty.
The bottom line? A 23-footer may or may not be the right boat for you. And if a 23-footer is ideal, the R230 may or may not be what you end up choosing to fish from. But if you do end up with an R230 one thing is for sure: just as long as you have plenty of fishing buddies to invite along, you'll never have to buy the ice again.
Robalo R230 Specifications
LOA – 23'0"
Beam – 8'6"
Displacement – 4400 lbs.
Draft (hull) – 1'7"
Transom Deadrise – 20 degrees
Fuel Capacity – 90 gal.
Max. Power – 250 hp
Area Dealers – Waterfront Marine, Edgewater, MD (443) 949-9041.