We FishTalkers usually prefer hard-core fishing machines like center console boats as opposed to models like dual console fishing boats, which have multiple missions. But once in a while we stumble across a boat that strikes us as interesting even if it does sacrifice some fishability for comfort, style, or other secondary concerns. Such was the case when we walked the docks at the Annapolis boat show, came upon the Rossiter 23 Classic Day Boat, and shot this short video.
Full disclosure: if it weren't for the fact that the boat was brought to the show by Buras Marine, from Tracy's Landing, Maryland – an advertiser that's supported FishTalk since it's very first edition – we probably would have hustled right on past this classic-looking day-cruiser. But when we stopped to chat, we noticed that the Rossiter had rodholders across the transom. Interesting. Then we jumped aboard and noticed perks like lots of dry stowage compartments, a 34-gallon fishbox, a freshwater wash at the transom, and a standard Raymarine Axiom MFD flush-mounted at the helm. The closer examination exposed that this boat isn't just for bluebloods, it's for bluebloods who like bluefishing.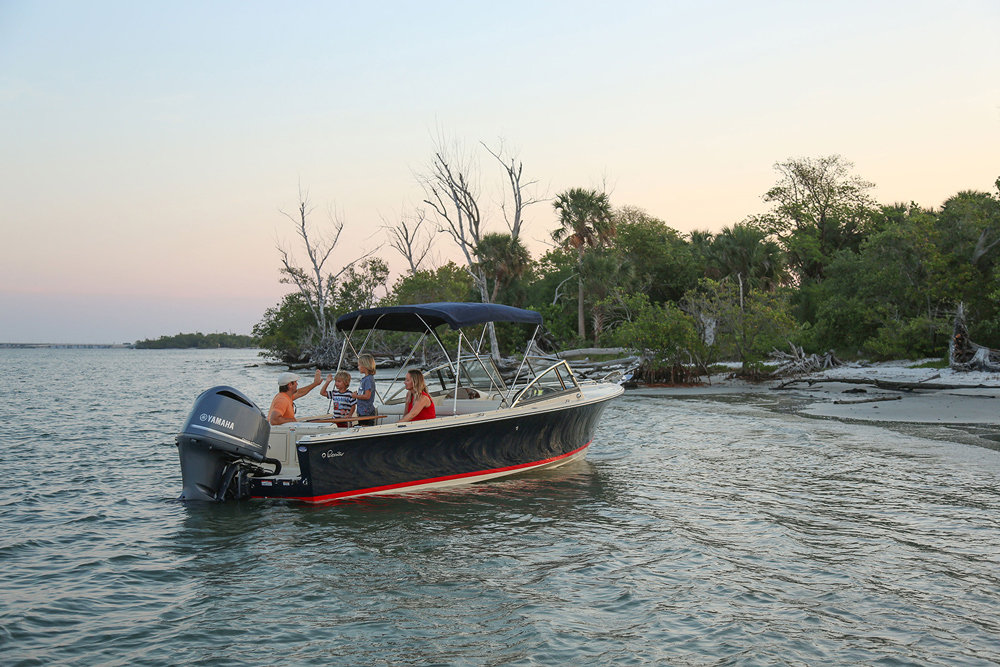 While we don't like to dwell too much on a boat's looks, we can't let it go without saying that the Rossiter has a classic picnic-boat appearance that's set off by teak trim, lots of polished stainless-steel, and vinyls with colored piping. Drop-dead gorgeous? We're not arguing but that's up to you to decide.
We do have to point out that the cockpit is full of seating (eight people can find a comfy spot to sit without being cramped) and the cuddy cabin (which has a V-birth and head) basically eliminates the possibility of fishing from the bow. This will not, repeat not, be the choice fishboat of Joe Blood-and-Guts. But if your spouse drives a Mercedes, your waterfront house has a pier with an empty lift, and your kids show an interest in fishing, you may want to take a peek at the Rossiter 23 Classic Day Boat.
Quick Facts:
LOA – 22'5"
Beam – 8'5.5"
Displacement – 3,220 lbs.
Draft (hull) – 1'4"
Transom Deadrise – 22
Fuel Capacity – 70 gal.
Max. Power – 250 hp