You want an uncomplicated boat that's ideal for light tackle casting in shallow water, is easy to maintain, and is economical to buy and run? A cool new option for Chesapeake area anglers is the Savannah SS21. We got our first look at this boat during the Bay Bridge Boat Show this spring, and walked away thoroughly impressed.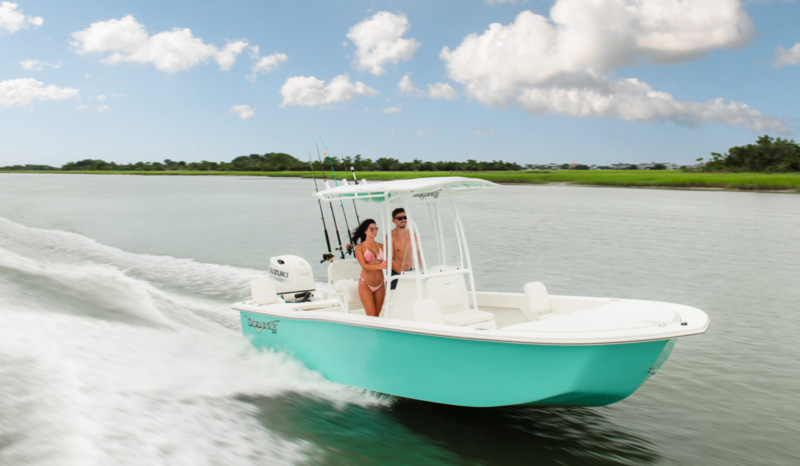 The Savannah is a straightforward boat but more than a simple skiff, sitting somewhere between skiff and bay boat. The bow is particularly skiff-like in that it comes to a broad, nearly flat forepeak above the waterline. That allows the builder to stretch the forward beam, and add on a surprisingly large forward casting deck that does double-duty as a sunpad. But it also has decidedly un-skiff-like flanking seats when you add on the cushions and backrests. And thanks to all that beam, even with the seating and deck there's also an unusually large forward cockpit.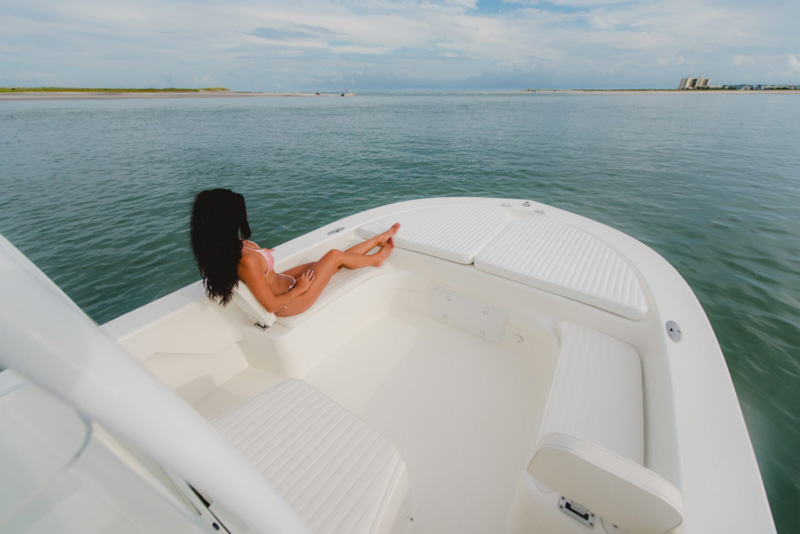 Below the waterline the hull has a bit of V (and 15 degrees of transom deadrise) to help break up a chop. The downside to this sort of design is that it can be bumpier than a deep-V when the seas kick up, but the upside is enhanced stability so there's less rocking and rolling. Plus, it minimizes draft.
Speaking of which: skinny-water anglers will love that they only need nine inches of water to float, which is just about as shallow as you'll ever see on a 21-footer. There's also a raised casting deck aft (which again does double-duty as seating) with an optional livewell. The leaning post sports four rocket launchers, you can have four flush-mount rodholders in the gunwales, and if you opt for the T-top you get six more rocket launchers up top including a pair of angled-out kingfish-style holders. Added bonus for watersports lovers: Savannah offers a T-top that incorporates a towing bit so the kids can catch some serious air while jumping wakes on their boards. In fact, when you inspect that top closely you'll notice it's a well-engineered hard top of the sort you'd expect to find on high-end boats, with perks like integrated stereo speakers and lights, an electronics box, and added grab rails running down the sides.
Another characteristic of this boat that jumped out at us was the use of quality components; cleats are pull-up stainless-steel, the pull-out seat backrests are sturdy and firm, the leaning post is thoroughly beefy, and switches are lighted rockers with breakers built-in. There's a notable absence of the chintzy plastic parts seen on a lot of relatively inexpensive boats with relatively simple designs of this size.
Yet more or less maintaining a skiff-like simplicity may be this boat's strongest suit. At the end of the day scrub-downs will fast and easy. There aren't a ton of complex systems that will need constant maintenance, and operating the boat will be as simple as getting in, turning the key, and driving away. No muss, no fuss, few worries — characteristics with real value, as any long-time boat owner can attest.
Speaking of value: you can get into a boat-motor-trailer package under the $50K mark, which is significantly less than many 21-footers go for these days. (Savannah also has a 19-footer that runs in the upper $30s). Another factor that comes into play here is the 150 Suzuki you'll find on the transom, which provides speeds well up into the 40s. Many boats this size need 200 horses or more to attain similar performance.
Will you buy the Savannah SS21 to impress your crew with glitz and glam? Nah. Will you get one so you can impress everyone on shore as you putt through Ego Alley? Nope. The real question is, will you look at one and find yourself impressed? If you're in search of a straightforward, affordable fishing machine, the answer may well be a firm yes.
Savannah SS21 Specifications
LOA – 21'4"
Beam – 8'6"
Displacement – 2380 lbs.
Draft – 9"
Fuel Capacity – 32 gal.
Max. Power – 150 hp
Area Dealers – Maryland Boat Sales, Middle River, MD, (443) 201-2427.