Families who like fishing but also have activities like watersports or day-cruising on the agenda often opt for dual console fishing boats. Yes, you do lose 360-degree fishability, but as long as the boat's designed well and sufficiently rigged it can serve darn well as a fishing machine — especially with the types of angling done on the Chesapeake Bay. If you look at a wide swath of dual consoles, however, at some point you'll realize that some aren't built up to the same construction quality level seen on many center consoles (which manufacturers expect to be used hard and put away wet). A great example can be found in their wrap-around windshields. Grab the top of one midway between the front and back, give it a tug, and in many cases you'll see the entire frame flex. Now, try that same experiment on a Scout 235 Dorado. That rigid, unyielding frame will tell you everything you need to know about how well this boat is built.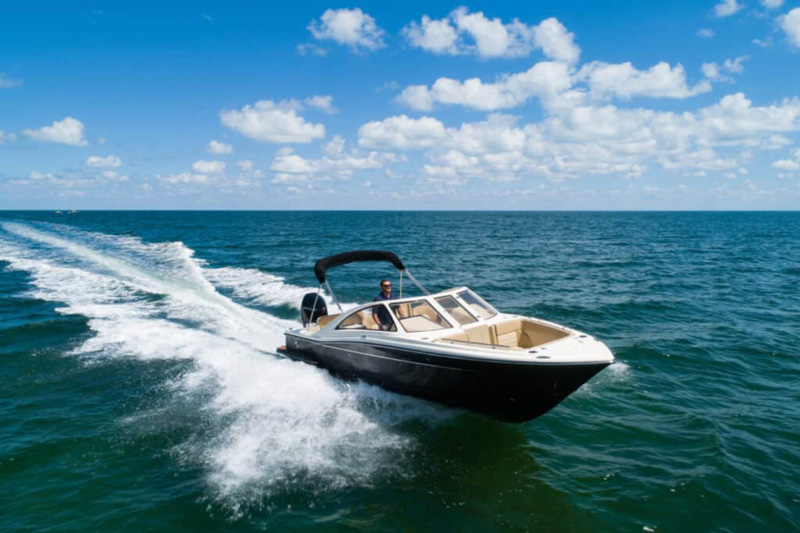 Actually, you can find examples of quality construction like this all over the Scout. Swing open the head compartment in the passenger's side console, and note the beefy stainless-steel hinges and the thick door. Pull out the retractable tow bit, and you'll know at a glance that it's strong enough to pull an XXL water skier or wakeboarder without any problems. Kick back in the 360-degree bolstered bow compartment and give the low-profile bowrails a yank. Nope, nothing gives one bit. Construction quality is, without any question, a big step up from what's commonly seen on the average dual console boat.
The stock fishing features are comprehensive, including four flush-mount rodholders, under-gunwale racks for two rods on the starboard side (the port side is dedicated to a pull-out seat), a 15-gallon transom livewell, fresh and raw water washdowns, and cockpit coaming bolsters. Fish can get iced down in the 35-quart Yeti that comes with the boat and sits under the wet bar behind the helm, or in the 20-gallon stowage compartment under the reversable passenger's side seat. It's important to point out that the Garmin 942XS in the helm is also considered standard fare for this boat along with an Airmar B60 transducer. Up the ante and you can have an 8610 or 8612 XSV instead. Other options we fish-heads will want to consider include the pair of flush-mount rodholders in the bow, and possibly the underwater lights.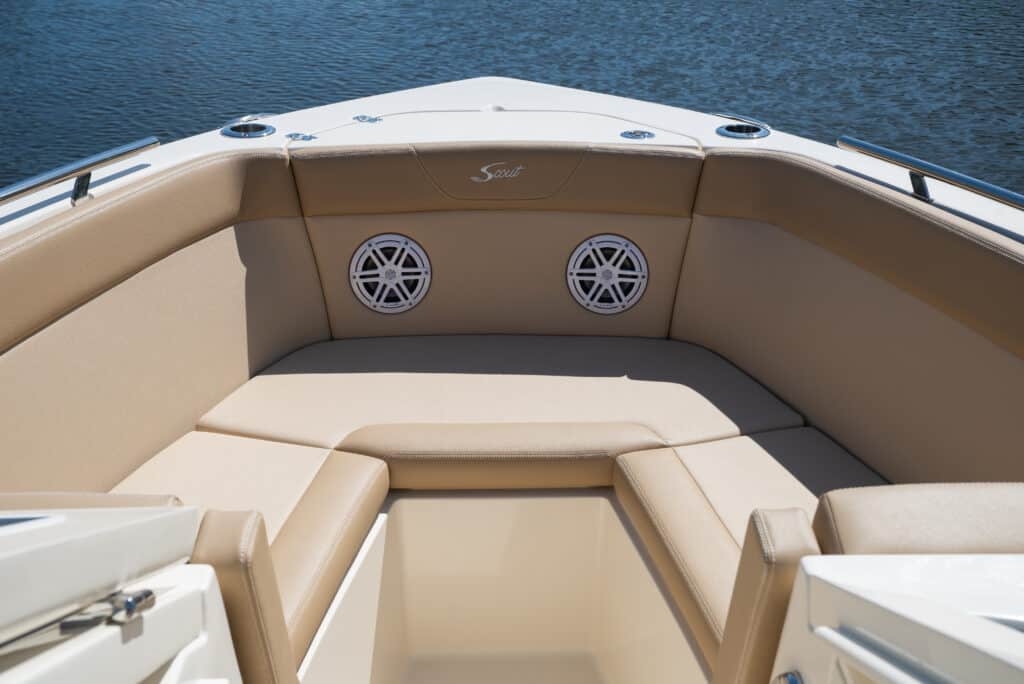 Then, there's power to consider. The Dorado can be had with a 250- or a 300-hp outboard. We say get the 300. Not only will you appreciate the snappy acceleration (zero to 30 in 7.2 seconds) and the zippy 52-mph top-end, having max power also increases resale value and usually makes it easier to sell a boat down the line when you're ready for an upgrade. Plus, with a Yamaha V-6 F300 on the transom this boat gets over 3.3 mpg at 3500 rpm, which is rather spectacular efficiency for a boat with this much power. Even when you juice it up and cruise in the upper 30s (about 38.5 mph at 4500 rpm) you'll still be getting better than 2.5 mpg.
From the family boat perspective, a unique aspect of the 235 Dorado is the swim platform. It's more or less like a full bracket and provides much more platform space than you generally see on an outboard boat. No, that platform won't help you catch fish. But it will be much appreciated when you anchor out for a family swim. And if you do plan on sacrificing an afternoon of angling here and there to run the kids to a beach or pull 'em around on tow toys, well, we'll forgive you. Just make sure the rods and bait are aboard, and after everyone's dried off give them the option to make a few casts, okay? We know darn well what they'll say.
Scout 235 Dorado Specifications 
LOA – 23'8"
Beam – 8'6"
Displacement – 3838 lbs.
Draft – 1'9"
Fuel Capacity – 100 gal.
Max. Power – 300 hp
Transom Deadrise – 20 degrees
Area Dealers – Anchor Boats, North East MD, (800) 773-2628.