There are a gazillion and one center console boats out there, and running into one that's truly unique is a rare event these days — but that's exactly what happened one chilly afternoon late this fall, when we bumped into a Sea Fox Avenger 249. Truth be told, we're not even sure it's entirely legit to call this boat a center console. Nor is it a side console. So, what gives?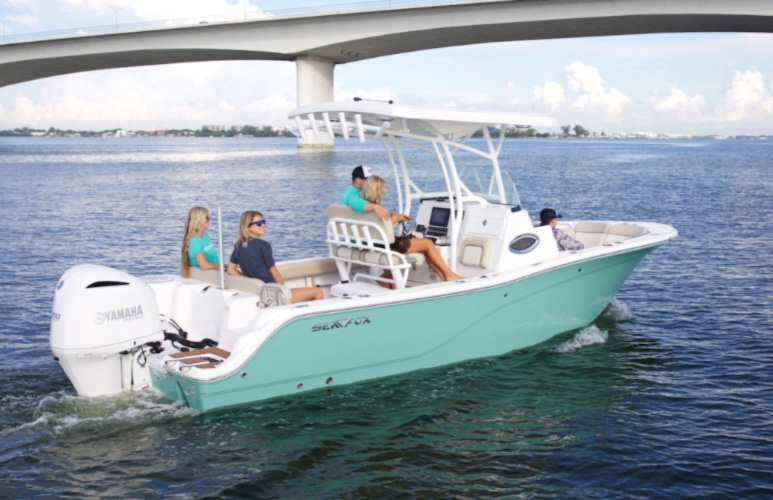 The 249 Avenger has a center console, but it extends to starboard all the way to the boat's gunwale. Yes, that does eliminate working a rod around that side of the console. But upon close inspection, what stretching that console across the beam gets you is rather amazing. Pop open the console entry, step down inside, and you have not only a head compartment but also a berth. Yes, a berth inside the console on a 24-foot boat. It's large enough for a single adult, but perhaps more importantly, there's enough room for a couple of kids to nap. Family anglers with ankle-biter are going to be very attracted to this unusual design, which truly is one of a kind.
But that's not all the center/side console gains over the norm. On the aft end, you get a flip-down jump seat. In the front, you have triple-wide forward seating and end up with just as much bow seating as you'd get with a bowrider, without giving up the fishability of a forward casting deck (just leave the extra cushions at home, or stow them inside that uber-huge console compartment). Added bonus: the double-wide windshield provides far more protection than the usual and three people can comfortably sit behind it, while on most CCs of this size two people have to huddle to get a wind-break. We also noticed that if you're sitting in the bow, the forward-raked backrests mean it's actually comfortable and more recliner-like than bench-seat-like.
Console design aside, the 249 Avenger has all the fishing goodies you expect from a center console angling machine. There's a 40-gallon lighted livewell in the transom, rodracks under the gunwales, four flush gunwale rodholders, fishboxes under the bow seats, a 36-quart removable cooler, fresh and raw water washdowns, and coaming bolsters. The hard top, which comes standard on this model, includes spreader lights and can be optioned-up to include five rocket launchers and a pair of kingfish-style angled rodholders.
The bottom line? The Sea Fox Avenger is unlike any other boat we've seen in recent years, and it fits a niche that many parents of young children will need to have filled: the availability of an enclosed berth as well as a head compartment, plus extra protection while cruising, on top of the fishability of a kind-of-sort-of center console layout. Mom? Dad? Are you listening…?
Sea Fox Avenger 249 Specifications
LOA – 24'4"
Beam – 8'6"
Displacement – 3524 lbs.
Draft – 1'2"
Transom Deadrise – 18 degrees
Fuel Capacity – 117 gal.
Max. Power – 300 hp
Area Dealers – Rhode River Boat Sales, Edgewater, MD, (443) 406-4796.