There's a sweet spot for anglers focused on Chesapeake Bay fishing, right around 21 feet of LOA. That's the point at which a boat's small enough for just about anyone to handle, trailer, and afford, without too much hassle or stress. But it's also the point at which a boat has enough beef to handle fishing on the open Bay in reasonable conditions, and maybe even running out into the ocean on a pretty day. And if you're looking for a center console that fits into this sweet spot, there's a good chance you'll come across the Sea Pro 219. We jumped all over a 219 at last year's Annapolis Boat Show, so join us for a quick look at the 219 up close:
In a quick video it's tough to dig into some of the details that really set one boat apart from another — and in this case, such closer examination is warranted. The first item you need to take note of, however, is the fact that over the past five years Sea Pro has in a sense been completely reborn. They were owned by Brunswick, which took them out of production during the 2008 recession. In 2015 Sea Pro returned to the scene, and since then has been producing a next-generation lineup.
Why should you care about this history? Because there are no "old" Sea Pro designs being built right now and their boats are quite refined. Take the T-top on the 219, for example. This is a far cry from your average basic first-gen top, and has stereo speakers, courtesy lights, spreader lights, and an electronics box all integrated. The pipework supports four rocket launchers plus two kingfish-style holders, and has cut-outs ready to accept outriggers. It's about as advanced as any T-top you're going to find on a 21-footer, period.
Another example can be found in the livewell. Live-baiters will go gaga over the set-up, which has 30 gallons of capacity, a clear hatch on friction hinges that closes on a gasket, is oval, and baby blue inside. Where Sea Pro goes a step farther is installing an overflow valve in addition to the drain, eliminating the need for a stand-pipe. Wells with stand-pipes are faster and cheaper for the manufacturer to install (since they only need to plumb a single drain in the bottom), so when you see a relatively small, price-conscious boat you usually expect to find one. But stand-pipes can also be problematic. They get in the way when you're trying to net bait, and if you knock it free or it vibrates out while you're running, your baits can go right down the drain. Rigs like the one on the 219 Deep-V are quite simply superior, and they're a sign that the builder is going beyond the common industry standard.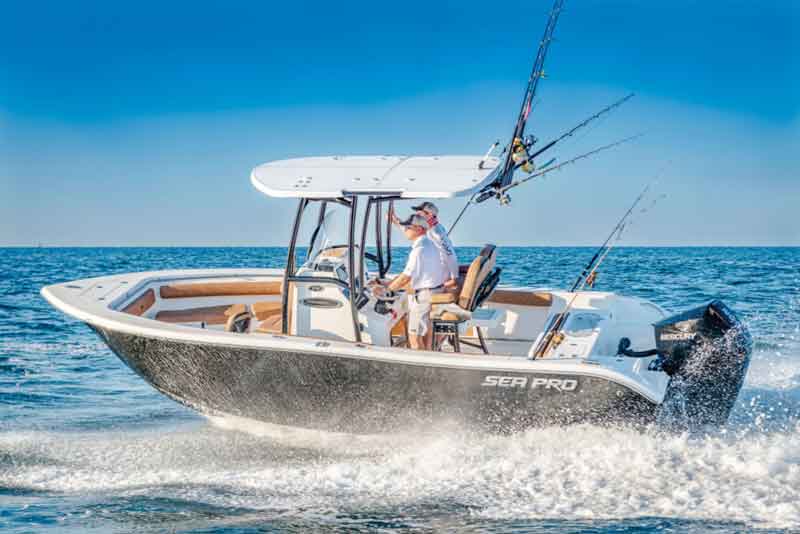 Check out the integrated tackle stowage, too… wait a sec — integrated tackleboxes on a 21-footer? Yup, under the back of the leaning post below the four rocket launchers you'll find two boxes behind small hatches, plus a knife/pliers/rig holder. Now, we'd be the first to agree that two Plano boxes won't have the stowage capacity to hold all the gear you'll be needing on the Bay. But it does allow you to keep some critical items like jig heads and tails, or maybe your favorite selection of topwater plugs, close at hand. And that's a perk few boats in this class can provide.
Another big difference between the Sea Pro 219 Deep-V and many competing boats is the hull design. Check the specs and you'll note that the 219 has a moderate 17.5-degree V at the transom, which some people would argue makes it as much a modified-V hull as a deep-V. And as a general rule of thumb, a higher transom deadrise means better wave-splitting abilities while a lower deadrise means better stability and efficiency, plus less draft. Of course, there's always going to be more to this story: deadrise at the entry and amidships, running angle and weight distribution, and center of gravity are just a few of the other variables that affect how well a boat does or does not eat through the waves. That's why we'd recommend going for a sea trial and discovering for yourself just how it feels to zip across a chop in this boat. And in this case it's also why, with a Suzuki DF250 and two anglers aboard, you can cruise in the mid-30s while getting three mpg. Top-end reaches up into the mid-40s, but the biggest surprise is just how efficient the hull can be if you pull back to 25 mph. At that point, the boat gets a rather eye-opening 3.8 mpg.
There's no arguing that this level of efficiency isn't rather spectacular. There's no arguing that the 219 Deep-V isn't far more refined than the average 21-foot center console. And there's no arguing that this boat doesn't fit right into that easy to handle yet Chesapeake competent sweet spot. All that's left to argue about is what the target species should be, the next time you take that 219 out fishing:
Sea Pro 219 Specifications
LOA – 21'9"
Beam – 8'6"
Displacement – 2750 lbs.
Draft – 1'2"
Fuel Capacity – 85 gal.
Max. Power – 250 hp
Area Dealers – Tradewinds Marina, Middle River, MD, (410) 335-7000.