I still remember years ago when a friend showed me how to try fishing for Spanish mackerel with planers and spoons in the lower Chesapeake Bay waters of Virginia. Before then, I knew little or nothing about this species – I guess they had always been around, but no one that I knew fished for them. Like their bigger cousins, King Mackerels, these are slender, fast-swimming fish that are capable of attacking baits at amazing speeds. Spanish are schooling, pelagic fish that feed on bay anchovies and other small fish.
Hordes of these mackerel invade Virginia's waters from the south every year around Memorial Day Weekend, and stay into early fall. During warmer summers, they'll make their way on up the Chesapeake as far as Bay Bridges.
Trolling for Mackerel
Trolling is the most popular way to fish for Spanish. In our area, people either use number-one planers or a one- to three-ounce in-line sinker in front of a spoon. Attach the planer or sinker to your running line with a coastlock snap swivel. Add another snap swivel to the back of the planer or sinker, followed by about 10 feet of 20-pound test fluorocarbon leader. Tie the leader to a small black ball-bearing swivel, followed by another 10 feet of leader attached directly to the spoon. I know that sounds like a lot of hardware, but the leader will twist up if you don't build it right. And using a black swivel keeps the mackerel from hitting it, thinking it's food.
The planer will pull the bait deeper than the sinker will. Spanish will hit a bait throughout the water column, so sometimes it's best to pull both at the same time to present baits at different depths. To land the fish, wind the planer or sinker to the rod tip, then hand-line in the leader. Keep the boat in gear and simply swing the fish from the water to the cooler before unhooking it. Watch out! Mackerel have extremely sharp teeth.
One of the planers should always be always close to the boat, and some days that's the line that catches most of the fish. On calm days, one spoon trolled way back, a few feet behind a "Baby Boone Bird" with no sinker or planer, is also effective. The bird causes a commotion that attracts fish. Other popular options are the number-one or number-two Clark spoon or number-00 or number-one Huntington Drone Spoon. These two spoons act differently in the water and the different types will work better on different days.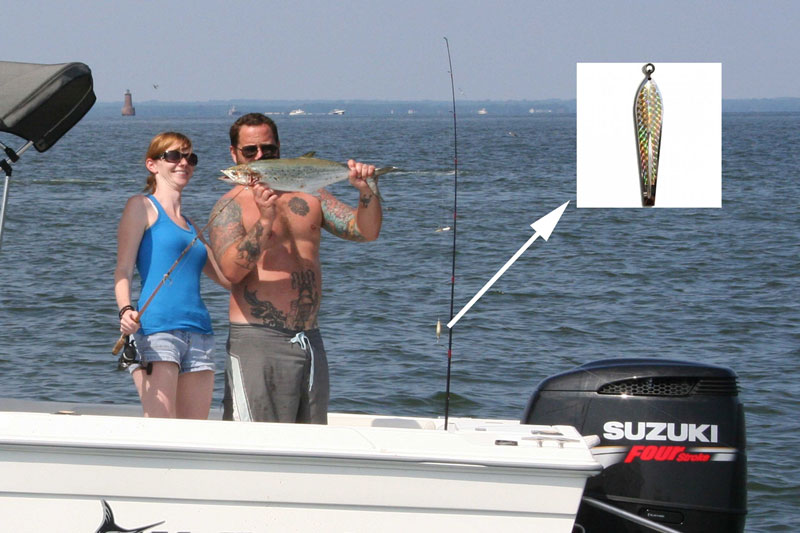 Birds working the surface in open water is often a sign that Spanish (or bluefish) are feeding. Many anglers troll up and down the beach for Spanish, which are often mixed in with the small blues. Cape Henry has always been a popular spot for this. In some years, trolling off of the Little Creek Military Base, and outside of the Little Creek inlet, is also productive. It may also be good to work over the tunnel tubes and along sections of the bridge of the Chesapeake Bay Bridge Tunnel. I won't tell you what sections of the bridge I like to fish – you would have to come with me to gather that intel.
Casting for Mackerel
There is another way to catch these speedsters: try casting to them. A Stingsilver on a light spinning rod works well for this technique. I wade out and cast as far as I can and retrieve it fast. Another approach is to go out on one of the fishing piers at first light and cast Sea Striker Gotcha plugs. These plugs come in a variety of colors and sizes. They either have a couple of treble hooks or one treble and one single hook. Try a pink one that has the single hook on the back end. Again, the best rod is a lightweight spinning outfit, preferably one with braid line on a spinning reel and about 30 inches of 17-pound fluorocarbon leader tied directly to the lure.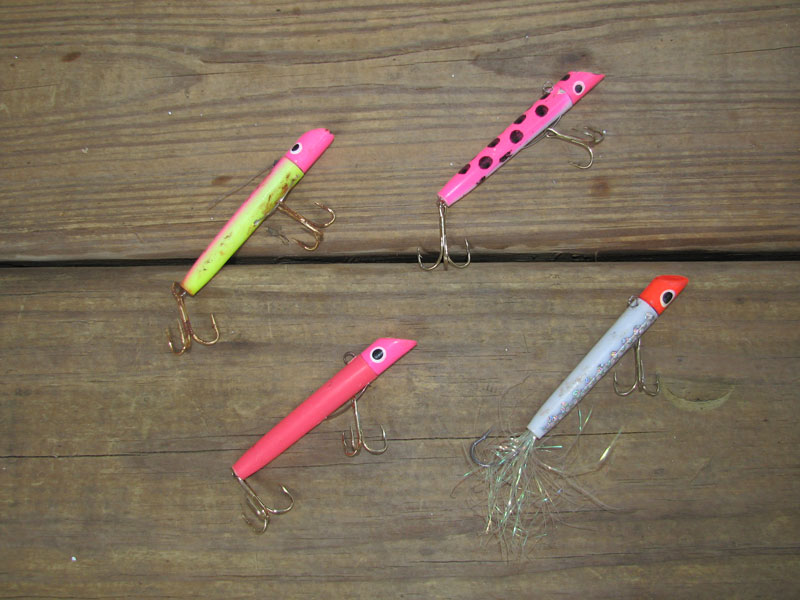 The usual plan is to cast the lure as far off the end of the pier as you can. Then retrieve it with short jerks of the rod. As the late Captain Robbie Robertson used to say, "You are just a jerk on one end of the line waiting for a jerk on the other end." Experienced guys often point the rod tip straight down and work the jig back that way. Once you get used to this technique, it can be very effective.
Eating Spanish-Style
Spanish mackerel are very tasty fish, but they have soft flesh, need to be iced quickly, don't hold up very well in the freezer, and are best eaten the day they were caught. Their scales are tiny, so don't bother trying to scale them. Just fillet off each side and remove the part with rib bones. They are okay fried, but better when baked, broiled, or grilled. A little butter and seasoning is all they need. Plus, Spanish mackerel are loaded with those Omega-3 compounds the doctors say we need.
It's not hard to confuse big Spanish with smaller king mackerel. Begin by checking the first dorsal fin – on Spanish it's tipped in black. Second, Spanish are greener on top and white on the bottom, but kings are more of a silvery color. Third, look at the lateral line running down the side of the fish. On Spanish it is relatively straight, but on a king it dips about half way down the side. Don't judge a mackerel by his spots – young kings often have brown spots similar to their Spanish cousins.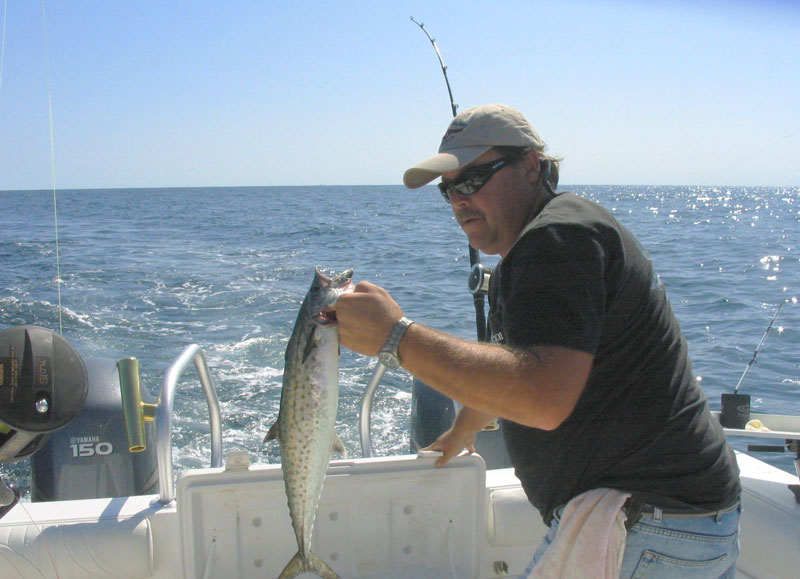 Whether you head out for a day of trolling or casting, or just dedicate an hour or two at the end of the day, Spanish Mackerel are worth the effort. So be sure to try getting some for yourself, this verano.
- By Chuck Harrison