Kayak fishing is one of the fastest-growing recreational activities on the Chesapeake Bay, and with good reason. Once you've made the initial investment, getting out on the water is pretty darn economical, not to mention fun and an effective way to fish. Try it out for yourself and you'll see that hooking up a monster fish that pulls you across the water is an unforgettable experience. But, how do you select an appropriate kayak? Keep an eye out for in-water demo-days at retailers near you. This will give you the opportunity to test out a variety of different shapes and sizes of the very best kayaks on the market. Until that day comes, here are a few key points to consider.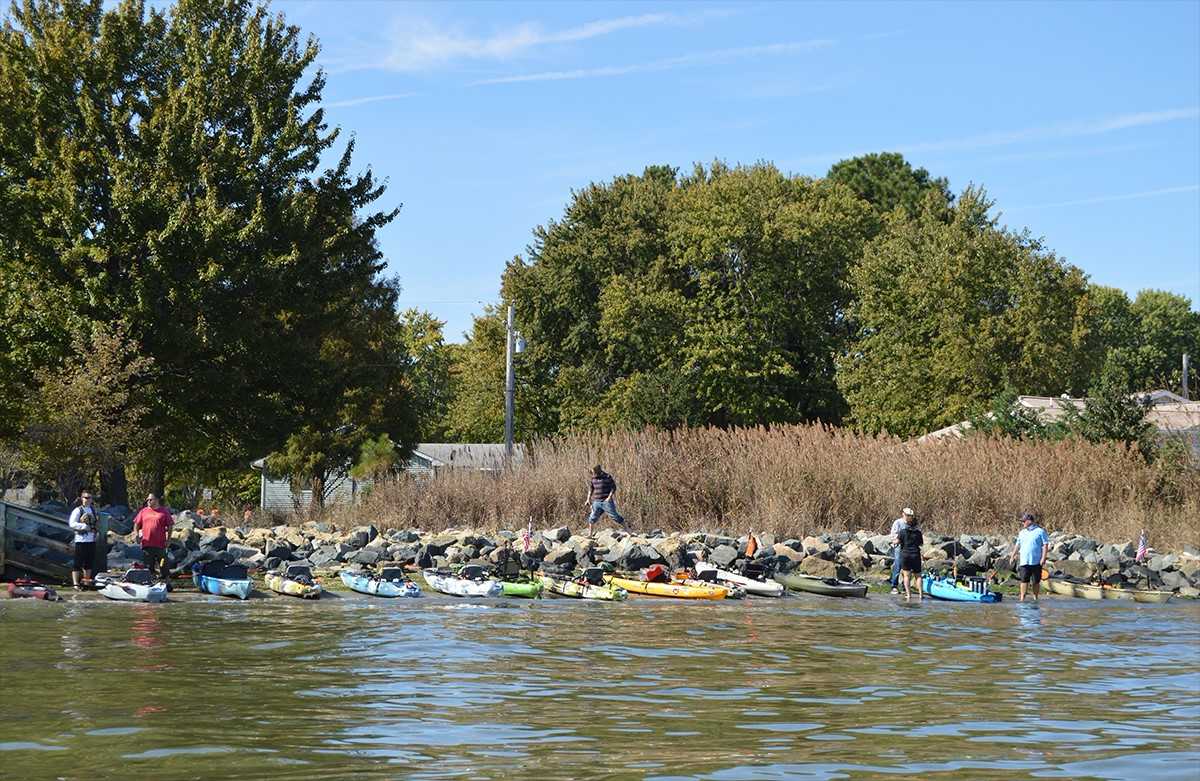 Sit-on-top Kayak or Sit-in Kayak
Generally speaking, most anglers opt for a sit-on-top kayak because they're typically more stable, hold more gear, offer stand-up capability, a more comfortable layout, and a deck that's conducive to fishing. Sit-on-tops are the best choice if you intend to fish in a multitude of conditions. Since they're self-bailing you can take these boats anywhere from flowing streams, to tidal bays, to the ocean surf.
Sit-in fishing kayaks are typically modified version of recreational kayaks including features such as flush mounted rod holders and anchor trolleys. They are light-weight, nimble, and make great fishing vessels. Another advantage of a sit-in is that it tends to be a drier ride, allowing you to keep gear protected in the cockpit.
Length and Weight
Selecting a boat should be relative to your size. Most fishing kayak manufacturers produce boats in the 10- to 14-foot range. If you're under 200-pounds, you'll probably be comfortable in a 10- or 12-foot kayak. But if you're on the bigger, more-to-love side, go for a longer kayak. The typical weight range for fishing kayaks is anywhere from 50-pounds up to over 100-pounds. You'll want to get a boat that's easy enough for you to load and unload single-handed, yet is still a good fit for you out on the water.
Speed, Stability, and Tracking in a Fishing Kayak
Usually, the stability of a fishing kayak is inversely related to its speed. Most fishing yaks have a beam of 30-inches or more, which gives you the ability to stand, but wider means slower. Let's be honest – you're in a kayak so you're not going incredibly fast, regardless.
The longer the kayak, the better it will track. Tracking is the ability of the boat to maintain a straight course while you're paddling, as opposed to zig-zagging. On fishing kayaks this is typically enhanced with channels in the hull. But some kayaks will come with a rudder, which makes tracking your course to the next fishing hole much easier.
Adaptability to Fishing Techniques
You're going to want a boat that gives you options. Some like rod holders fore and some like them aft. Everyone has their own preferences and you'll find there are tons of DIY options when it comes to customizing your kayak, but all stem from the built in features the kayak provides. The key to rigging your kayak is in the mounts, which are typically tracks, recessed tubes, or ball-mounts. Rod holders, fish finders, flag poles, and cameras will rely on these mounting points, so make sure you have plenty of choices.
Pedal vs. Paddle Kayaks
Without question, pedal-powered fishing kayaks are the optimal fish-catching machines. Having your hands free while propelling yourself through the water gives you the ultimate advantage over standard paddle-powered kayaks – and it sure makes trolling a heck of a lot easier. Additionally, the efficiency of hull-driven propulsion can move the kayak to speeds pushing six knots, where as paddling a kayak may get you to three knots.
Comfort in Kayak Seats
Most companies are now making the lawn-chair-style seat a standard, and are doing away with the flat pads that are sure to numb your buns in a few short hours. These modern aluminum-framed seats are comfortable enough to sit in all day. Staying in your comfort zone (and having the ability to stand once in a while) will enable you to spend more time on the water chasing those fish.
Price
A new kayak will run you about $600 for a very basic model to almost $4,000 for a premium pedal-powered fishing machine. So before your start shopping, it's important to figure out which of these features are most important to you.
- By Zach Ditmars
Area Kayak Dealers 
Annapolis Canoe & Kayak - Annapolis, MD
Backyard Boats - Annapolis, MD
Bass Pro - Hanover, MD
CD Outdoors - Centreville, MD
Delaware Paddlesports - Lewes, DE
East of Maui - Annapolis, MD
Easton Cycle & Sport - Easton, MD
Shore Pedal & Paddle - St. Michaels, MD