Most of the shoreline of the Chesapeake Bay watershed is privately owned, however, the Severn River has a number of spots that are easy to access for anglers looking to fish on shore, by boat, or via paddling. Here are the top access points that will put you on the fish.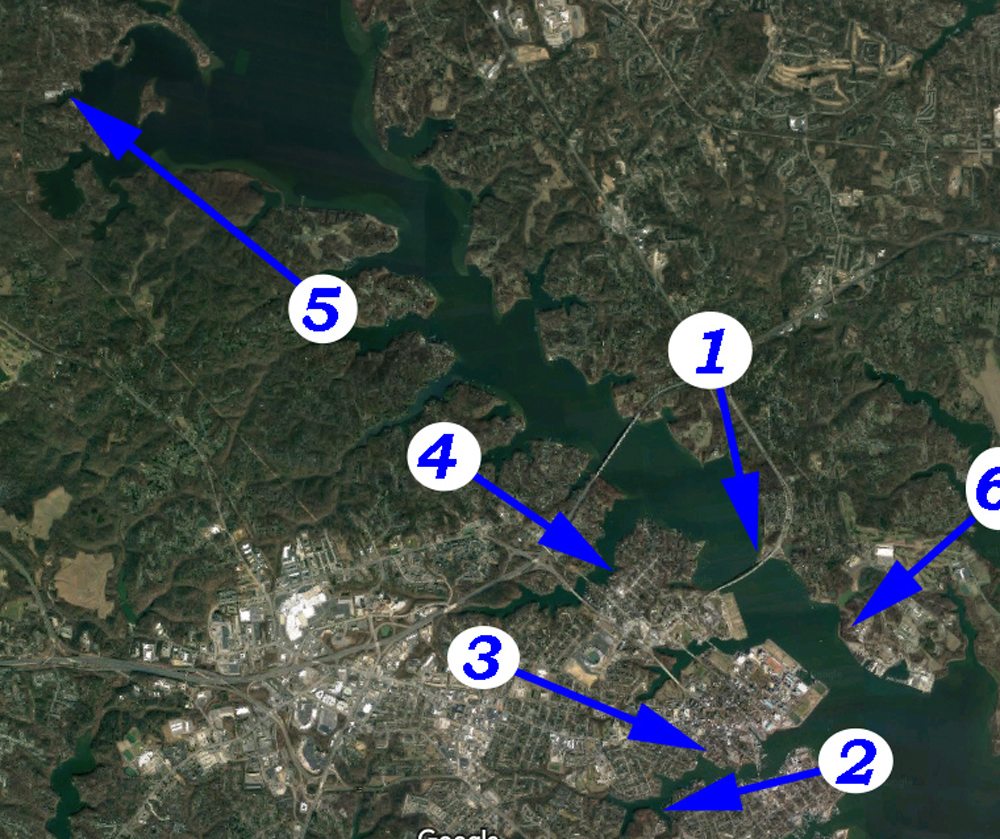 1. Jonas Green Park
If you drive over the Naval Academy Bridge, it's difficult to miss the big section of the old bridge jutting out into the water. This is the pier at Jonas Green Park. This park, managed by Anne Arundel County, is the perfect spot for anglers without a boat. Open to fishing 24 hours a day, the riprap that surrounds the park is (during different seasons) home to white perch, croaker, spot, pumpkinseed, and rockfish. The pier gives anglers the chance to drop a line in the deeper water much farther than they can cast from shore, and out there bluefish and channel catfish can become part of the mix. Try crabbing with pull traps to add to your seafood feast.
From shore the most popular way to fish is a top-and-bottom rig with a one to two ounce sinker, baited with bloodworms, razor clams, or fresh grass shrimp scooped from the rocks with a dip net. For bigger fish, try casting a fish-finder rig with two to four feet of 30 to 50 pound fluorocarbon leader, and a size 6/0 to 8/0 circle hook baited with bunker, softshell crab, squid, or even a whole bloodworm (though that gets expensive FAST). Be sure to bring a hoop (bridge) net on a long rope, because it's a long way to pull a big fish up and they can fall off the hook or break the line. For a bit of ultralight action, use a spinning rod you would normally use for trout and panfish with six to eight pound test line and a small Rat-L-Trap, Beetle Spin, curly tail grub, or mini crankbait in white.
If you have a kayak, canoe, or standup paddleboard, hand-launching is allowed. Up river or down river there's great casting action around docks and riprap with the same lures mentioned above. You can upsize your gear to fish larger versions of these lures, as well as larger paddle-tail and jerk-baits to target rockfish. Find the right conditions and you may even come across a visiting redfish or flounder, both of which I caught in a nearby cove last September while fishing for perch. In addition to allowing anglers to bring their own boats, Paddle or Pedal offers rentals and lessons. Visit their website for more details.
2. Truxton Park/Spa Creek
Located just off Hilltop Lane on Spa Creek, Truxton Park provides one of the best access points on the lower Severn River. You can launch your boat and park for $8 and have a short run to the mouth of the River and the Bay. Paddlers can launch for free, and fish in Spa Creek for white perch, croaker, spot, pumpkinseed, and at the right time of the year (it's usually best in the fall), some decent-sized rockfish. Traffic from numerous boats and recreational paddlers may make trolling a difficult task in Spa Creek, so it's generally best to stick with casting to docks and riprap. Rat-L-Traps and Perch Pounders work well.
The launch has a dock to allow shore anglers to fish without a boat (though Kayak Annapolis rents boats), but keep an eye on signage, because the park has several areas that are off-limits to fishing. Bloodworms and grass shrimp on a top-and-bottom rig or a simple hook, split shot sinker, and bobber rig all work great. If the fish aren't biting, walk along the trail and find other access points to the creek.
3. Acton's Cove Waterfront Park/Spa Creek
Do you only have a quick hour or two to fish? Do you have the kids with you and need a place for them to play? Do you need to get downtown fast when you're done fishing? Acton's Cove is the place for you. Just a few blocks from the State House, this wonderful greenspace opens the Annapolis neighborhood up and gives visitors access to the water without having to go through someone's backyard. Floating docks provide a spot to launch and tie up small boats for trips onto Spa Creek and beyond. There are plenty of docks to cast a lure at to catch white perch. The water here is shallow, so I recommend leaving the top-and-bottom rig behind and going light. Rat-L-Traps, Perch Pounders, and Roostertail in-line spinners will work great. However, there are endless places to tangle up your gear so use baits you don't mind possibly leaving behind. Small grubs or small paddle-tails on a 1/16 ounce jig or single-hook bait rigs with a bobber and split shot are the way to go for perch. Bloodworms, grass shrimp, minnows, and even earthworms will bring in the catch, too. Acton's Cove is a perfect place to show off your fishing prowess to on-looking visitors, and maybe even inspire a young child to pick up a rod and discover a new favorite activity.
4. Tucker Street/Weems Creek
The Tucker Street launch allows boaters of all kinds to get into Weems Creek, though parking is limited. This is a spot where you want a boat of some kind, too, because fishing from the launch does not give you the proper angle to fish the good spots. Weems Creek is a pick-your-pleasure when it comes to fishing. The docks are full of white perch in the summer, and small twister-tails paddle-tails on a jighead is all you need to enjoy steady action.
Looking for rockfish? Troll a Rapala Husky Jerk, Rat-L-Trap, or bucktail as you head toward the mouth of the creek at Severn River and you'll be surprised what you find. Head upstream in the colder months when the grass has receded to fish for pickerel with a Beetle Spin or a Zoom Fluke rigged with a weighted swimbait hook.
5. Smith's Marina/Upper Severn River
When it comes to water access on the Severn River it can often be a case of traveling long distance or paying to get a little closer. Anglers who paddle face this dilemma quite frequently – is it worth saving $10 and paddling from Jonas Green or Tucker Street all the way up to Sherwood Forest and other areas of the Upper Severn River? More than likely the answer is no. True, you might see some fish trolling along the way, and it is fantastic exercise, but if that's the spot you want to fish and your time is limited…
With that in mind, Smith's Marina in Crownsville provides a full boat launch that puts you directly onto Round Bay for $10. From there anglers can troll for rockfish in the deeper water, chase birds in search of schools of baitfish, or head up-river where the water becomes mostly fresh and the range of species expands to include largemouth bass, sunfish, bullhead catfish, pickerel, and yellow perch.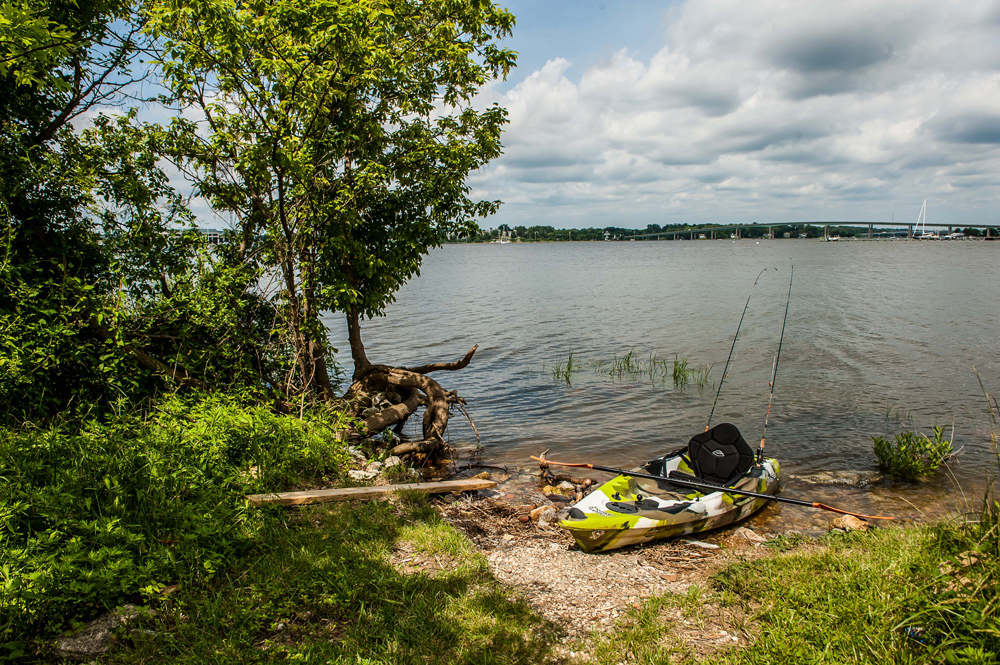 6. Bieman's Point/Lower Severn River
Tucked away behind the Navy golf course, this spot offers a picnic pavilion and access to the waters directly across from the Naval Academy. Bieman's Point is on the open river and close to the Bay and as a result you will see more of the saltier fish species here than in most of the other spots we've covered. The standards you see all over the river are there — rockfish, white perch, croaker, spot, and channel catfish — but you will also find small flounder every now and then and more bluefish here, as well as the drag-screaming excitement of a cownose ray. From shore, Retelle Beach presents the opportunity to get out the surf rod and toss out a big cut bait on a fish finder rig, set that rod in the rod holder, and cast a smaller rod with lures for panfish while you wait for the drag to start zinging.
If you don't mind minor scratches on your kayak, canoe, or paddleboard, from the rocks you have access to riprap that is otherwise off-limits to shore fisherman (No Trespassing signs clearly mark the boundary of the park). It also affords a much shorter trip to get to the mouth of the River and spots such as Whitehall Bay. Save the time paddling or pedaling by trolling for rockfish with lipped plugs or bucktails on the way.
- By Peter Turcik
Sign up here to get the weekly FishTalk Chesapeake Bay and Mid-Atlantic fishing reports in your email inbox, every Friday by noon.