Mounting a fishfinder on your fishing kayak is a big help in many Chesapeake fisheries, but getting the transducer mounted in a kayak isn't always straightforward. The two most common ways of mounting a transducer are arm mounts and hull mounts — but, how the heck are we supposed to know which one best fits our needs? Is one "better" than the other? Let's look at some of the pros and cons I uncovered during my experience testing a Lowrance Hook 7 Reveal fishfinder and a 3-in-1 Triple Shot Transducer, which I tried both ways through several months of fishing.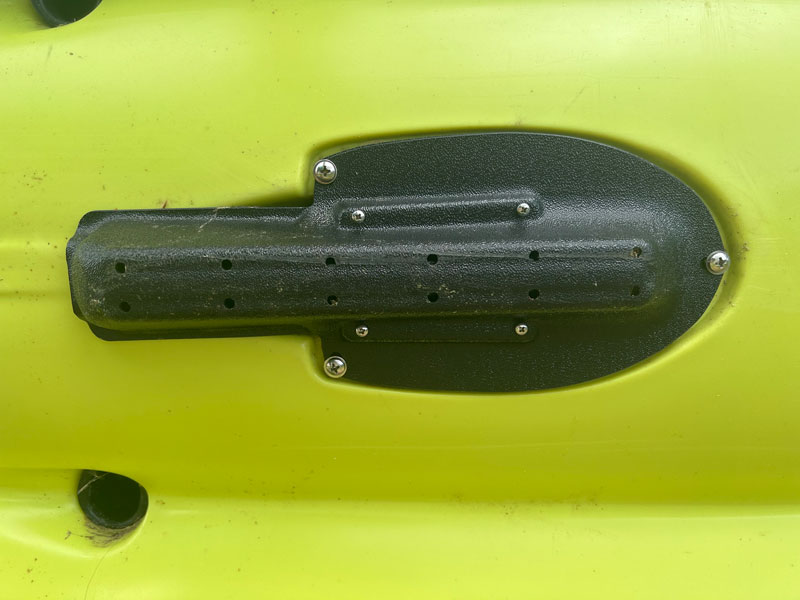 Kayak Fishfinder Through Hull Transducer Mount
Pros:
Easy to install (in a Hobie Compass) with Hobie's Lowrance-ready plate.
No noticeable drag.
Wires run neatly within the hull or under your seat.
One less thing to worry about when rigging/unrigging the kayak.
Completely out of the way when fishing.
Cons:
Installation may be tougher with a kayak not designed with a dedicated fishfinder transducer mount.
Difficult to transfer from boat to boat.
May need to buy a protective plate for shallow-water fishing, to prevent damage.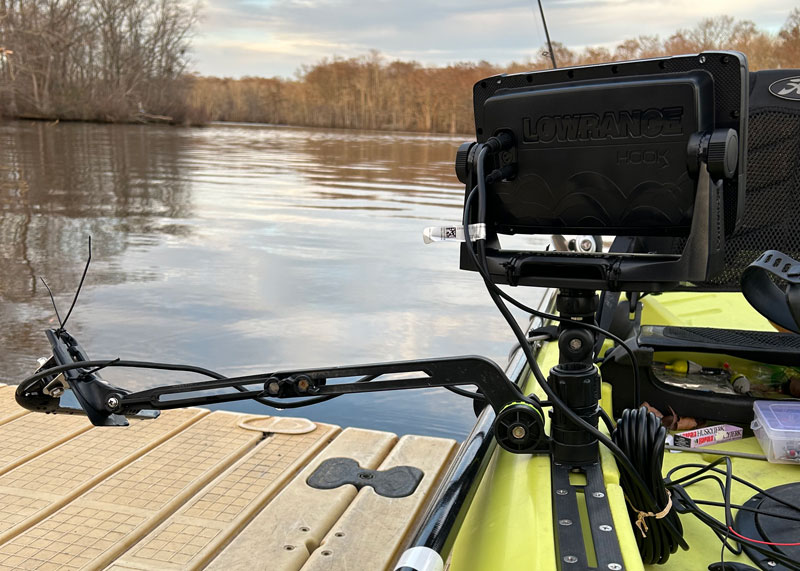 Kayak Fishfinder Transducer Arm Mount
Pros:
Can be switched between kayaks in a matter of seconds.
Transducer is above or level with the bottom of the hull, so it can't be damaged by running aground.
Cons:
Creates a significant amount of drag, reducing speed and impacting steering.
Creates a ton of noise going through the water. Aggravating to the angler, and most likely the fish, too.
Can come out of the water on large waves.
Sidescan gets interrupted without the perfect positioning.
Gets in the way when handling and fighting fish.
Hard to neatly contain the wires.
It was a world of difference switching between the two transducer setups. For my needs the hull mount blew the arm mount out of the water, mainly due to the absence of drag and the ease of use. I noticed a drop in speed of about 0.2 to 0.3 mph with the arm, and it was loud enough that I was constantly worried about scaring fish while trolling and fishing shallows. Also, both side-scan and down-scan seemed a bit clearer and had less clutter with the hull mount. I purchased a Berleypro cover to pair with the existing Lowrance mounting plate in the Compass and the 3-in-1 Triple Shot to protect it from impact. Installation was as easy as catching a blue cat, with just seven screws and three steps.
The only case that I would think an arm mount would be favorable is if I had another kayak or boat I intended to use the transducer with (I wish!). Even then, I probably would end up mounting it on the hull and undoing some screws when I needed to switch it.
-By David Rudow