The small creeks and streams of Southern Pennsylvania and northern Maryland like Antietam, Big Pipe, Marsh, Conococheague, Conewago, Gunpowder, Codorus, Toms, Yellow Breeches, Octoraro, Monocacy, Middle Creek, and others offer exciting opportunities for small stream panfish and spunky smallmouth bass. Hop in and get wet—one of the great things about wade fishing is it keep you cool in the heat—and use this basic game plan that will get you started on the small stream gig no matter where you live.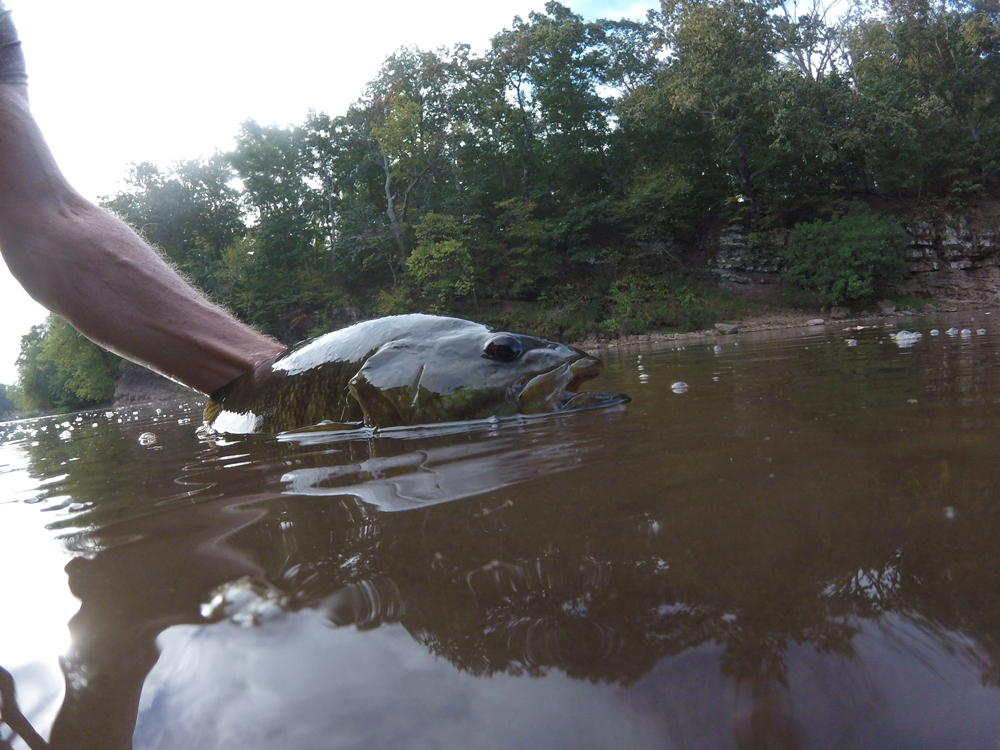 Smallmouth Gear
Probably the most effective gear is ultra light spinning tackle with rods from five to six and a half feet long, that can handle four and six pound monofilament line. Most of the casts will be short, so distance is not always a major factor for success. I like quality monos like Gamma PolyFlex or Trilene Extra Limp monos for tossing jigs from 1/32 to 1/16 of an ounce. Those that replicate crayfish are usually top getters for stream bass and panfish. When targeting smallmouth, go with hair jigs and plastics that are brown, olive or red in color. Black can be very good as well.
Small crankbaits can also be extremely effective at this time of year, and a topwater bite may emerge. The Rebel Teeny Wee series of crayfish and frog patterns get smashed by two to three pound smallmouth. Yo-Zuri Pins Minnows and smaller Rapala Floating Minnows in one and a half to two and a half inch lengths are also day-in, day-out winners for creek fishing. Strike King Bitsy Minnows shine too, and the smaller Bagley crankbait line has a good selection of proven stream-killers for your arsenal.
It always pays to carry a couple small Mepps Spinners in size #0 to #2 to imitate those skipping minnows we sometimes see, fleeing from the predacious efforts of larger bass. If you're changing lures often, then small ball-bearing swivels will make switch-outs quicker and easier than direct tie-ons. Plus, the swivel prevents line twist with rotating spinners. When fishing with jigs, however, tie directly to the hook-eye with either a Palomar (braid) or an improved clinch (mono) knot. Plastic additions to imitate crayfish claws or the like almost always sweeten the pie for the creek bass and aggressive rock bass that are found in most of our streams.
An often-overlooked option for quality stream bass would be the use of smaller stick-worms in the three to four inch category. You can take your pick of these bass magnets, as many manufacturers are producing them. But be assured, they can produce when many other options don't. Fish them on 1/0 offset worm hooks by Gamakatzu or Owner and try the weightless approach. Smallies over 14 inches have no problem getting these in their mouths for solid hook ups.
Live bait in the form of minnows and crayfish can be killer, too if you can keep them alive and fish them in the heat. However, there are ongoing changes in baitfish and crayfish bait regulations throughout the Monocacy watershed due to the infestation of the invasive Rusty crayfish, a larger and aggressive crustacean. Always double-check baitfish regulations for the waters you intend to fish.
Smallmouth Tactics
I've always been a fan of wading upstream in creek fishing, with minimal wading disturbances in those longer, larger pools. Keep in mind that most of our streams will often be in a low-water state late into the summer and early fall, and that generally speaking the quality bass will be holed-up in the deepest available water at this time. Stealth is paramount for success, and sloppy, invasive wading can spook fish quickly. Also, for this same reason, I like to use clear or green monos that blend with the environment and won't alarm the fish.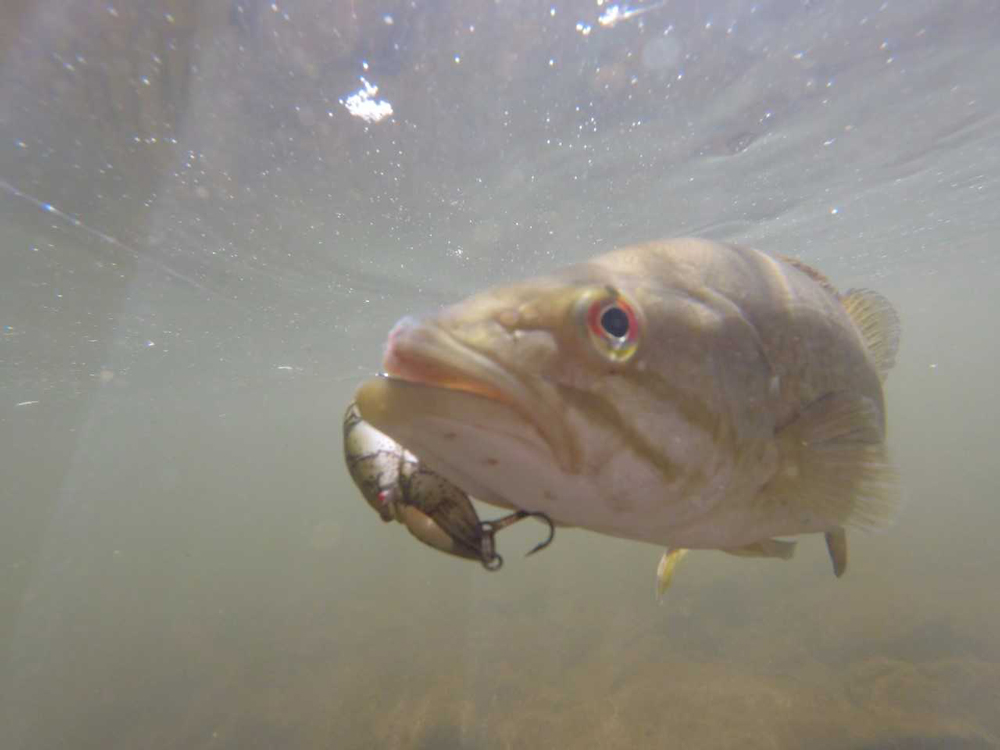 Try to target obvious fish hangouts like undercuts, rocky shoreline areas, deeper runs that sweep against cliff formations, or any fallen tree or tree-root system that has a little bit of deep water and shade. Often, an evening bite can occur as insect activity triggers sunfish and minnow to feed, prompting larger adult smallmouths to the surface to hammer them. You can also carry medium spinning gear and toss buzz-baits for some primo smallmouth action in the late summer/early fall time frame—but that would be the topic of a whole 'nuther story!
Accurate casts are needed in many scenarios for the creek angler, as overhangs and currents play zig and zag with your lures. Often you can easily recognize the edge of a current seam and the back-swirl that creates an eddy where fish will wait to ambush your offering. It might take several casts to get that perfect drift or travel, but persistence will pay off.
Finally, travel light and fish with a companion for the ultra light stream gig. It's pretty easy to slip and fall or take a dunking. Safe fishing with a friend is not only wise but also affords more enjoyment as you share the experience. And make absolutely sure you have permission to be on any water that meanders through private land, and check the current regulations for trout, bass and panfish in the streams you choose to fish—you'll soon be enjoying some great, late summer stream fishing.
- by Jim Gronaw
The Gospel According to Bluegills
At the age of five Jim Gronaw caught his first bluegill and, by his own admission, he 'hasn't been the same since'. During the past 48 years he has been published in columns and articles in publications such as Outdoor Life, Sports Afield, Fishing Facts, Fishing World and is a regular contributor to In- Fisherman Magazine. His columns currently appear in the Baltimore Sun, the Carroll County Times, and the Fishing and Hunting Journal.
In his first book, 'The Gospel According to Bluegills' he tells the stories behind these fishing trips and his faith in Jesus Christ. Along the way, Jim has been able to turn his passion into ministry, authoring the popular blog 'Bluecollar Fishin' With Jim' on blogspot. Yes, this book is about fishing, but it is more about how a loving savior enabled a 'train wreck of a man' to cross over from death into eternal life. Cost: $14.95. Email [email protected] to learn more or get your copy.