Last fall in Solace 345: Breaking New Ground we gave you FishTalk readers the scoop on this new and completely unique fishing boat, and we promised we'd be back with more intel as it became available. Well, at the Miami Boat Show earlier this year we had the chance to interview designer Stephen Dougherty and Solace Boats company president Todd Albrecht as well as play a role in judging the boat during the NMMA Innovations Awards, and we've learned a whole lot more about it.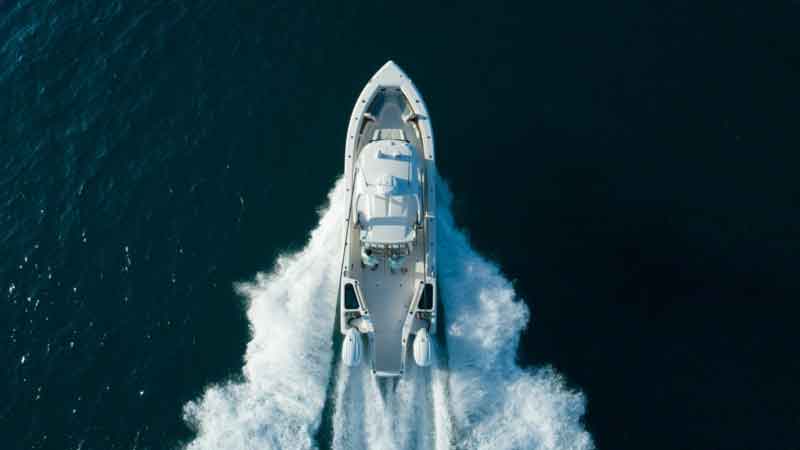 Let's fill in a few gaps with information that's come to light since we last talked about the Solace:
The Chesapeake-area dealer for the Solace is PYY Marine, (410) 255-1771 in Pasadena, MD.
The Solace won the Center Console/Walkaround Fishing Boat category by unanimous decision in the 2020 NMMA Innovation Awards.
The Solace was named "Boat of the Year" by Boating Magazine.
Fuel capacity is 343 gallons.
Displacement is 14,550 pounds.
Maximum power is 900 hp.
There is now a 41-footer in the works.
All of this info aside, the most interesting thing we learned when speaking with Dougherty and Albrecht relates to how this boat is built. It is far from your average fiberglass boat, instead being laid up with carbon fiber and Innegra which are vacuum-infused with epoxy. The tough part about building a boat with these uber-techy materials is that to gain the most benefit, after being laid up the part needs to be baked in an oven. And building an oven big enough to bake off a hull of this size is, obviously, rather difficult. Solace's unusual approach was to build the molds to do the baking. Yes, the molds themselves are heated, so when the boat gets popped out it's already been pre-cooked. To get the straight scoop from the designer, check out our interview aboard the Solace 345 with Stephen Dougherty.
We said it last time, and we'll say it again: the Solace 345 is a completely unique, one-of-a-kind creation—you simply won't find another fishing boat anything like it.