There's a new watercraft in town that's taking the Chesapeake by storm, called a Soloskiff, and it's making people uncomfortable because they don't know what to call it. The Soloskiff challenges what they know about watercraft, and it doesn't fit a category they have seen. Quite frankly, I don't know what to call it myself – it's truly a hybrid between a boat and a kayak…. call it a Kaybrid, or a Boyak.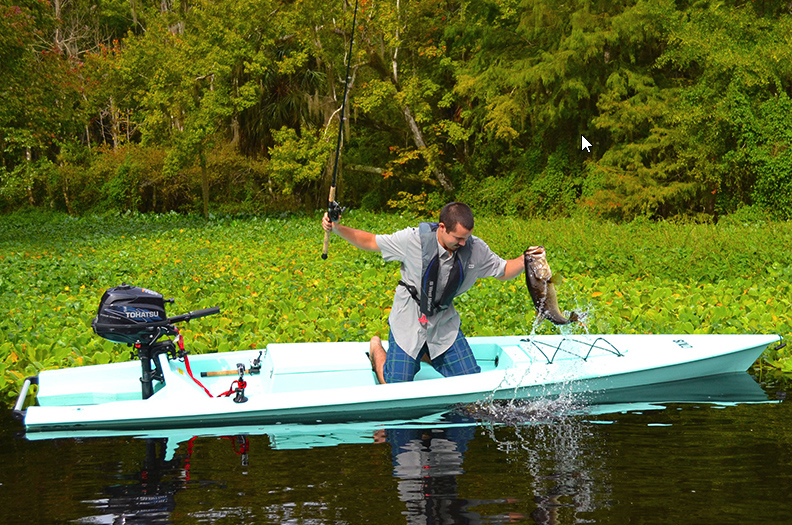 On the surface, a Soloskiff is a single operator, sit-on-top kayak that accepts a gas outboard motor. It's a lightweight, low draft, un-swampable vessel that really scoots! The versatility allows for fishing both the main stem of the Bay like a boat, as well as intimate, shallow water locations, like a kayak.
I'm known as a kayak fishing angler, and all of my success has come from taking advantage of characteristic features of these vessels. I've written a couple of books describing the specific details of kayak angling and how to leverage the advantages they offer, but for brevity here, it's all about mobility, stealth, portability – as well as the ability to customize them to fit each of our needs. In fact, I wrote about the Solo Skiff in my recent jigging book after I carefully studied this craft, and realized it's the missing piece of the kayak-to-boat continuum. More importantly, the Solo Skiff opens up a new fishery for those that love the personality of a kayak but need range to reach the fishing grounds during certain months.
My needs require a vessel that can take me to a location quickly, carry top-end electronics, and mount a Torqeedo motor for a powerful stealth advantage. The other need that is a make-or-break characteristic is portability. I don't want to deal with a trailer, nor are they allowed in my community. So, the ability to load it in my pickup truck without help is paramount. I found that the Boonedox Landing Gear was the missing piece to meet my portability goal. It allows me to wheel the Solo from the boat ramp to the bed of my truck single-handed, with ease.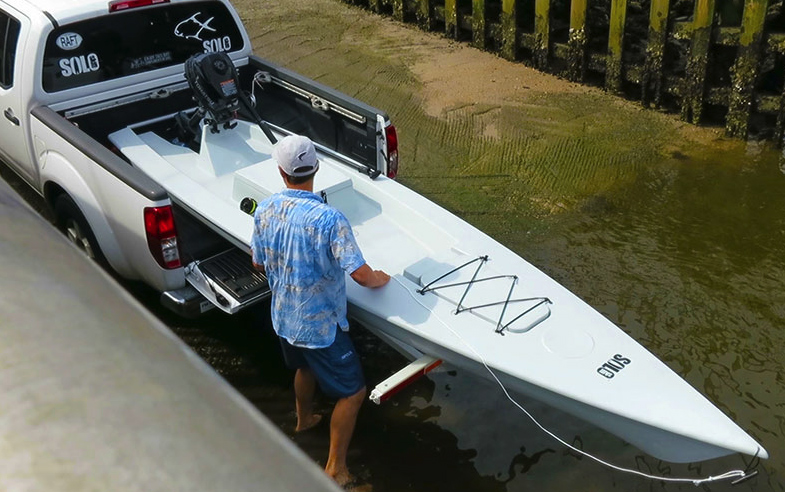 On the water, it fishes almost like a kayak. There's still a personal feeling but with more room to maneuver and for stowage. The Solo Skiff doesn't end up being quite as nimble as a kayak, but beats a boat's agility by a mile. If you're a kayak angler who also fishes from a boat you know exactly what I mean, and you're probably frustrated at the clumsiness of a boat when aboard. Of course, it's not as fast as a boat – but it beats a kayak's speed by a mile. Certainly, if you fish from a boat and then jump on a kayak, you may be frustrated at the lack of speed and locations to fish in a day. I've found that the Soloskiff is a great compromise which bridges the gap between each of these vessels.
I see the Solo Skiff changing the way people approach fishing, causing them to think differently as a result of having a new tool in the arsenal. It's an affordable blank canvas for you to go crazy with outfitting. Most importantly, it's a ton of fun to operate – and is the best kind of medicine for a long week at the office.
- By Alan Battista