Two popular and fun bottom fish to catch in the Chesapeake Bay are spot and croaker. Not only do the smaller spot make great bait, when these panfish get a little bigger, they make a perfect fish fry. Both are ideal species to gets kids started in fishing, because kids can do pretty much everything themselves and feel great about it while having a blast catching them. The gear, rigs, and bait involved are also relatively inexpensive, so they're definitely a win for the budget. So before we get too deep into fall, get those kids out there for some bottom fishing.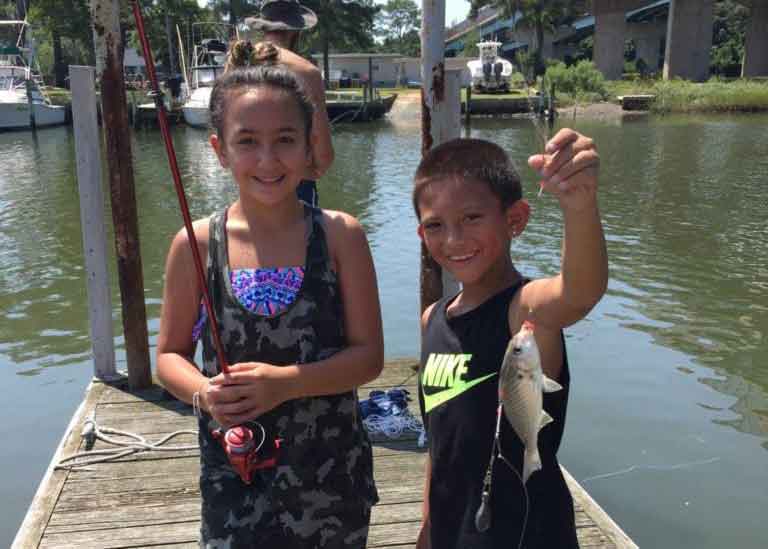 When planning a spot trip with the kids, you might want to keep in mind that fall is when this fishing is on fire. To make your trip run smoother and your catch ratio more successful, you may want to plan to set aside some things. Pre-buy bloodworm flavored Fishbites to ensure you have them when you go. You can choose to buy a real bloodworms, too (though that may have a bit more of an effect on the budget), and we could argue all day over which works best.
Note: when cutting up bloodworms and applying them to the hook remember that they actually do have teeth and can bite. Their bite is similar to a mild bee sting, so it's best to pre-cut them into pieces for your children before they try putting them on the hook. Live bloodworms can usually last a couple of weeks in the refrigerator if stored properly, are not kept too cold, and are kept somewhat moist. Turn the bag over every day and they'll last longer, too.
Hooks and Rigs
For spot and croaker use hook sizes six through size two and adjust according to the size of the fish you are targeting. If you want to just grab and go you can always buy a couple of packs of pre-snelled "bait holder" hooks from Eagle. The other option of course is a Sabiki rig, which comes pre made with hooks attached. The benefit of these is that they allow for multiple hooks, but they also are more prone to tangles and may not be as user kid friendly. Remember that in Maryland waters Sabiki rigs are limited to two hooks and these are usually sold as "Chesapeake Sabiki Rigs." Sabikis are sometimes effective without any bait added but to get the most bites, put a tiny piece of bait on the hooks.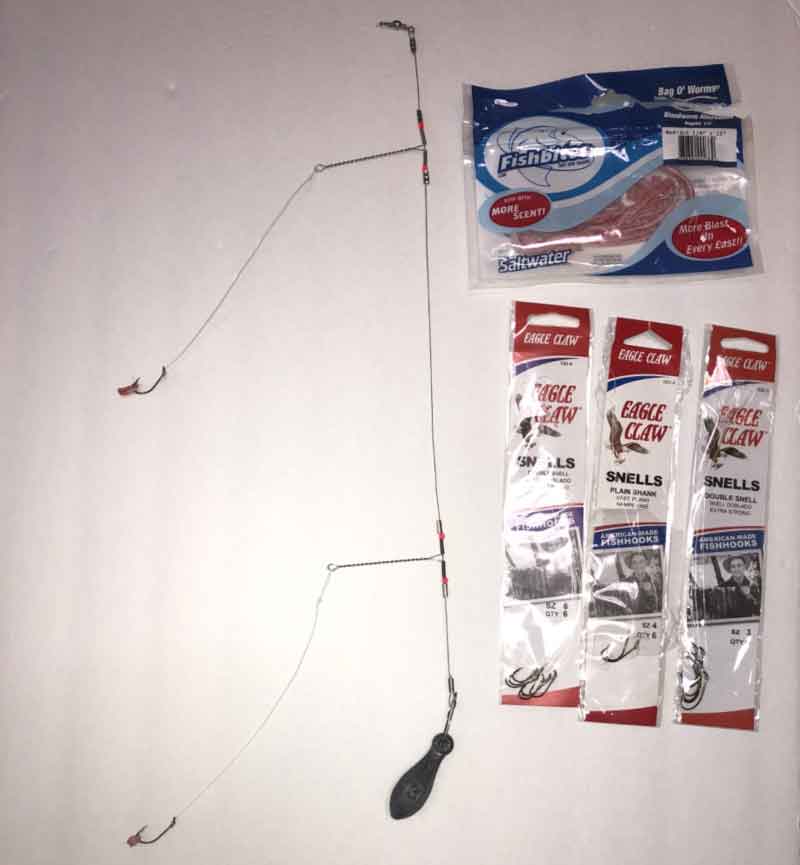 A favorite user-friendly and very productive bait rig is the pre-made wire two-arm bottom rig with swivel and snap beads. Apply a small piece of bloodworm or Fishbites for spot and/or cut a small piece of squid for croak, clip a weight to the bottom, and you're ready to fish. These are convenient, quick to set up, and most tackle shops carry all of these items you need to get started. Pair them up with a medium-lite to medium casting rod which will easily accommodate four- to 14-pound-test line on a 2500 to 3500 spinning reel.
Tip: Croaker and spot feed heavily, so if you're catching multiple fish and all of the sudden the bite stops, you have either drifted off of the school or you need to re-bait.
Croaker Connections
For larger croaker you can use the larger pre-made metal rigs, a double loop bottom rig, or you can simply attach a Carolina rig with a 1/0, 2/0, or 3/0 J-hook. Some people also prefer long-shank straight hooks for an easier release of the croaker on standard bottom rigs especially when they're catching a lot of them. For larger croaker a 3/0 hook may work best depending on your bait type. For example, if you're using squid or blood worms you could easily use a 1/0 or a 2/0 hook. If you're using peeler crab for bait — it drives croaker crazy — then go ahead and use the larger 3/0 hook.
Best Times to Bottom Fish
These panfish usually are willing to bite, but keep track of the tides when deciding when and where to fish. As a general rule, the fish will usually move to shallower areas such as flats or shorelines on an incoming tide, and as the tide goes out the fish will generally travel to deeper areas. If you decide to fish the shoreline for example, then try being there at the first part of incoming tide. What's the very best time to go bottom fishing? Right now — or the very next moment the opportunity arises.
Tips for Keeping the Kids Happy
When teaching children how to bottom fish, give them a pair of scissors to cut the Fishbites and bloodworms, rather than using a knife.
For younger kids, it may be best to assign an alternative job such as getting the net out or clipping on the sinkers so he or she can feel equally important in helping out.
Three of the most essential items you will take onboard with you when you go fishing with kids are encouragement, praise, and a sense of humor.
A great family game is adding the word "master" to the targeted species. The person who catches the most fish or biggest of the targeted species achieves the title of "master" for that day, and it remains theirs until it's earned by another family member on a future trip.
-By Beth Synowiec