St. Croix fishing rods took top honors in the new saltwater rod category this summer at the ICAST fishing tackle show, with the new Legend Tournament Inshore series. So when we saw the St. Croix display we stopped to shoot this quick video preview. Why did it win the award? What sets this saltwater inshore fishing rod apart from the competition? Tune in to the video, to find out:
You may remember hearing in the video that these rods have IPC technology. So, just what is that, and how will it help you catch more fish? IPC stands for Integrated Poly Curve. The idea here is to essentially make the transitions in the rod blank smoother, thereby making the action smoother while also increasing sensitivity and strength. The other feature mentioned was ART, Advanced Reinforcing Technology, which is a carbon fiber that adds strength to the rod blank without increasing weight or rod diameter. It also prevents for blank from "ovaling" under stress.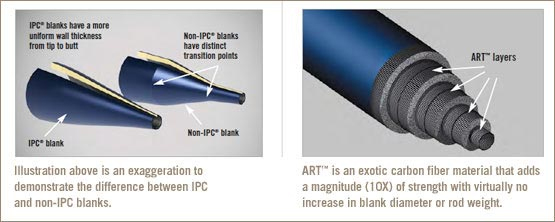 What else do you need to know about the new Legend Tournament? It comes in a wide variety of weights and sizes in both spinning and conventional versions, and as usual with St. Croix's high-end rods, these rods carry the 15 year warranty covering defective workmanship or materials. In our experience, St. Croix is excellent when it comes to rod repairs and replacements, and absolutely stands by their word. So if a new inshore saltwater rod is in your future, the Legend Tournament is a line to check out.
For more information, visit St. Croix Rods.