Fishboat fans who have been around for a few years will undoubtedly remember the builder Stamas, which happens to be the nation's oldest continuously family-run boatbuilder. They've been building since 1938, but new models more or less disappeared from our area over the course of the past decade as Stamas shifted to selling via factory-direct and hasn't had any dealers in the Chesapeake Bay area for quite some time. That's changing for 2021.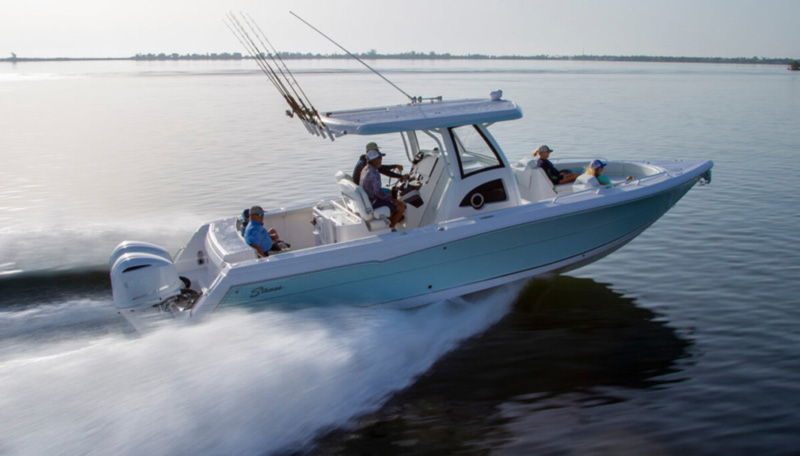 Annapolis Yacht Sales, (410) 267-8181, with locations in Annapolis, Stevensville, Tracys Landing, and Deltaville, VA, has taken on the Stamas line and plans to have new boats on hand later this summer. That means cabin boats like the Aegeans (32 to 39 feet), the classic Stamas Tarpon (29 and 39 feet), and the new center console Aventura models (31 to 37 feet) will soon be plying Chesapeake Bay waters once again.
Stamas boats have always had a well-deserved reputation for their particularly strong construction, being rigged to fish hard, and being backed by a family of boatbuilders — not some uncaring corporation. And you can see the care in the end result. A telling figure to check when researching a Stamas is its weight; while many builders try to shave off every possible pound, Stamas is more focused on building the strongest boat possible. There's a secondary benefit to this attitude: thanks to that extra heft these boats utterly crush waves underfoot. The hollow drumming sound that you'll sometimes hear when a boat hits waves is eliminated, and vibrations are minimized. Other extra-mile touches include curing the hull and stringers in the mold to ensure a proper fit and finish; fully glassed hull-to-deck joints; and continuous core reinforcing the entire deck, not just high-stress areas. We don't expect any of that to have changed with the new models but stay tuned, folks, because just as soon as the Stamas hulls get here we'll jump aboard them and bring you some full reviews.