You say you enjoy fishing for flounder in DelMarVa bays and inlets? We do, too, and having a boat that fishes comfortably and effectively in those coastal bays is imperative. If this is a fishery you partake in, you've probably noticed more than once that deck boats, pontoon boats, and flat-bottom boats are excellent for this duty. One new coastal bay contender to consider is the Starcraft 231 MDXCC. Ready for a quick run-through of the boat's features?
We didn't see many new deckboat models hit the water for 2019, but at the Bay Bridge Boat Show we stumbled across the Starcraft 231 MDXCC being displayed by Buras Marine. And there was no doubt at the first glance: yes, this is a deckboat but it's also a fishing machine.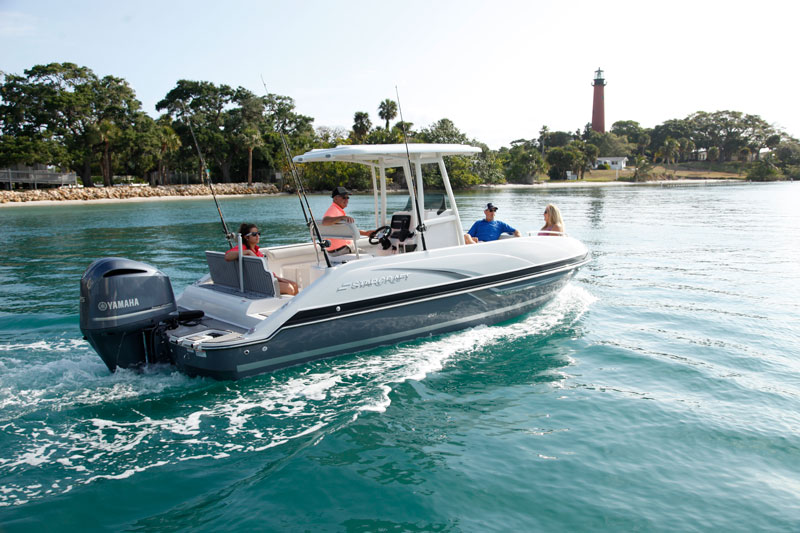 This model should be of particular interest to those of us with a place at the beach where we love to entertain large crews, since its spacious layout makes for oodles of seating. On top of that, the 17-degree transom deadrise and full-beam-forward design make for spectacular stability; and fish-centric equipping (including a livewell, a transom that converts between seating and a casting deck, and the option for a bow-mount trolling motor) makes for a flounder-pounding platform. This boat also has enough heft and LOA that when the seas are calm, you'll have the option of running out through the inlet and getting in on some of those deepwater doormat flounder at the ocean reef sites, sea bass, and other inshore species.
Your guests' comfort level will remain high, thanks to all the seating plus the enhanced stability of the deckboat design, and yes, there is room for a portable MSD inside the console. There's also an optional bow and/or transom freshwater shower, and if the kids enjoy watersports, you may want the telescopic tow pylon, as well. Oh, and did we mention the Kicker KMC20 dual-zone stereo system?
Visit Starcraft Marine if the bays behind our barrier islands beckon, or reach out to Buras (410-220-0504) to see the Starcraft 231 MDXCC in person.