There's a world of difference in how to most effectively troll for stripers, depending on the season—and now that the summer's in full swing and schoolies are a main target for anglers on the Chesapeake Bay, it's time to hone your summer trolling techniques. To get the straight scoop on summer trolling tactics we went to Josh Lowery, Sales Manager at Island Tackle Outfitters in Chester, Maryland. His fish-catching prowess belies his age, and having first worked on charter boats from the age of 16 (his initial gig was mating on the Bounty Hunter, out of Chesapeake Beach), he has more experience trolling for summer stripers than many anglers twice his age—so let's find out just what this summer trolling sharpie has to say.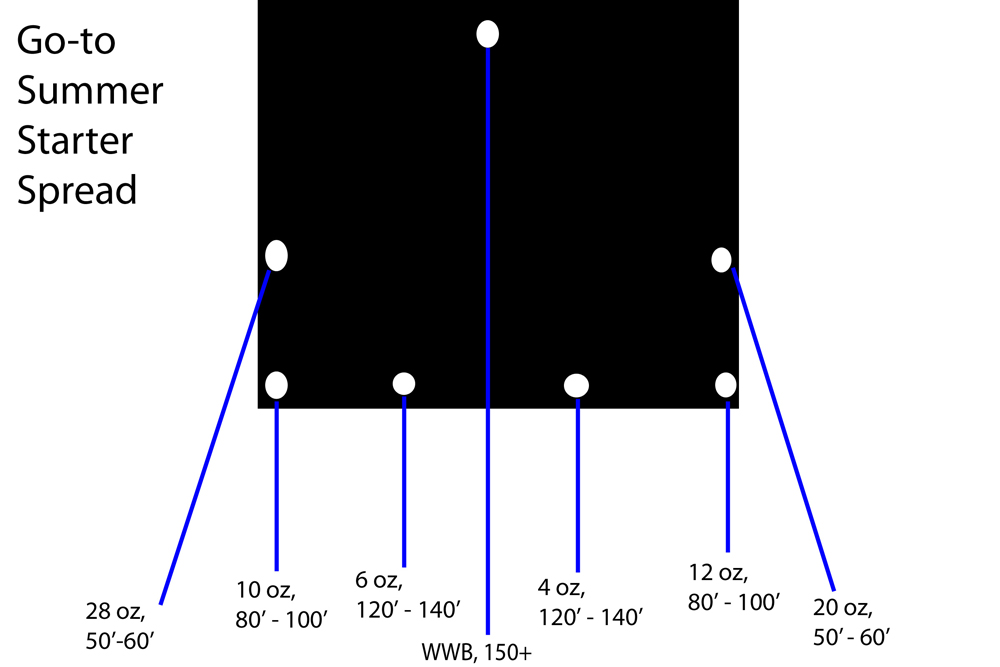 FishTalk: What's the number-one difference between trolling for stripers during the summer months, and trolling at other times of the year.
Josh: To me, it's the size of the bait. During the spring 12-inch lures are the norm, but for summer trolling we go down to six and sometimes even just four inch baits. Late in the fall we often up-size them again but during the summer, going small is important. Some of my favorite summer lures include a Tony Accetta #17 spoon with green flash, and a four-ounce rubber skirted bait with a ZMan twister tail. These are both effective on stripers. Almost as important some seasons, they're bluefish resistant, too. I also like the Tsunami swim baits in four, five, and six inch versions, but blues will tear these up if they're around. Also, almost all of my summer rigs are umbrellas. When you're trolling they catch more fish, period.
FishTalk: Do you use your planer boards during the summer season?
Josh: Planer board spreads are still effective in some ways, but no, I don't usually use them. You can burn some fish-buns with a six- rod boat spread, because it's easier to spin around and stay on top of the fish. Remember, this is summer-time. You're not trolling across broad areas the fish would be migrating through, like during the spring trophy season. These summer fish like to ambush prey off of ledges, sharp drop-offs near big flats that are perpendicular to the tide, the mouths of rivers, reefs, and places like these. In summertime you tend to focus on tighter schools of fish, which are often close to the structure. Sure, you can troll across these areas with planer boards deployed, but they're cumbersome. With a boat spread you can maneuver much more quickly. Now, all of that said, when the bite is slow and the fish are scattered, putting out the boards does help you fill a limit quicker.
FishTalk: What's your go-to summer spread look like at the beginning of the day, before you adjust anything according to the bite?
Josh: Six lines with weights of: 28, 20, 12, 10, six, and four ounces—plus a WWB if you're feeling froggy. I usually set back 50 to 60 feet on my heavies, then I'll do 80 and 100 for my 12s and 10s, and 120 and 140 on my last two.
I'll set these back with Okuma Convector reels on Ande 20-50 six-foot stand-up rods. I also favor monofilament for this type of fishing, because braid can cut the (CENSORED) out of you and I don't feel you benefit that much from using it in this situation. (Editor's note: see above diagram).
FishTalk: What about boat speed?
Josh: I've always liked a steady 3.5 to 3.8 miles per hour the summer, but you have to check if you're going with or against the current, because that will determine your speed through the water. Swim your baits next to the boat or hang one where you can see it and if she's swimming pretty, so is your spread.
FishTalk: What other factors does the captain of the boat need to keep in mind?
Josh: Which way you were going, when you got a bite. Sometimes the fish seem to only bite in one direction or another. And you also have to work to stay on your fish. If you're catching under birds and the birds move in a particular direction, you should probably keep the boat moving in that direction, too. Also, if the fish are holding on a particular type of area, like a flat at the mouth of a river, don't be afraid to try and replicate that scenario elsewhere. That's one of the things that will help you stay ahead of the fleet.
FishTalk: Other than basic effectiveness, are there other reasons anglers should consider trolling during the summer months?
Josh: If you want to jig but the tide's dead, slack tide presents a good time to troll and "hunt" before the fish get fired up again. Trolling also offers a bit more of a social angling experience. You don't really have to be so tuned in to the fish at each and every moment to have fun.
FishTalk: Any final bits of advice?
Josh: It never hurts to change things out and get creative. Also, don't forget to check your lines. Keeping them clean and untangled is probably even more important than which lures you actually choose to run in the first place.