The new Topwater rooftop rod box from Yakima enables you to store up to eight fully rigged rods up to eight feet in length. The plastic Carbonite shell protects your gear from the elements and the Yakima SKS lock keeps everything safe and secured. Inside the box are three rows of foam cradles and rubber straps to keep your rods firmly in place while your vehicle is underway. There is additional room for tackle and other gear below the rod racks, or you have the option to remove the foam blocks to store larger items. Prior to testing it, we had the chance to check it out and take this quick video of the Yakima, at the ICAST fishing tackle trade show:
The Topwater is made in the USA and is compatible with most roof rack crossbars. It can also accommodate T-slot style racks as well. The side access lid is held in the open position with two spring loaded hinges. After a few uses, one of the springs popped off its fitting. However, this was easy to reinstall and will also be a simple replacement if ever needed down the road. We also noticed some black residue left on the corked rod handles left by the fastening straps, presumably from vibrations when driving at highway speeds.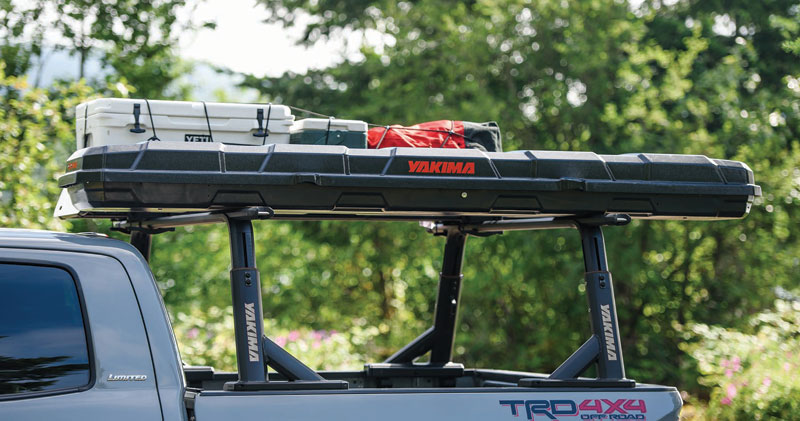 If you're anything like me, then you've probably left your rods leaning against your truck before driving away from the marina. Everybody has done this at least once… right?! Now with the Yakima Topwater, the rods go right from boat to box, and you'll find solace in knowing that your rods are stowed safely in their cradles for the ride home. Plus, having your arsenal of rods loaded up, rigged, and ready to go will surely save you some time getting ready for your next fishing trip. Learn more about the Topwater and other rod storage options at yakima.com.
~ By Zach Ditmars