Surf fishermen's plans to get on the beach this past spring came to a screeching halt when Covid-19 reared its ugly head and local, state, and federal beaches were closed, dashing hopes of dragging a black drum or striped bass up onto the sand. Finally, a glimmer of light appeared at the beginning of June with beach restrictions lifted. However, on June 9 Delaware announced that all of the 17,000 drive-on vehicle surf fishing tags were gone and if you hadn't obtained one, you were out of luck. Sunbathers laid on the beach gathering rays while unattended fishing poles sat in rod holders, while surf fishermen who were denied tags sat home (sorry to scratch that scab off again).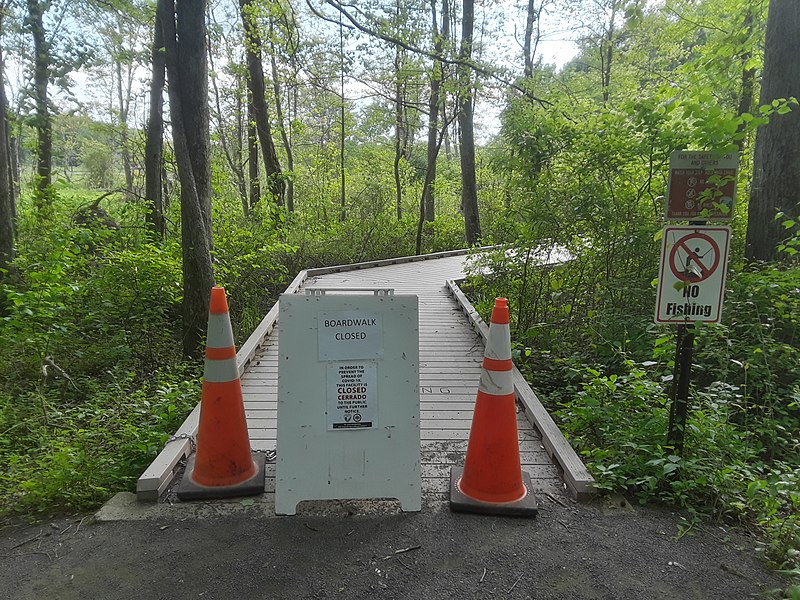 There was a similar story on beaches to the south. In past years with the exception of holiday weekends, anglers with OSV (over sand vehicle) permits could drive on to the beach at Assateague National Park or Chincoteague National Wildlife Refuge just about every morning or evening. This year anglers found themselves sitting in a line at six in the morning on weekends, sometimes for hours. Occasionally there were even lines some weekday mornings. At times walk-on anglers were unable to wet lines at Assateague, with the parking lot at capacity and temporarily closed. If you didn't make camping reservations at the state and federal campgrounds months ahead of time for your fishing trips, you were out of luck. Cape Henlopen, Delaware Seashore, and Fenwick Island State parks had similar issues. Now, with all this bad news behind us, here's the good news—that was spring and summer, and it's now fall. Meaning, when looking to your right or left while standing on the beach, it should be all but deserted with the exception of fellow anglers, breathing a sigh of relief that the crowds have finally thinned.
If you want a decent chance to bend a rod with the drag screaming over the sound of the surf, now is when you need to carve out some time in your schedule. Striper fishing rules in fall, but this is also prime time to try for a red drum that will do its best to try and snap your rod in half. Black drum, flounder, bluefish, puppy drum, trout, kingfish and spot are all possibilities. Meaning, you'll want to fish several rods and rigs to cover all the bases. This is also a great time to cast lures, which many of the species will gladly inhale when pulled near their nose. A bucktail/gulp mullet combination, MirrOlures, Kastmasters, diamond jigs, or your favorite surface plugs are but a few that should draw attention.
Baiting Up for Fall Surf Fishing
As for bait, the name of the game is FRESH. Yes, frozen bait catches fish and we may have to resort to it when fresh bait cannot be had at this time of year. But before you resort to using frozen stuff, remember that a shovel and cast net should now become good friends. Sand fleas (mole crabs) will catch all these species, and you can dig them yourself with a shovel. Buy or make some sort of strainer you can sift a shovel full of sand through, to make the task easier. The cast net will catch spot along with mullet and menhaden from those schools cruising the edge of the surf; just look for the surface ripples. All three species are hard to beat as bait. Fish them live or filet and strip them down into smaller offerings. A five-gallon bucket with battery aerator will keep a handful of bait lively. Just be sure to have a lid or rag to throw over the bucket, as mullet will constantly jump out.
You can also use your kids as bait catchers by arming them with a light outfit and bottom rigs with number-six hooks, with which they can catch plenty of spot. A small piece of Fishbites, bloodworm, squid, or cut bait will get the job down. Slightly larger strips of spot are great for trout and bluefish. Also, fresh spot and kingfish heads make excellent bait for those prized big reds at this time of year.
If you can get it, you cannot beat fresh peeler crabs for everything swimming in the surf. Of course, they will become more and more difficult to obtain at this time of year. Depending on the crab's size, fish it whole or cut in half or quarters for the stripers, reds, and black drum. Fish the crab baits on a single hook finder rig for these larger species. The best size for the hook depends on the size of bait, because you do not want a 9/0 hook with a little piece of small peeler.
Clams also get the job done, fished whole or cut into several baits for kingfish. Adding some flash on rigs with beads and gold spinners appears to increase bites at times.
Fall Surf Fishing Tactics
During high tide some fish will be cruising on top of the outer sand bar looking for a meal, so always fish one rod out far. That said, the trough right off the beach or just inside of the outer bar seems to hold most of the fish, most of the time. Try to find holes to fish during low tide, or concentrate your efforts in the troughs.
Anglers often ask what the best time of day to fish the surf is during the fall. The answer is simple: whenever and however long you can. While hours of darkness, morning, and evening may be prime times, especially for stripers, at this time of year the fish are interested in filling their bellies and a pole may double over at any time of day.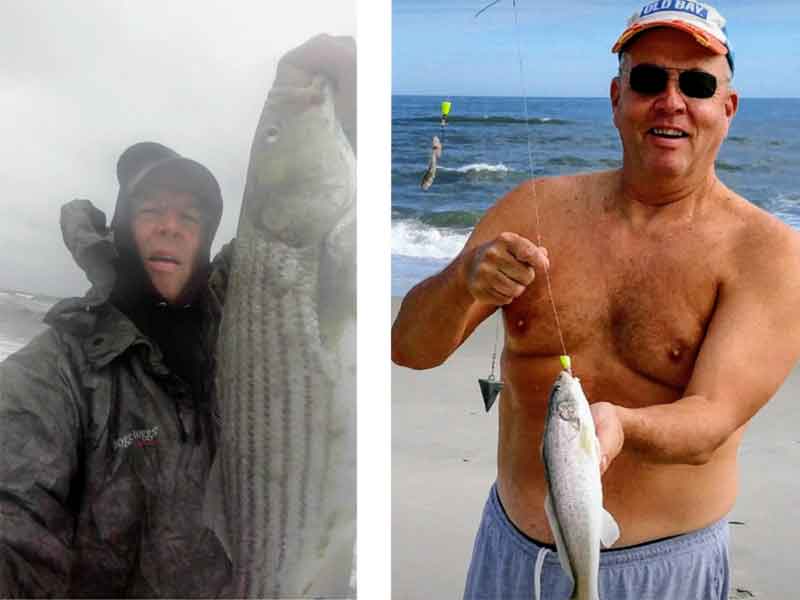 Windy, nasty days may make fishing conditions close to unbearable at times, but the fish don't care. They still need to feed. Speaking of nasty days, with falling ocean temperatures, a pair of waders, while not essential, goes a long way helping to keep warm. Up until the end of October water temps will still be in the 60s (and it's not uncommon to actually see people taking an ocean dip on sunny days), but by the end of November water temps will be down into the 50s, which is way too cold for most people's toes. Air temps can vary radically, ranging from below freezing at first light to beautiful and sunny, hitting 80 degree in the afternoon. It's not uncommon to go from shirtless to sweatshirts and jackets, from one day to the next. Nor'easters are common this time of year, too. And while we may curse the weather when looking out the window, afterwards there is often a decent bite. The storms blow warm water and bait near the beach and at the same time gives the beach new character, creating troughs, sand bars, and holes which these fall species will certainly take advantage of. The question is, will you?
- By John Unkart, author of "Offshore Pursuit" and "Saltwater Tales."