Surf fishing isn't always the most productive form of angling, but it's incredibly relaxing, and at times can produce a nice cooler full of fish. Ready to get in on some action in the suds? Be sure to use these five surf fishing tips: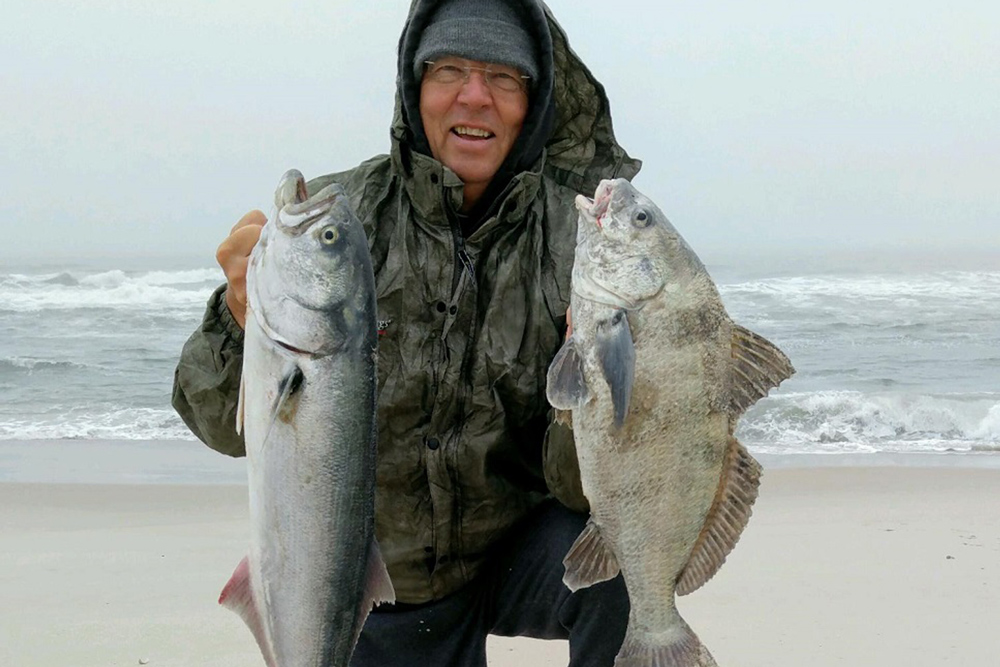 Savvy surf fishermen often fish two rods at once. A large one gets baited with cut fish for bigger game like blues and stripers, then put in a rod holder. A regular sized spinning rod, meanwhile, gets cast and held while fishing for smaller fish like kingfish (sea mullet), spot, croaker, and flounder. The bigger rod usually catches bigger fish, but the small rig catches much better numbers of fish.
Get good sand spikes, and make sure they're firmly planted in the sand. When one falls over it can be tragic, because once a reel touches the sand it often gets ruined.
Use rigs with small floats on the hooks, often called "doodlebug" rigs, because the floats help keep your baits away from the numerous pesky crabs found in the surf.
When you're fighting a fish in and it gets close to the beach, try to time bringing it out of the water with an incoming wave. Trying to pull it up out of the ocean as water rushes back down the other way can be difficult, to say the least.
Try fishing (especially with your smaller rig) close in to the breakers. Many fish, especially kingfish, spot, and flounder, often feed just outside of where the waves crash. The biggest mistake many people make s over-casting, when targeting these species.
Okay: ready to check out these surf fishing tips via video? Here's a quick trip to YouTube which will help you make sure your fishing in the suds is successful. (Note: the fishing tips are basically the same, we just figured a video version might be helpful).
While surf fishing can be very hit or miss, as you can see from the video and picture above,  sometimes it can also result in quite impressive catches - as well as fish for the dinner plate. If you want to go on the hunt for even bigger game in the ocean, be sure to check out How to Go Shark Fishing in the Surf.