When I exited school and had no kids, no real job, and no serious obligations, naturally, I fished just about every waking hour. A buddy and I would pore over ADC map books (remember those?) looking for the blue blobs indicating water, create a route of exploration, then spend days at a time driving around looking for public access points. We'd borrow our father's boats whenever we could scrape together enough cash to put gas in the tank. We patched a very leaky canoe until it sunk, built a boat out of a pickup truck bed liner (that sunk too), and attempted to salvage an already-sunk boat that was destined to never float again. Through all that effort and all those tribulations, we innovated. We learned a whole lot about what doesn't work, but we also discovered techniques that were not taught. We came up with new ways to catch more, bigger fish. It seems like yesterday… but it was 30 years ago. And in all honesty, I know that I've lost that youthful edge.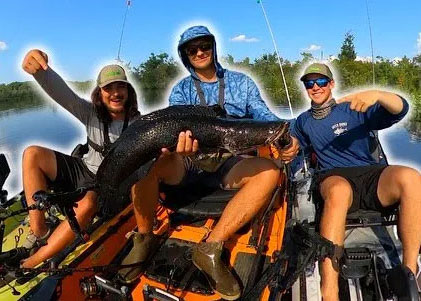 Don't get me wrong — there's no substitute for experience, and years of accumulated knowledge can't be trumped. But the freedom, willingness, and energy to experiment do fade with the years. And here at FishTalk, we've been a bit lacking in the youth department. Experience, we have thoroughly covered thanks to our staff and our stable of contributors. But I've felt for some time that our ability to develop and communicate fishing intel with the wider world would benefit from an injection of vitality and motivation. We've needed to involve up-and-comers, some ambitious young anglers who look at the watery world through a more modern lens. We've needed some young guns in the crew.
Meet the newest additions to Team FishTalk, anglers who we're sponsoring, who are hard-core fish-heads, and who have agreed to collaborate with us in our efforts to help you Mid-Atlantic anglers catch more bigger fish: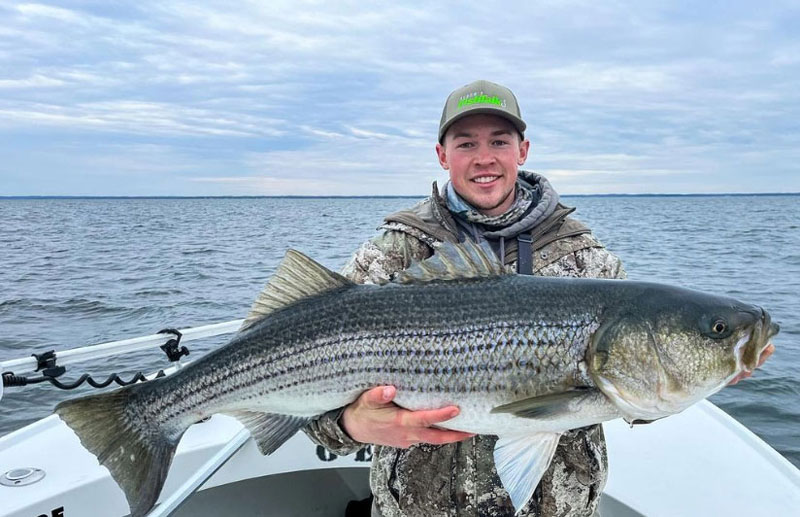 Dillon Waters – You already know Dillon as FishTalk's fishing reports editor. Dillon is 25 years old, graduated from St. Mary's College of Maryland with a double major in Biology and Environmental Studies, and works for the Maryland Department of Natural Resources as a Resources Technician II. He's based in the Middle Bay zone and specializes in stripers and perch but regularly travels far afield in his quest to catch fish like red drum, cobia, speckled trout, and flounder. He has a strong presence on YouTube with his channel The Waters Edge and you can find him on Instagram @watersedgetv.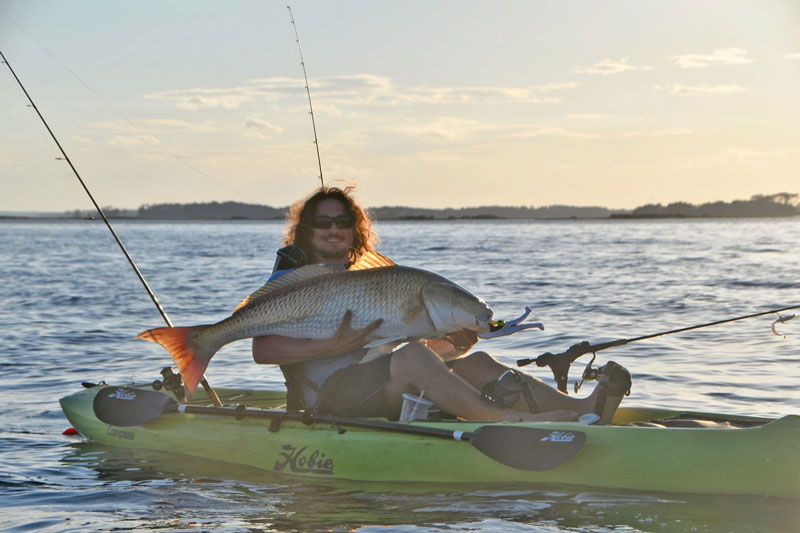 David Rudow – Yes, there is a relationship – David is one of my sons. He's a 23-year-old diehard kayak angler recently returned to Chesapeake Country after living in Louisiana and attending the University of New Orleans, where he majored in bull redfish and minored in sheepshead and specks. Currently David studies (in-between casts) at Salisbury State. He's on Instagram @reelinwithrudow.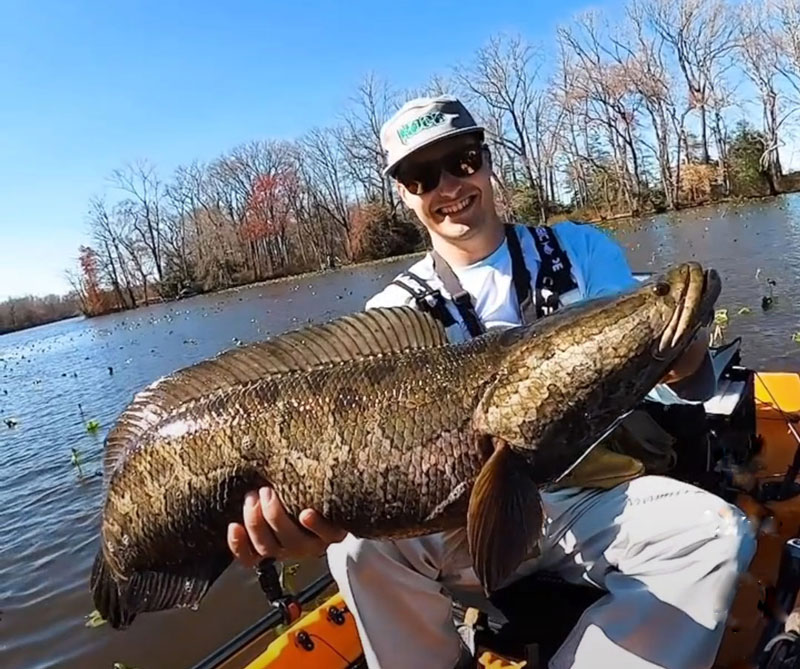 Mark Nicolaus – Known as Cha-Cha in the fishing social media world, you can find Mark on Instagram @ChaCha_fishing (formerly channa_markus_fishing) and he also has quite a TikTok following. Mark is 25 and is also a kayak guy, with a serious passion for chasing snakeheads along with numerous other species. Just about daily. He's also sponsored by High Octane Custom Baits and OC Kayak, and works for HOCB as a social media manager.
Look for these newest members of Team FishTalk on all the social media platforms and out on the water. You'll see their bylines popping up in FishTalk on a regular basis, and their videos on our YouTube and Instagram channels. We partnered with them not only because they're youthful, dedicated anglers, but also because they're generous people. They're willing to share what they discover with other anglers. And in that vein, we thought we'd introduce them to the FishTalk audience by asking them each to tell you all a critical fishing tip that they've learned in their aquatic endeavors which are applicable to fishing at this time of year, and which will help us all catch more, bigger fish. But before we get to their tips, check out their first collaberative video on how to catch snakeheads off fry balls:
Dillon Waters on Rockfish
The fall is my favorite time of year to fish for striped bass because the shallows can be full of hungry fish that will hit your baits aggressively. In the evenings, especially the last hour of daylight, the topwater bite for rockfish in the shallows can be excellent. My go to lures are the Heddon Super Spook and the Creek Chub Striper Strike. Both lures typically come with treble hooks, but it is a good idea to switch them out for single hooks. This will be better for the fish when catch and release fishing and will also make it easier to unhook them once you land them. The spook works best when fished with a "walk the dog" style retrieve, and the Spook is more of a chugger bait that will sit lower in the water. The key with this bait is to get it to push a lot of water when chugging it to get the attention of nearby rockfish. Submerged rock piles and rock jetties with depths of four to six feet are great places to cast to but any areas with stump fields, submerged wood, or lumpy bottom can hold fish.
David Rudow on Redfish
Fall is one of my favorite times of year to sight-fish for redfish in the shallows. Baitfish are more prevalent as water temps drop, and water is generally clearer than previous months. A crucial tip for sight-casting for reds is to avoid moving vertically once you've entered your target area. If you plan on paddling into a salt marsh on your kayak, or ease along in a boat, enter the zone you plan on fishing already standing as high off the water as you can. If you think you see a fish while you're sitting or standing low, stay where you are — standing up or moving vertically is a surefire way to spook the fish.
Mark Nicolaus on Snakeheads
As the water temperature starts to cool in the fall, the northern snakehead feeding windows get shorter… BUT when there is a warming trend, it can be one of the most predictable bites of the year. I like to target snakehead this time of year after the third day in a row we have air temperatures hitting 70 to 80 degrees. Midday and through the afternoon are when the water will be warmest, and the fish will likely kick into feeding mode during that time. The sunnier and shallower it is, the better.
Stay tuned, people, for more fishing intel from Team FishTalk.