Maybe you don't have a hot new fishboat, maybe you have a boat but it isn't ready for the season just yet, or maybe you just want to enjoy some KISS-style fishing that gets you out of the house and provides some exercise. Any way you cut it, this month there are a ton of walk-in options up and down Chesapeake country that should come to mind when the weatherman says a 60-degree day is on the way. Here are three types of waterways that will be within an easy drive wherever you may live, and hold excellent potential for spring shoreline fishing.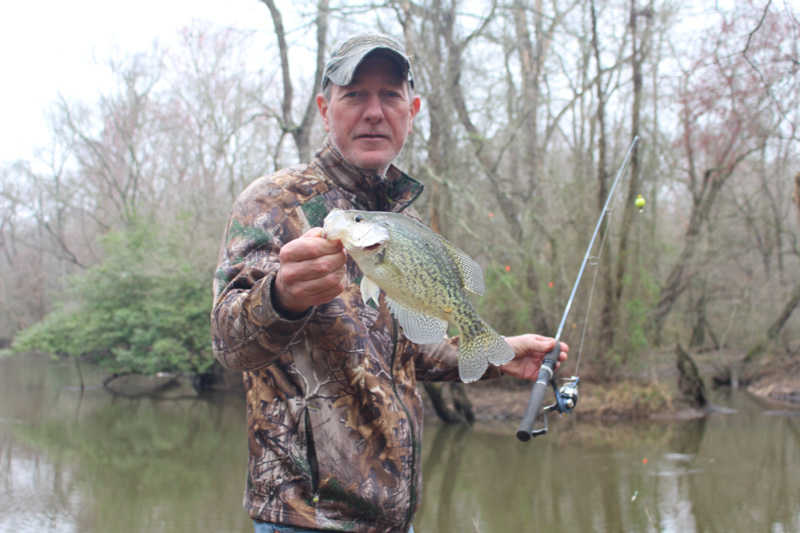 Do the Tributary Tango
The tributaries feeding the Chesapeake Bay are spawning grounds for many species of fish, and the home turf to others. In both cases, April is a great time to target the upriver zone where the water is fresh but there's still some tidal influence. This area of transition is where you'll catch both residents and spawning fish as spring comes into full force.
By the time April hits, the yellow perch spawn is slowing down or may even be done depending on your locality, but the later spawn of the white perch is usually still going strong. Again, depending on exactly where you live, there may also be a shad run to consider. Meanwhile, crappie, bass, and pickerel thrive in virtually all of the tributary rivers where tidal waters become fresh.
When chasing fish in this environ scale down your gear to match your quarry. Light or ultralight rods and reels in the six- to eight-pound class are perfect when targeting the panfish and shad, and a shad dart is about as universal a lure as you'll find for these waters. Fish it bare for the shad, and tip it with a lip-hooked bull minnow (in through the bottom and out through the top) to get the edge when going for perch, bass, crappie, and pickerel.
Casting and retrieving will often be the best move, but don't forgo trying a bobber in these waterways when you're offering up bait. Often, suspending your baited dart two to four feet under a float and drifting it in the current is a good tactic. This will also allow you to present your bait near deadfall and shoreline structure during high tides. When the water is low, working near or on the bottom in deep channels and holes is usually a solid move.
Slamming the Salt Ponds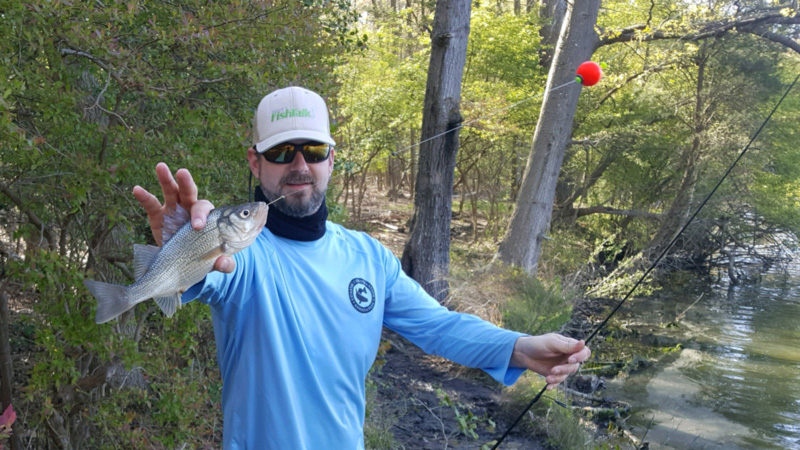 There are countless salt ponds up and down the shores of the Bay and along its tribs which are attached to bigger waters by a cut, pipe, or inlet. If they have decent waterflow (and sometimes even if they don't), these salt ponds enjoy an April white perch run. You may also encounter pumpkinseed, catfish, carp, and an occasional bass, snakehead, or pickerel.
There will be times when sinking a bloodworm chunk or a piece of nightcrawler to the bottom produces bites in these salt ponds. But as a general rule of thumb, these waters hold huge numbers of grass shrimp. That means that fishing with shrimp as bait matches the hatch to a tee. Suspend one under a bobber on a dart or a bare hook, flip it out off the shoreline, and you have an excellent shot at filling a bucket with fat perch perfect for a fish-fry. This can be particularly effective if you can locate the edge of a weedbed, which often concentrates the perch.
Just about the only species of fish in these ponds which won't eat the shrimp is carp. If you want to enjoy some catch-and-release action on bigger specimens, try casting out carp dough balls, corn nibblets, or small garden worms, and let your offering sit on bottom.
Sauntering to Stocked Trout
Every state in the region has a trout stocking program, and it'll be in full swing this month. Naturally you'll want to check the regs and make sure the specific waterway you want to visit meshes with the way you fish, as certain streams and areas have site-specific restrictions (such as no bait or catch-and-release only).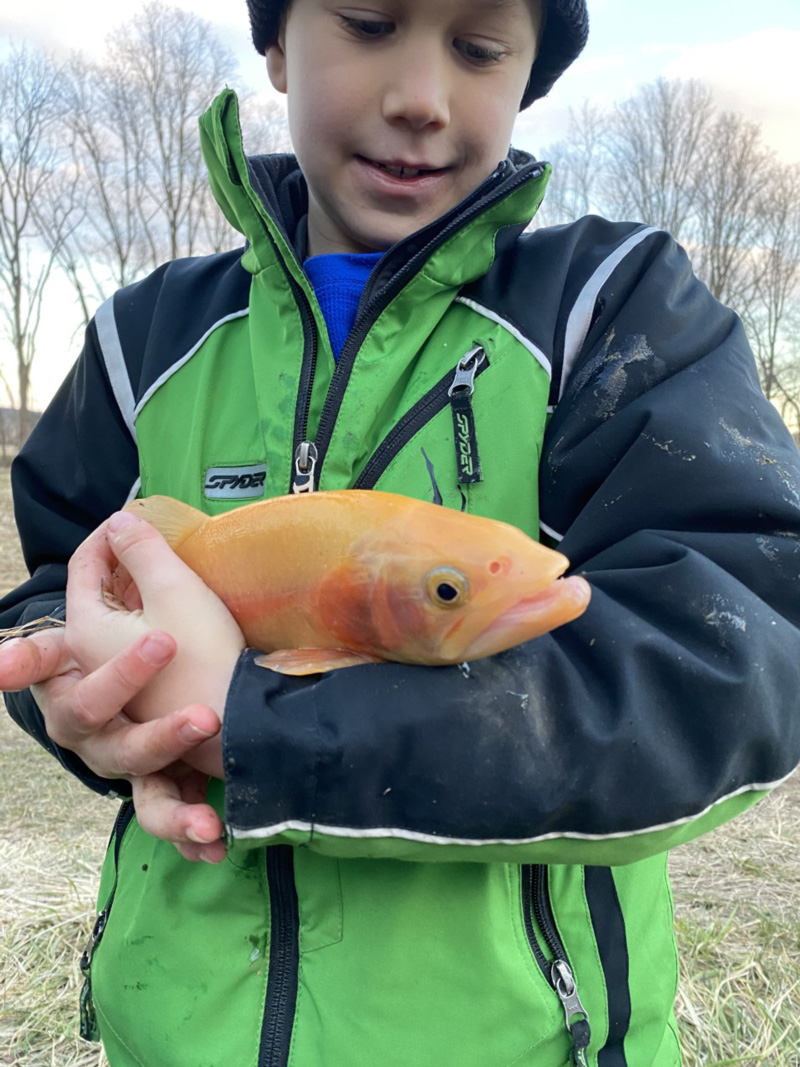 Since the average spring trout angler will likely have taking home a stringer of stockers on his or her mind, we'll stick with the tactics appropriate for put-and-take fishing in this case. And fortunately, one of the simplest ways of going about this also happens to be one of the most effective: cast out a glob of prepared trout bait (like Berkley Powerbait) molded onto a single hook, weighted with a split shot eight or 10 inches up the line. Then simply wait for a bite, and set the hook when you feel it.
Another slightly more evolved technique is the "float-n-fly" method, combining a small float with a 1/64th ounce fly or bead-eye style jig, usually tipped with a scented artificial trout worm or a mealworm bit. In this case, toss out the rig and give it microscopic-level action with tiny jigs of the rod tip. On a windy day, simply let the bobber dance on the rippled waters until it darts under the surface.
For extensive information and a video on the float-n-fly technique, fishing for stocked trout in various waterways, check out How to Catch Spring Trout.
So what'll it be, a trip to a trib, a poke at the pond, or a trip to stock up on stockers? Any way you cut it one thing is for sure: April's a great month for some KISS-style shoreline fishing.
Finding the Fishing Hotspots
In all three of these cases, there's plenty of public access throughout our region — so much, in fact, that it would be impossible to list out all the spots from Delaware down through Virginia. Thanks to modern technology, however, finding the spots closest to you will be a piece of cake. Delaware, Maryland, and Virginia all have interactive fishing access maps which are easy to use and detail virtually countless options. None of them are 100-percent comprehensive, and you can find additional options if you do a little more digging, but these three starting points are excellent places to begin your search.
Maryland interactive fishing access map
Virginia trout fishing map and Where to Fish guide
Sign up here to get the weekly FishTalk Chesapeake Bay and Mid-Atlantic fishing reports in your email inbox, every Friday by noon.