If your aching back loves the uber-smooth ride of a powercat (can you see me raising my own hand right now?) then one thing that probably drives you nuts is the lack of choices on the market today. Once upon a time you could get a cat of just about any size from a number of builders, but today the options are few and far between. So we just love it when an established cat-builder rolls out a completely new model of a different size — like the Twin Vee 240 Center Console, which we stumbled across at this year's Miami International Boat Show.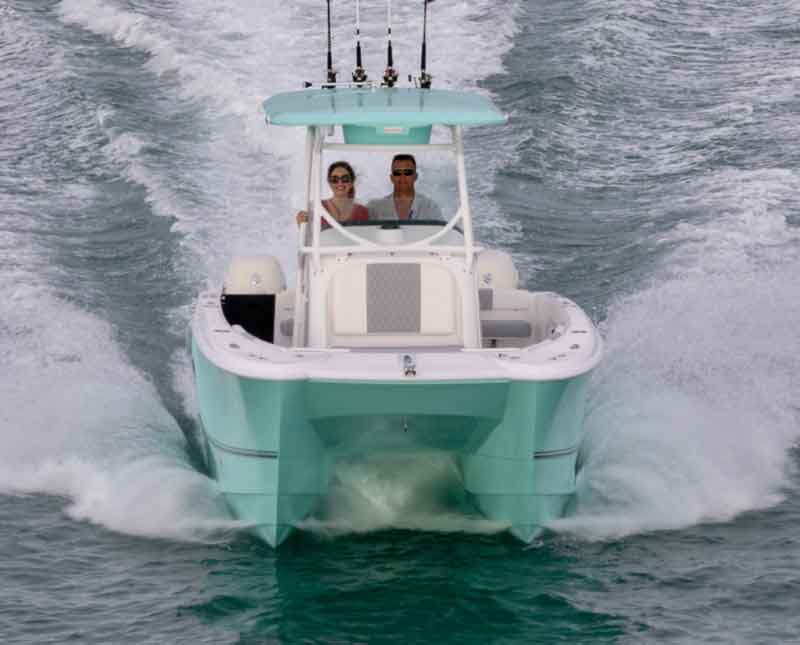 What's going to wow you from the get-go on this boat is just how much fishing space you'll get out of a 24'0" LOA. Part of this is due to the fact that the boat has a bodacious 8'8" beam, but part of it also derives from the way a cat carries its full beam all the way forward. The bowdeck area, for example, can't be matched by a 26-foot monohull, much less another 24-footer. There's room for two to stretch out (you can get removable forward-facing backrests if you want to use the area as a lounger), three to sit, or — our favorite, of course — leave those cushions and backrests at home and instead a pair of anglers can stand atop the casting deck and start slinging jigs. Added bonus: the enhanced stability of two widely-separated hulls versus a rocky-rolly V-hull means you'll do so in more comfort than expected.
For anyone accustomed to powercats, that the boat rides smoother and has more room inside than a conventional monohull won't be shocking. What may be a surprise, however, is just how much power you can pack onto this ferocious feline. Historically, cats in this size range have been powered by twin 115s or maybe 140s, but the Twin Vee 240 can handle a pair of 150s. That provides cruising speeds in the mid-30s at 4500 rpm, and a top-end pushing 50 mph (48.1 tested with three people and a nearly full load of fuel — which means that in the right conditions, you should be breaking 50 without a problem). Also unusual is the way those powerplants are mounted. Rather than sitting on the transom itself, they're perched on 12-inch Atlas jack plates. This shifts them farther aft where the props can enjoy clean water flow from a higher mounting position, and it also makes for a much cleaner transom. Rigging isn't tortured by constant dunking in a motorwell, and there's gobs of space to walk through the swinging door at the transom and to the centered four-step telescopic boarding ladder.
Wait a sec—we moved off from the powerplants a bit too quickly. We need to note that Twin Vee is factory-rigging this boat with Suzuki 115, 140, and 150 horse outboards, only. Some folks will consider the lack of brand choice a down-side. We're not "some folks," because in our experience Suzuki outboards have proven stunningly quiet, efficient, and reliable. And no, we're not just saying that because Suzuki is a FishTalk supporter — for evidence simply look on the Angler in Chief's transom and you'll see a pair of Suzys he purchased nine years before FishTalk was even created. Still, we do want to point out this fact because we know there are people out there with brand loyalties that will differ.
What about additional fishing features? We love that six flush-mount gunwale rodholders come standard instead of the usual four, the transom livewell holds a whopping 40 gallons, the T-top has four rocket launchers, and along with the raw water washdown you get a six-gallon freshwater system with a pull-out vegetable-sprayer. When you put those goodies to use we have no doubt that you'll do your best to fill the in-deck macerated fishboxes flanking the console, which have gasketed gutters and hatches that swing up on twin gas-assist struts.
If all that stuff sounds cool but you've always owned V-hulls, we have just one final thing to say: don't believe us when we rave about how well this boat will ride through a rough sea. Just wait for a day with 20-knot gusts, and take one for a sea trial. Your aching back will thank you for it.
Twin Vee 240 Specifications
LOA – 24'0"
Beam – 8'8"
Displacement – 3400 lbs.
Draft – 1'4"
Fuel Capacity – 98 gal.
Max. Power – 300 hp
Area Dealers – Total Marine, Grasonville, MD (410) 604-6000.