I readily admit that I'm a cat nut, but I'm not talking about a love for furry felines, I'm talking about a madness for multi-hulls. Sure, some look a bit different from the norm and some others have unusual traits as compared to V-hulls, but the bottom line is that you simply can't beat a well-designed cat when it comes to reducing wave impact and making the ride as smooth as possible. And for someone like me who has an aging, aching bad back, when the seas kick up that can make the difference between a day of misery and a day of fun fishing. So yeah, boats like the Twin Vee 260 Center Console GF catch my eye.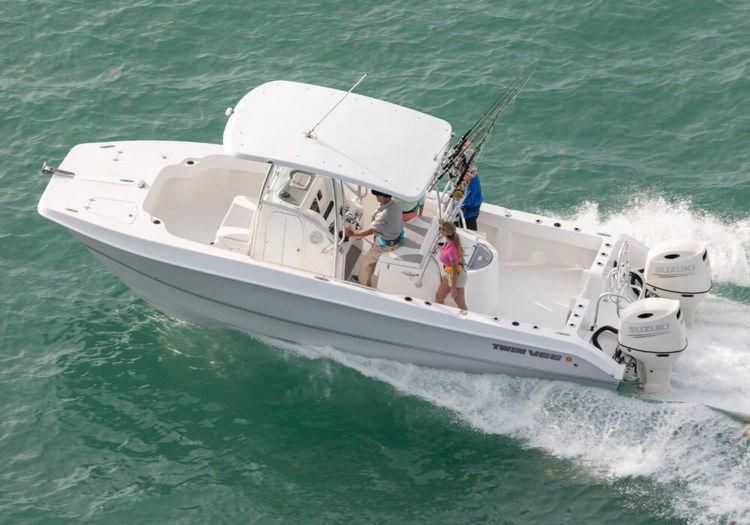 The entire Twin Vee line has undergone a lot of changes in recent years, and while that applies to the 260, this model remains a cornerstone of their fleet. It's the perfect size for a combined Bay/offshore angler, with a shallow 1'8" draft, a good layout for light-tackle casting, a tow-able 8'6" beam, and the capability to make long canyon runs (range is over 250 miles at a notch over 30-mph cruise with twin Suzuki 150s) in changing conditions. Added bonus: since the cat design carries the beam all the way to the bow, the 260 Center Console GF has as much deck space as many boats with two or three more feet of LOA.
Trollers who plan to deploy planer boards and a web of lines will love the "Fish Connect" T-top, which has six vertical rocket launchers stacked under the four gracing the back of the top. Plus there's tackle stowage and a 40-gallon livewell integrated into the leaning post, under-gunwale racks, a raw water washdown, and room for six flush-mount gunwale holders plus six more in the transom.
Naturally, you expect to find all those fishy features in a boat like this. What you may find surprising, however, is what they put this boat together with. Hardware like rodholders, hinges, cleats, and through-hull fittings are all top-shelf Gemlux 316-grade stainless-steel. Pumps are Pentair Shurflos. The bow roller is a Lewmar. The compass is a Ritchie. And the switch panels with waterproof lighted rocker switches and breakers are hand-built by New Wire Marine in Charleston, SC, rather than arriving in the US of A on a container ship.
What's even more surprising is that even with all this high-grade hardware Twin Vee manages to keep the pricing reasonable on the 260 Center Console GF. MSRP starts under $90,000 and a well-equipped boat isn't too far above the $100K mark, which is significantly less than many new 26-footers. How's it possible? Again, there's a unique powercat advantage at play: a cat needs less horsepower than a monohull of the same size to attain similar performance. Remember when we mentioned cruising speed for this boat with a pair of Suzuki 150s? That power package also provides a top-end of over 40 mph. To get a 30-plus mph cruise/40-plus mph top end with an average 26-foot monohull, you'd be rigging with 200s. On top of that, we'd point out that going with Suzuki's DF140s will provide darn similar performance, chop even more off the bottom line, and would also lop 234 pounds off the transom.
Is there room for improvement? Of course — there is on any boat — and in this case we point to the windshield. It's a relatively svelte Florida-style wrap-around, and those of us who plan to charge forth to distant blue-water destinations in imperfect conditions or on chilly days may want to add a panel of Isinglass for additional protection. We also note that the optional underwater lights are blue, which is great for looking cool and all, but greens attract one heck of a lot more fish and we'd swap 'em out.
One other item we need to note: though this is clearly a fishboat first and foremost, it does have a few of the family-friendly perks that can help seal the deal. There's a head compartment in the console, and a large forward console seat plus a small aft-facing U-seat built into the foredeck. The boat also comes with a six-gallon freshwater system and a pull-out vegetable-sprayer in the transom, plus an integrated dry box with built-in USB and 12-V ports at the helm for your electronic devices.
Will a powercat be the top pick for everyone out there? Of course not. But, might it be the ideal boat for you? There's only one way to answer that question, and it goes beyond merely reading about or even looking at the Twin Vee 260 Center Console GF. You have to wait for the wind to kick up, let the seas build, and then take one for a test run. Your back will thank you for it.
Twin Vee 26 Center Console GF Specifications
LOA – 25'6"
Beam – 8'6"
Displacement – 3600 lbs.
Draft – 1'8"
Fuel Capacity – 138 gal.
Max. Power – 300 hp
Area Dealers – Total Marine, Grasonsville, MD (410) 604-6000.